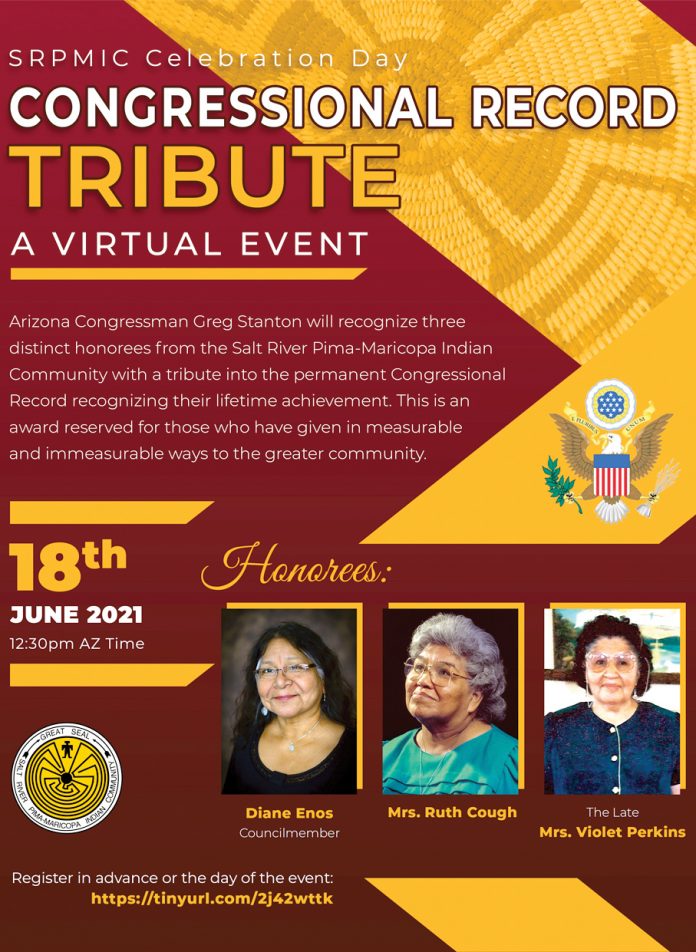 Three Salt River Pima-Maricopa Indian Community women will be recognized on June 18 in a virtual ceremony by Greg Stanton, representing Arizona's 9th District in the U.S. Congress. Rep. Stanton will read a statement into the Congressional Record honoring SRPMIC Council Representative Diane Enos and SRPMIC members Ruth Cough and the late Violet Perkins for their lifetime of achievement and immense contributions to the Community and to Indian Country.
A former SRPMIC president, Enos has been a champion for the SRPMIC and all tribes in Arizona. Her leadership serves as a model for tribal communities across the nation. For her lifetime of achievement, she was named one of Arizona's Women of the Century, and her legacy deserves to be forever etched in our historical record for all to remember.
Cough and Perkins will be recognized for their lengthy efforts in public service and voter engagement. Cough has served as a Democratic National Convention delegate, braving the political arena to submit her nomination. Perkins used cassette tapes to translate ballot measures into the O'odham language, educating as many tribal members as she could about the political process and encouraging voter participation.
The virtual ceremony will be held on Friday, June 18 from 12:30 to 1:30 p.m. Arizona time. After their tribute is entered into the Congressional Record, Enos, Cough and Perkins' family will receive an official framed copy of the Congressional Record with Rep. Stanton's statement.
Look for more about these three remarkable women and their Congressional Record Presentation in the July 1 issue of O'odham Action News.