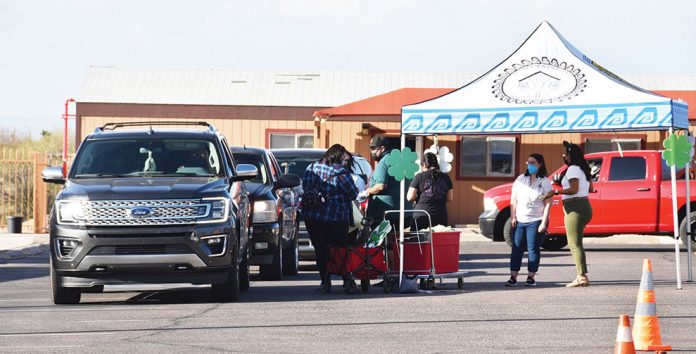 Senior Services Recreation celebrated St. Patrick's Day by serving more than 380 seniors on March 16 for their monthly giveaway.
The seniors were able to try their luck in receiving a golden ticket to claim a prize, green beads, a St. Patrick's Day-themed mask and a delicious bakery treat.
The curbside event was held simultaneously at the Salt River Senior Center, where many cars lined up early, and at the Lehi Community Center. Homebound seniors received their items separately.
"Homebound seniors are our clients who are not able to make it to us. So, we do our best to always involve them," said Senior Services Recreation Supervisor Douglas Cooper.
"These events have been going on since the pandemic started. We needed a new way to still be involved with our Community and our seniors," Cooper added. "Over the past two years we have given so many cool things away, and we hope to see many more seniors involved, as we have a lot more events like this coming up in the near future. I would like to send out a big thank-you to our Senior Recreation team for all they do."