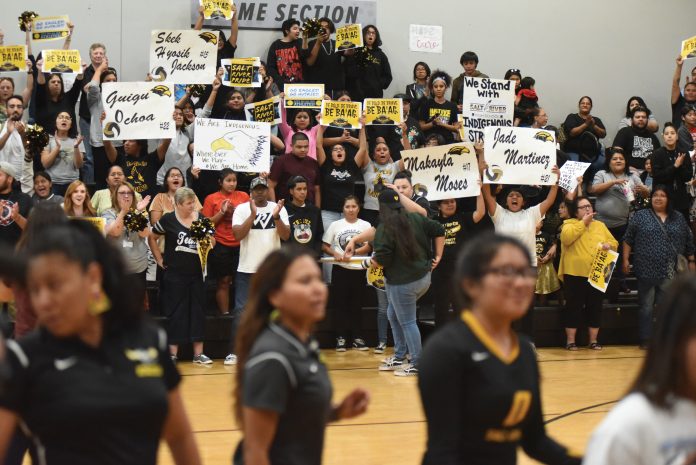 A sign said, "We Stand With Salt River High School—Indigenous Strong."
Another said, "Be Bold. Be Brave. Be Ba'ag."
Fans packed the gym and more signs were raised high as the young ladies representing Salt River High School volleyball took the court on Friday, October 25. The match against Caurus Academy in the Canyon Athletic Association (CAA) Division 1 State Tournament first round had been postponed mid-match just three days earlier under unfortunate circumstances.
On October 22, on Caurus Academy's home court in Anthem, Salt River was down 2-1 in a best of five match when coach Kyronna Roanhorse abruptly called her team off the court to ensure the athletes' safety. During the match, Roanhorse learned that Caurus fans were making racist gestures and directing slurs at her team. The slurs and gestures included war chants, tomahawk chops and calling the players "savages," according to multiple reports.
Then came the media reports. Local newspapers and TV news reported on what happened and the fallout. The Washington Post even reported on the verbal assaults. The CAA issued a news release on October 23 saying it would review "all sportsmanship reports" and then report the findings to the league office.
Administrative officials at Salt River Schools sent letters home with students explaining what happened.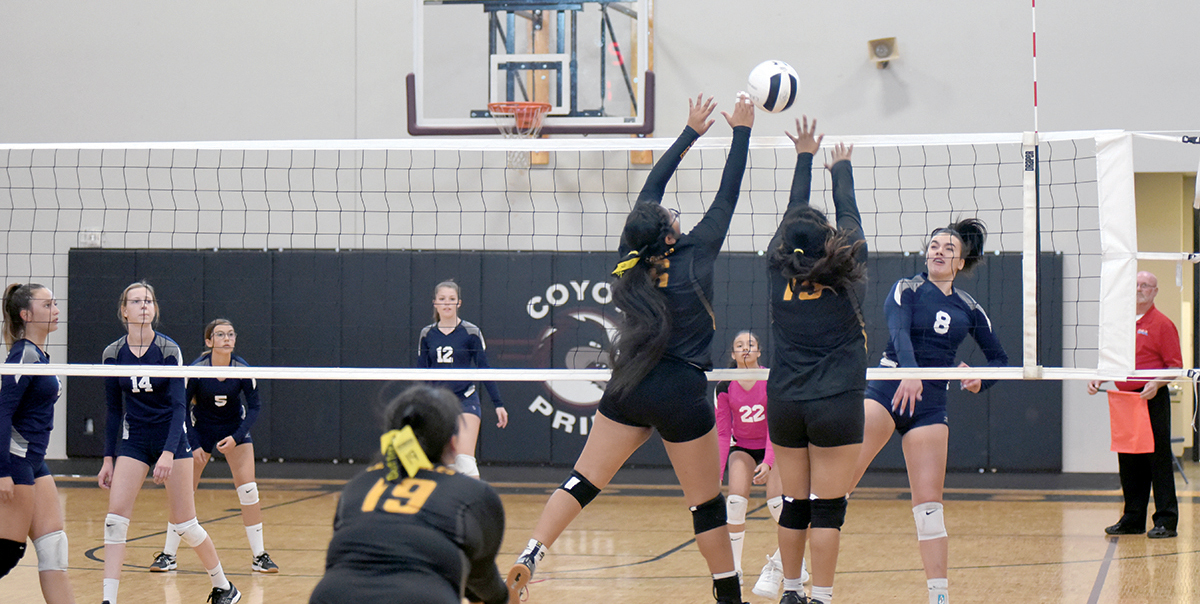 "We are proud of the way our coaches and team handled the situation," said Acting Superintendent Cynthia Clary in one of the letters. "Student safety is our top priority, and regardless of what the CAA investigation finds, the fact remains our team felt unsafe and made the important decision to leave the game at Caurus Academy. Together with our school, staff, students, their families and the Community, our focus remains on building up our young people and providing them with positive life lessons and experiences."
Yet, the tournament game had to be played. Both schools and the CAA agreed to reschedule the game in a timely manner.
The Game
As part of an agreement between all three entities, the game was rescheduled for October 25 at Desert Heights Preparatory Academy in Glendale, which was considered a neutral site.
Salt River, led by senior captain Sialik King, entered the match seeded 10th after a strong regular season with a record of 9-3, which included a six-match winning streak. Caurus Academy was ranked seventh.
This time, Salt River had the fan support, easily outnumbering Caurus. Salt River Schools even provided a school bus to transport fans to and from the game.
In a match where the first team to score 25 points wins, Caurus jumped out to an early 7-4 lead. Salt River battled back to take a 9-8 lead in the closely contested game. Two points never separated the teams, and the Eagles were able to capture the game 25-23 and tie the match 2-2.
Fans erupted and players hugged at the tied score.
However, the momentum didn't last long. Caurus jumped out to a 3-0 game lead. In the fifth and final game, the first team to reach 15 by 2 points wins. Caurus then rattled off 6 points to lead 9-2. Salt River got within three, 9-6, but that was as close as they would get. Caurus won 15-9.
Salt River fans gave the Eagles a standing ovation after the game.
"Being a senior, it is upsetting to have my season end on a mis-serve, but I know that I and the girls left our hearts out on that court," King said after the game. "It was just amazing to have our Community there to back us up. I've been playing volleyball since I was in the sixth grade, and I've been playing high school volleyball since I was in the seventh grade, and I've been a captain since I was a freshman, so it's a very surreal feeling to have [my high school volleyball career] close on this note. But it was nice to have my Community there. Since I've been playing, even for basketball, I've never had such a big turnout for one game. It was very nice to see that we, as Indigenous people, could come together for this game."
What's Next?
Salt River Schools is a member of the CAA and often hosts games and tournaments at its facilities. The CAA identifies itself as "a not-for-profit corporation for non-traditional education institutions," according to its website. The association includes traditional high schools, charter schools, parochial schools and home-school organizations.
CAA officials announced that there would be no sanctions handed down as a result of the reported racist gestures and slurs, said Randall Baum, CAA executive director.
All Baum would acknowledge is that "something did happen" at the match in Anthem, but he declined to elaborate.
Roanhorse said after the game that she was proud of both teams despite what had happened off the court.
"We have to learn from this situation going forward, and that's the biggest step that we are trying to make here, the impression is that it's not acceptable [to behave that way]. But at the same time, we can all come together to make it work and to move forward and learn from this type of situation," she said. "We never, ever want any of our student athletes, our family members or spectators to be in that type of situation."
Baum said the CAA will establish a committee that will develop cultural competency policies.
Salt River Schools remains in the CAA and will play Caurus in other sports in the future.
Salt River Schools leadership has spoken with CAA officials and Caurus administrators multiple times since the October 22 match. They even offered to provide cultural sensitivity training.
"We are strong. We are resilient. And we believe coming together to overcome this adversity will have a positive impact on our student athletes," stated a letter dated October 25 to students, families and staff. "We are leaving this situation even more convinced that we have amazingly talented athletes capable of maintaining their composure under the most stressful conditions, such as being confronted with racially antagonistic words and behaviors during competition, which we know happens more than anyone cares to admit. We are also humbled by the actions of our coaching staff, so committed to the students in their charge that they would risk forfeiting a game to ensure the safety of their athletes."