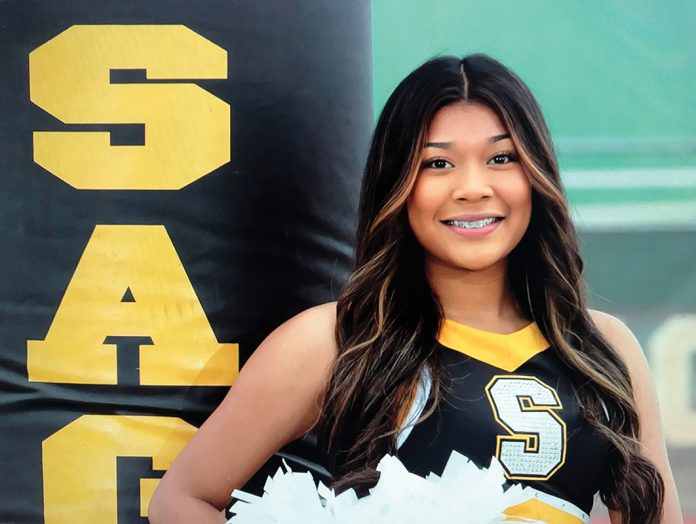 Saguaro High School junior Ky-Moni Harney challenged herself this year by getting out of her comfort zone and trying out for a new sport. Harney felt that due to the COVID-19 pandemic she missed out on some of her high school experiences, and she wanted to try a new sport. She played basketball with the Sabercats in both her freshman and sophomore years.
"I wanted to push myself because I don't know how many opportunities, I will be able to have and I am glad I took that opportunity to try out and get on the team," said Harney. "I always wanted to do cheerleading and be part of the team, but it was about putting myself out there and pushing myself past my comfort zone. I didn't know any of the girls trying out, and it was really scary because I never talked to any of them before. But it was worth it."
There are two different cheer teams at the school, and Harney felt she made the right choice. She explained that she was on a team that works well together and has a lot of fun, but they also get down to business when it's time to perform drills and cheers.
Although this school year was different, the cheer teams participated in a majority of the football and basketball games.
Harney explained that it was hard because of the virus. The basketball team didn't want a lot of people at games, and they had to wear a mask 100% of the time at basketball games. They didn't get to perform a lot of the halftime shows at the football games, but they didn't have to wear a mask while performing out on the football field.
"There weren't a lot of parents that came to the games. The boys' basketball team didn't like the idea of us going to the games to cheer, and it felt unwelcoming. But after the first couple of games, it was really nice because they started helping us cheer and the coach was supportive in having us there to cheer for the team," said Harney. "A lot of the parents during football and basketball season would compliment us and say it was a lot nicer having us there to cheer on the team and keep the atmosphere alive."
Next year Harney will be a senior, and she plans to try out for cheer again. if she is unable to participate, she plans to try out for the girls' basketball team.
Her advice to other high school youth is to get out there and try.
"Even if you don't know people—I know that's a big issue, because people don't like to do things by themselves—I think it's great to just go for it," said Harney. "I felt at first, when I still didn't know anyone, it made me uncomfortable. I didn't want to go full-out with the dances and cheers because I felt uncomfortable. [But then] I realized that we're all here doing the same thing, and no one is going to make fun of you."
Harney would like to thank her mom, Theresa Harney, for helping her pay for everything, because cheer is expensive. She is also thankful to her dad, Vernon Myers, and her sisters for driving her to practice and helping out with money.