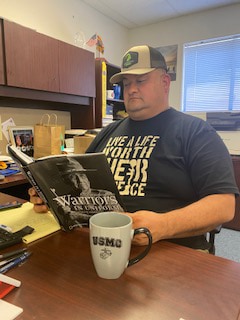 In February 2020, the Salt River Pima-Maricopa Indian Community Veterans Warriors Book Club was started by four members who share the highlights of each chapter with one another.
They are the staff of the SRPMIC Veterans Representatives Office: Veterans Representatives Amanda White and Troy Truax, who is also a representative of the American Legion Post #114 Bushmasters; Assistant Elisabeth Thomas; and Director Glen Law.
"Glen ordered four books and we picked one book to start with," said Truax. "We break it down into chapters and we convene and talk about the highlights, what our thoughts are, how it makes us feel and what was significant about the portion that we read. The books we are reading are based on Native Americans [in the military]."
The first book the club read is "From Warriors to Soldiers: A History of American Indian Service in the U.S. Military" by Gary Robinson and Phil Lucas. The club finished that title at the beginning of the year.
"Our director [Glen Law] initiated getting these books because we need to learn about other tribes and different warriors and veterans and their stories," said White. "And you can pretty much say that it's the same across the board in Indian communities, because we were the first people here [on the continent]. It's just getting a more broad idea on different authors, stories, tribes and eras, mostly Korea and Vietnam veterans and moving along the timeline to now."
The Warriors Book Club will read a chapter and then meet up at the Veterans Hall or on Skype and engage in discussions. "The book club discussions get pretty deep among the four of us," said White.
The club has taken a couple field trips, including to the National Memorial Cemetery of Arizona and the Arizona State Capitol. They discussed what visiting those sites meant to one another in relation to the book they were reading.
"With social media, if the SRPMIC members were to see that we're actively reading [these books] and talking about them, the biggest thing we want to do is show the Community that there are books out there and resources that they have. Be active in [your] reading, because they're really good stories and they will definitely get you motivated," said White.
The book club is now on its second title, "Warriors in Uniform: The Legacy of American Indian Heroism" by Herman J. Viola.
You can follow the veterans page on Instagram @saltriver_veterans1879.