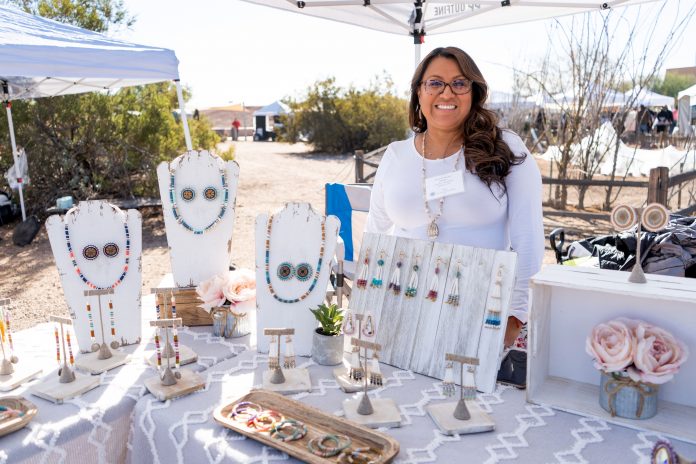 Salt River Pima-Maricopa Indian Community member Maricela Hinojosa has taken her passion for beading and turned it into a small business venture called Beaded Plume. The former Miss Salt River went from wearing a beaded crown to now making beaded crowns for future titleholders.
Hinojosa started to bead when she was a child, learning from her late uncle, Paul Andrews. After his passing, she put away her beading until starting up again about 10 years ago.
"[When I was] working at the casino, I had a friend who invited me to a beading party. She is Navajo and offered to help teach me and refresh my memory on my beadworking skills," said Hinojosa.
During the pandemic is when Hinojosa's beadwork flourished, since she was at home and bored like everyone else.
"I was making set after set, practicing, and it got to be where everything else was starting to become secondary," said Hinojosa.
After a major life change in 2021, she finally had the opportunity to go out and sell her work as a vendor at Native arts and craft festivals in and around Arizona.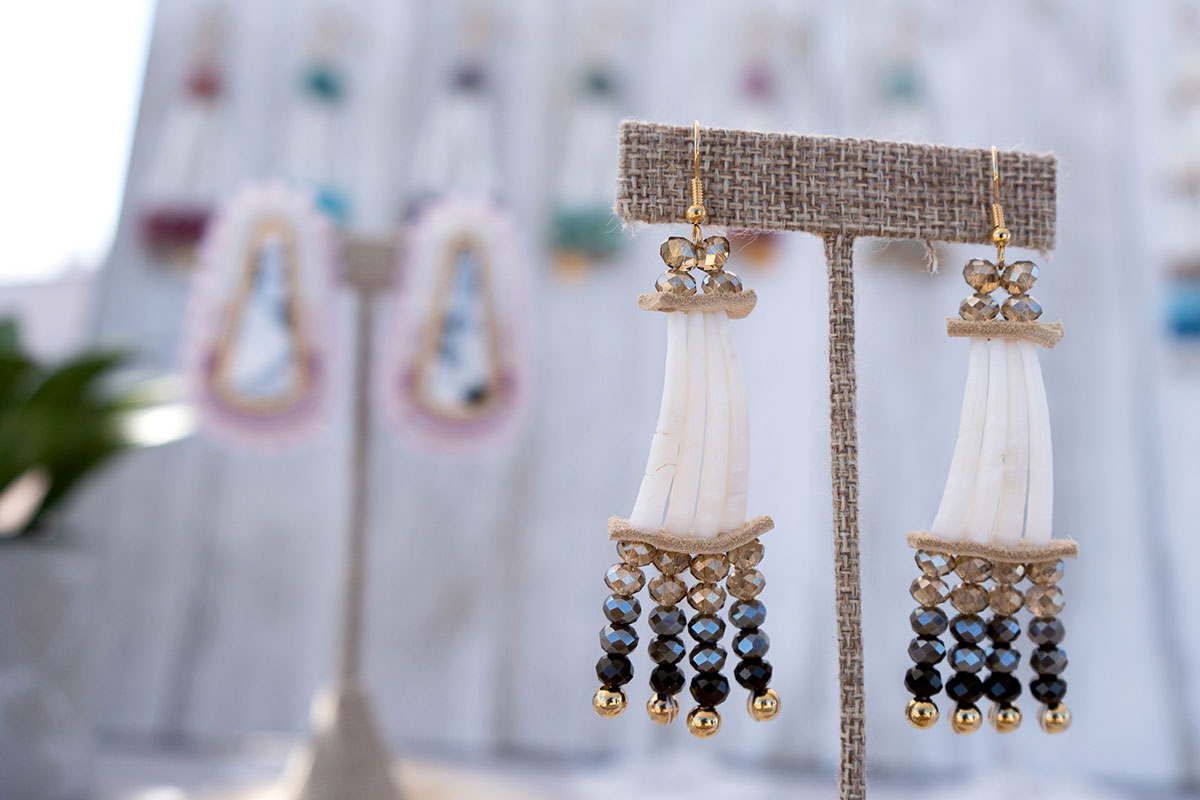 Hinojosa's work is considered very contemporary, but she has a love for the antique and vintage, especially old traditional beadwork.
"I wish we could take a lot of beadwork home out of these museums, but that's not going to happen," said Hinojosa. "But I have a love for older things, and I tried to incorporate that into my beadwork, giving it that timeless feel, because obviously I can't create with vintage beads because they're nonexistent. Nonetheless, I try to incorporate their color schemes."
She has learned from a lot of people throughout the years, taking classes at the Salt River Tribal Library taught by Gretchen Thomas and other beading classes around the Valley. She incorporates what she's learned and different styles into her beadwork today.
One of her favorite pieces is a shield medallion that she beaded using colors inspired by the cotton fields in the Community.
"The customer gave me liberty to do whatever I wanted, and for this particular project the colors I used were earth tones basically from home (Salt River)," said Hinojosa. "I remember, growing up in the cotton fields, just cotton surrounding us, and so I took a lot of those colors that I remember from what my scenery looked like around my mom's house. So, it came out with some dark brown, some greens, all different color greens. That's the one I wish I had taken a picture of. I think that one meant the most to me because it was home."
One of her major projects this past year was to bead the Mr. and Miss Phoenix Union High School crowns for the Phoenix Unified School District's Native American Program. She explained that it was quite a learning experience as one of the first pieces she has created of that magnitude.
Hinojosa credits her success thus far to organizations such as H.E.R. Medicine, Native Art Market and Cahokia, which host Native American art markets and help out first-time vendors.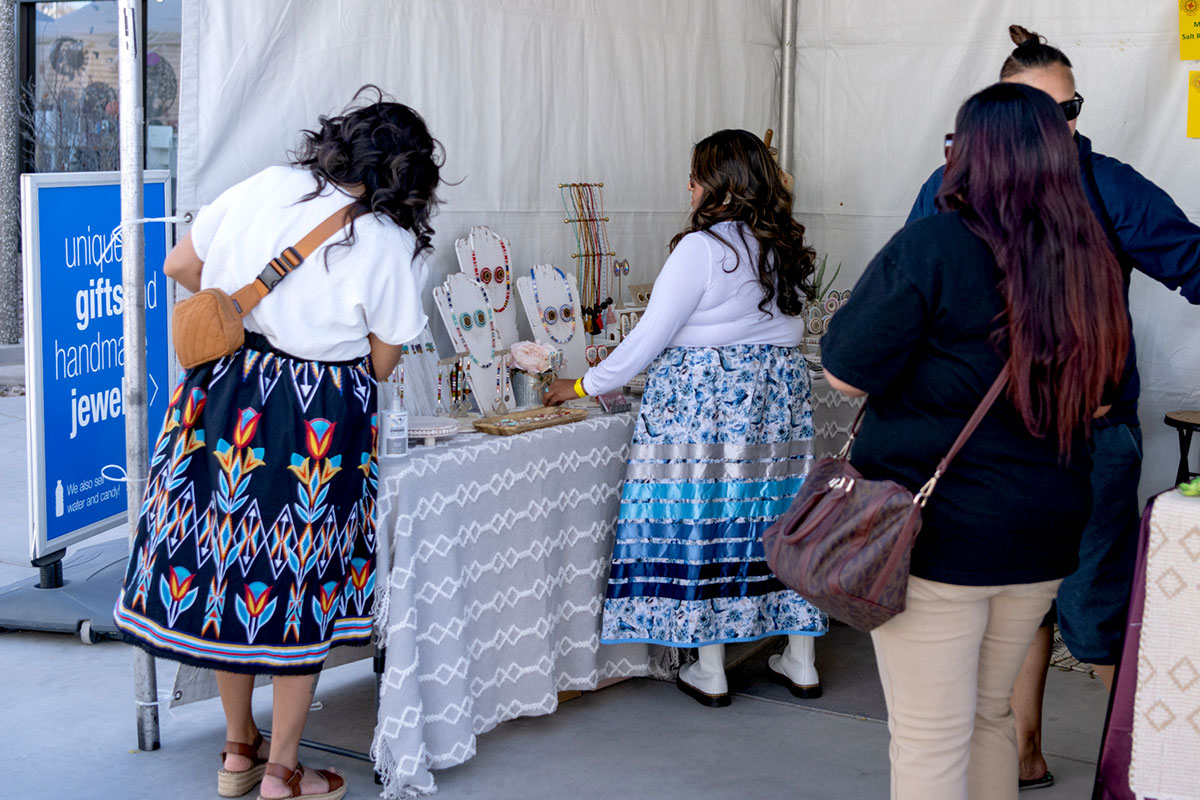 "They assist you with any help that you need, whether it's business licensing, setup or questions you have about vending. These different tribal organizations and businesses are there to help us; they are not just gatekeeping the way," said Hinojosa. "They're just so helpful making sure that you have what you need and you are okay. Cahokia is who helped me along the lines of the logistics; they provided a class to learn how to run a small business." Vending has opened a lot of doors for her as far as networking.
One of Hinojosa's future goals is to teach beading in the Community, whether it's for youth or seniors.
Hinojosa is the daughter of Kathy and Alfredo Hinojosa, the granddaughter of Herschel Andrews and Isidra Paderez, and the great-granddaughter of the late Merrit and Selma Andrews. To view more of Hinojosa's work or see where she will be vending next, visit her Instagram page, @beadedplume_64.