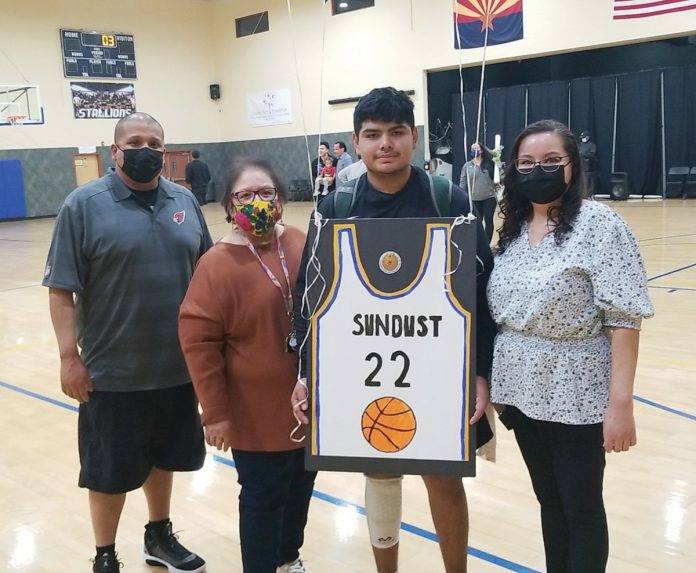 When it comes to our school careers, everybody has a lot to say about their experience—whether they succeeded by putting a lot of effort into studying and earning high praise for their work, whether they achieved success by volunteering and helping others out, or whether their success came by competing in a sport and understanding the concepts of leadership and what makes a great team.
For Salt River Pima-Maricopa Indian Community Council member Wi-Bwa Grey and her son Maceo Sundust, it was the latter. Playing basketball has been a valuable experience for Sundust.
Grey explained how her son got into sports.
"He started playing basketball at age 7 for the Boys and Girls Club Lehi Branch," Grey said. "His first team was Orange Crush, and they went to the championship for the East Valley Division. He then took a long break at the age of 10 and explored baseball, where he found his passion. He then picked basketball back up at the age of 15 and played for Salt River High School until their doors closed. The team was split up, with three of [the players] following coach Leroy Eswania to Sequoia Charter School."
As a parent, Grey stands out as her son's biggest fan and supporter when it comes to his games.
"I am probably the loudest parent in the stands when the parents are allowed in," Grey said. "Maceo said that he knew I had arrived once he heard my yells from the stands; he would turn to his teammates and say, 'Yeah, my mom is here.'
"Because of the pandemic, we were only allowed to [attend] home games, with only two spectators [allowed] per player. But as a family we never missed a game, watching on our TV through YouTube channels and livestreams. We would have a watch party with the whole family at grandma Fawny's house and have game-day food while yelling from the seat of our couch."
Sundust explained what it was like playing with the Sequoia team and what keeps him going with basketball.
"It was a different style of playing than what we were used to, but [we came] together to form a team," Sundust said. "I also had to get used to the coaching style. My coach was from Chicago, so you get the picture. Overall, I loved playing with Sequoia and I think we all learned how to respect each other and each other's style to have a successful year. … Playing basketball is an outlet for me. When life challenges get to me, I can take it out on the court. Having a supportive family is what keeps me going."
The routine for getting ready for a big game differs from person to person. Sundust gave us a little insight into to how he gets ready for a game.
"I put on my AirPods and my music and try to relax. Then, right before the game, I turn on music that would hype me up. I also make sure I get a good rest the night before and try to stay hydrated," Sundust said.
Since the school change, Grey has had to make some adjustments, but she looks at the change as a good thing.
"I don't want him to move away, but he needs to experience the outside world other than the 'rez.' There is more to see and accomplish, and home will always be here for him," Grey said.
When asked for encouraging words to help youth manage tough situations, Grey gave her advice.
"Keep taking on challenges and never give up. At times [your] days may be rough and you will want to take the easy way out and give up, but through perseverance and believing in yourself you will find gratification and have pride in yourself for not giving up. Life is not easy; it's what you do with life and how you get through your challenges that counts," Grey said.
She added that there certainly has been a lot of challenge and change, but through it all she and her son are closer than ever.