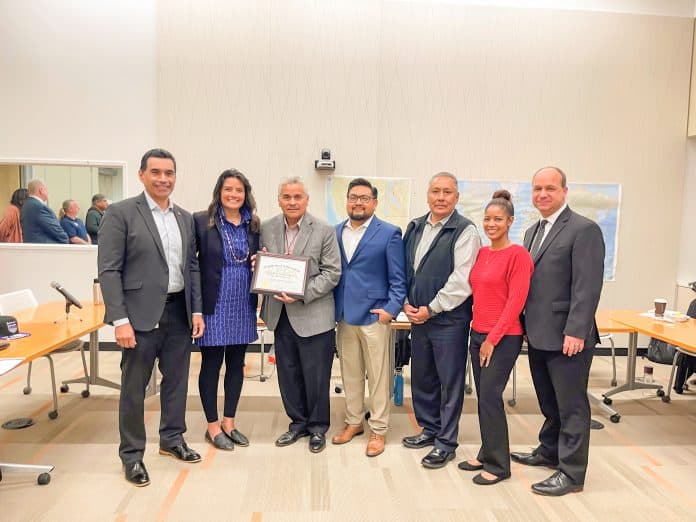 The Salt River Pima-Maricopa Indian Community's Community Development Department (CDD), Environmental Protection and Natural Resources Division (EPNR), received important recognition from the U.S. Environmental Protection Agency (EPA) certifying the Community's ability to implement high-level water testing requirements.
According to Regina Leverette Mason, SRPMIC Senior Environmental Engineer, this status is called Treatment as a State (TAS). The EPA granted the authority to SRPMIC and other participating tribes to carry out the same standard of water treatment and monitoring done at the state level under the Clean Water Act Section 303(c) and 401 program.
Last month, EPA Regional Administrator Martha Guzman presented the Community with an award certifying its TAS status at an EPA Region 9 meeting in San Francisco, California. SRPMIC President Martin Harvier and Assistant Community Manager Doran Dalton attended the meeting, along with Mason, Senior Environmental Engineer Jeremy Phillips, and Christopher Horan, assistant director for the CDD/EPNR Division.
In a synopsis, "Water quality standards fall under Section 303(c) of the Clean Water Act and provide the regulatory framework for protecting the Tribe's surface waters. SRPMIC can have water quality standards that are more stringent than state or federal standards," including the ability to secure federal grant funding for its water quality programs.
This also means that the water quality standards for certain contaminants are more stringent than the state's, which puts the Community at an advantage when it comes to being a leader in water quality standards.
In information provided by Mason, the TAS status permits "SRPMIC to have more control over the protection of the Community's rivers to ensure they are safe for many generations to come; and due to the complexities of where the Community is located, surrounded by different municipalities, there is much potential for pollution to the Community's waters."
Mason said the process to be granted TAS status was a lengthy one that took diligent work from both the Community and the EPA.
"In the past it was taking the EPA roughly six years to approve a tribe's application, but they have streamlined that part a bit …. However, it did take us longer than needed, partly due to the COVID-19 pandemic," said Mason.
She said the TAS permissions give greater authority to the Community regarding waterways like the Verde River and Salt River, which are historically tied to the Community.
"It allows us to be the ones doing the work on the ground, because we are observing things that are happening in these waterways," said Mason.