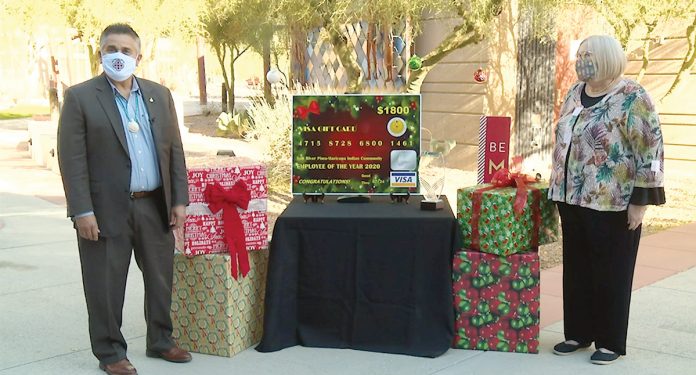 The holidays are a special time for a lot of people. At the end of the year, the Salt River Pima-Maricopa Indian Community likes to recognize and celebrate some of the hardest-working employees of the year. Usually, there is an employee luncheon with all the employees gathered at Talking Stick Resort Ballroom to recognize the nominees and the winner for Employee of the Year. People also use the event to socialize and participate in some fun games—for example, a Battle of the Bosses, with managers of the tribal departments having a showdown on who can do the best musician impersonation!
This year, COVID-19 prevented gatherings of a large number of people. So, the Employee Holiday Program was broadcast over Vimeo on December 9.
To continue the tradition of the Holiday Employee Luncheon, there were games throughout the day for employees to participate in. The first game was an Ugly Christmas Sweater Contest, where the first 20 participants to send in their most "special" holiday sweater won an Echo Dot smart speaker or a T-shirt. The second game was movie trivia. Employees had to send in their answers to questions about classic holiday movies. The third game was a candy-cane guessing game. A picture was sent out showing all angles of a glass jar filled with peppermint candy canes, and the employees had to guess how many canes were in the jar. The ones who came closest would win a Ghirardelli travel mug, hot cocoa mix and holiday bag of Ghirardelli Squares. The final game was a virtual scavenger hunt, with employees having to carefully analyze the SRPMIC Virtual Program video that went live and answer questions that pertained to the video.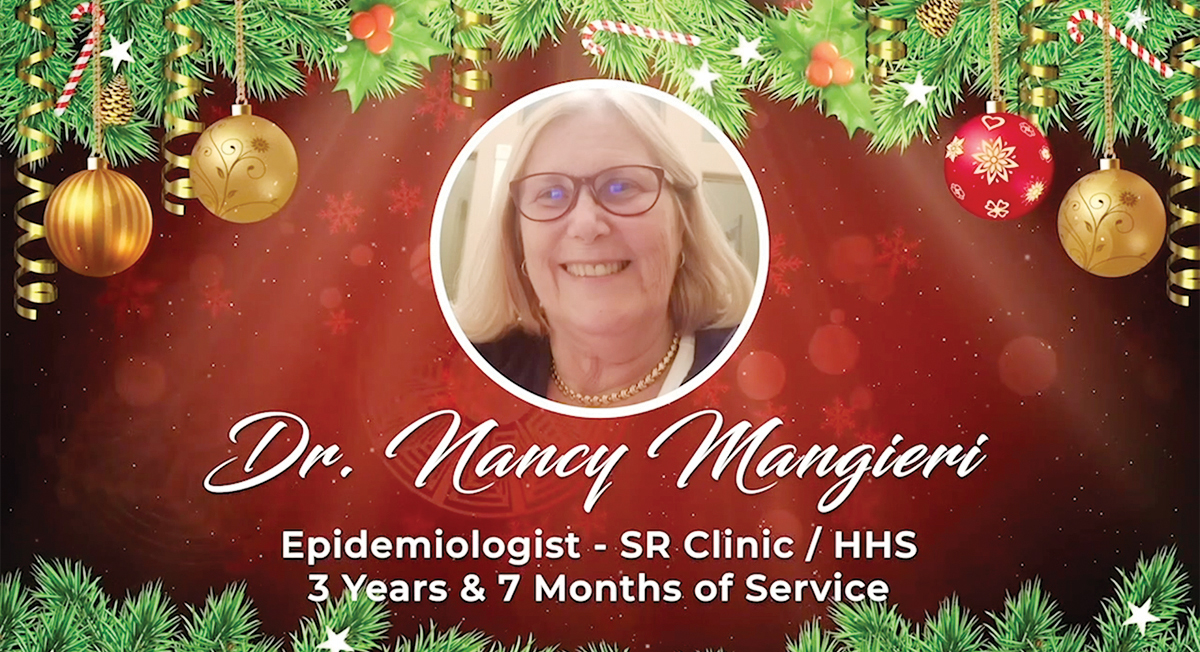 The SRPMIC Virtual Program broadcast went live at noon and included a message from SRPMIC President Martin Harvier. The "Band of the Bosses" made their debut, singing "We Are The World"—all the department managers came together dressed up as artists like Bob Dylan, Diana Ross and Tina Turner to lip-sync together as one. The Employee of the Year award went to Dr. Nancy Mangieri, epidemiologist with the Salt River Clinic at Health and Human Services, for her hard work and dedication to the health of the Community this year.
"I certainly would like to thank everyone that is working in the Community to stop the spread of COVID," Dr. Mangieri said. "I would absolutely like to thank Tribal Council and all of the staff for working together to try to bring prevention into the Community. This is an award that's not just for me, this is an award that represents all of the people working so hard to keep the Community safe. Thank you so much for selecting me, it is really an honor."