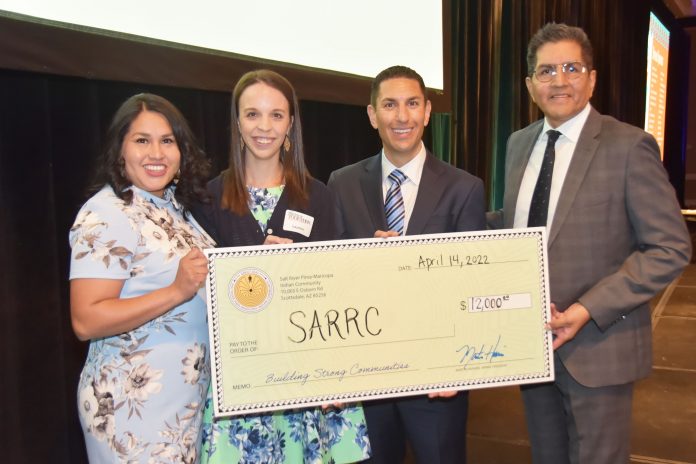 On April 14, the Salt River Pima-Maricopa Indian Community's 12 Percent Gaming Grant Committee presented a check for $12,000 to the Southwest Autism Research & Resource Center (SARRC) during SARRC's community breakfast at the Arizona Biltmore Resort's Frank Lloyd Wright Ballroom.
SARRC is a nonprofit that conducts research, provides evidence-based practices, disseminates effective training and builds inclusive communities for individuals with autism and their families. SARRC is one of the only autism organizations in the world that provides a lifetime of services for individuals and their families while conducting cutting-edge research.
Gaming in Arizona is governed by the Arizona Tribal-State Gaming Compacts between the state and all 22 federally recognized Arizona tribes.
Under Arizona's gaming compact, tribes with casinos contribute 12% of their gaming revenue each year to the state, and to cities, towns and counties. Contributions are determined on a sliding scale based on the amount of gaming revenue realized each year.
The remaining 88% of the tribe's total annual contribution goes to the Arizona Benefits Fund on a quarterly basis and provides funding for the Arizona Department of Gaming and its Division of Problem Gambling. The remaining funds are directed toward instructional improvement for schools, trauma and emergency care, tourism, and wildlife conservation, as detailed in the Tribal Contributions Distribution Flow Chart.
"Part of that revenue share is controlled by each individual tribe to recognize and partner with nonprofit organizations," said Gary Bohnee, special assistant for Congressional and Legislative Affairs with the SRPMIC Office of Legislative Affairs.
"[Every year], the committee makes decisions and selections on organizations that are worthy and deserving of community funding. It's a requirement of the compact and it gives the opportunity for tribes to look at organizations that it would like to see funded."
The Community's committee policy focuses on areas such as education, cultural resources, economic development, veterans and a number of other categories.
The framework of the policy in place outlines several areas that the committee and the Community ultimately will consider, and SARRC's mission aligns with that framework.
"Former SRPMIC President Delbert Ray Sr. once said that the Community is helping people that it will never meet. That's the goal, to reach out and meet needs in the Community. A lot of people who are served by these organizations, we'll never be able to meet them. It's putting money to good use. Autism is prevalent in the community at large, and so the [SRPMIC] can help with the efforts and the mission of the organization," said Bohnee.