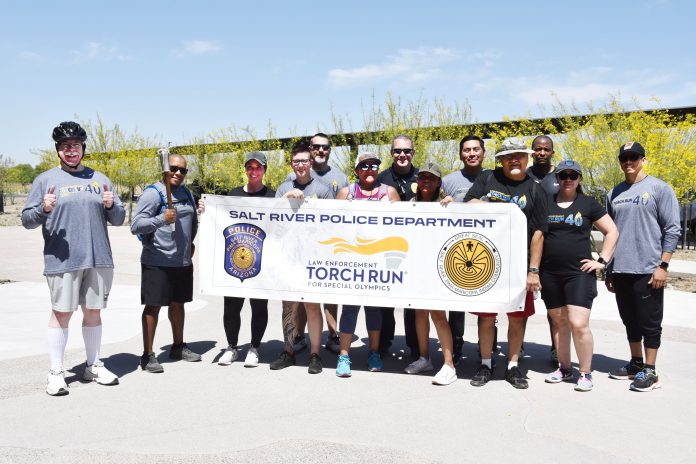 On April 28, the Salt River Police Department carried the torch for the Law Enforcement Torch Run® for Special Olympics. This was the 30th consecutive year that the SRPD participated in the event, which brings together law enforcement groups nationwide.
Beginning at East Shea Boulevard and the Beeline Highway (State Route 87) in the Salt River Pima-Maricopa Indian Community, 27 employees and family members from the SRPD, Salt River Department of Corrections and Salt River Fire Department volunteered for the cause and carried the torch to the River People Health Center before passing it off to the torch bearers on the next leg of the run. All together the SRPMIC leg covered a distance of five miles.
"These wonderful kids with intellectual disabilities need great coaches and people who can and do believe in and support their dreams!" said Salt River Police Chief Karl Auerbach. "[Members of] law enforcement across the nation have supported the Special Olympics Foundation for the last 40 years, and the Law Enforcement Torch Run has become the largest public awareness and fundraising group for Special Olympics."
In 2020, U.S. Law Enforcement Torch Run participants, known as "Guardians of the Flame," included 58,905 torch runners, 9,815 Special Olympics athletes, 12,506 volunteers and 1,159 military runners.
The final leg of the 2022 torch run ends up in Orlando, Florida, for the opening ceremony of the Special Olympics USA Games, which take place June 5-12. Athletes from across the U.S. will compete in 19 Olympic-style team and individual sports, from volleyball and gymnastics to surfing and stand-up paddleboarding.
For more information on the Law Enforcement Torch Run, visit www.letr.org. For information on the 2022 Special Olympics, go online to www.2022specialolympicsusagames.org.