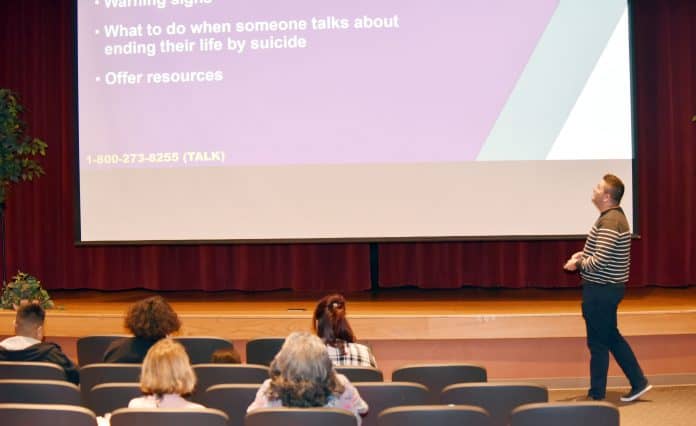 In January, the Salt River Schools security team partnered with the Office of the Arizona Attorney General and Community Outreach and Education to raise awareness of the stigmatized, and often taboo, topic of suicide with a Suicide Prevention & Awareness presentation at the Accelerated Learning Academy Lecture Hall.
Suicide is the second leading cause of death among youth ages 15 to 24, and four out of five teens who attempt suicide have given clear warning signs. The security team chose this topic because families in the Community can benefit from the discussions.
While learning about this difficult topic, Community families gathered in the hall and enjoyed a meal from Chipotle with soda that was provided by the security team. Myths and facts about suicide was the main focus of the presentation.
One of the myths talked about was the idea that suicide rates are highest around the holidays. The highest rates are actually in the spring and are associated with "winter blues," according to Jacob Forston of the Arizona Attorney General's Office, who was the presenter.
A fact that was discussed was the fact that teen copycat suicides are a real phenomenon. If a teenager's suicide case has been sensationalized, some teens may view it as a way out for them as well, after seeing or hearing about it.
Forston noted some of the signs that someone is contemplating suicide: changes in friends and interests, depression and isolation, serious legal trouble, inflicting self-harm, serious suicide attempts, making final arrangements, and obsession with death or suicide.
After the presentation, Safety and Security Manager Esteban Lopez led a discussion with Community members about what they learned.
One Community member raised the concern that suicide rates and numbers in the Community are not talked about enough, which started a conversation about how to tailor suicide prevention presentations to Native Americans, or more specifically, Community members.
If you are, or know of, a teenager within Arizona who is in crisis, call Teen Lifeline at (602) 248-TEEN (8336) or (866) 248-8336. You can also call the National Suicide Prevention Hotline at (800) 273-TALK (8255).