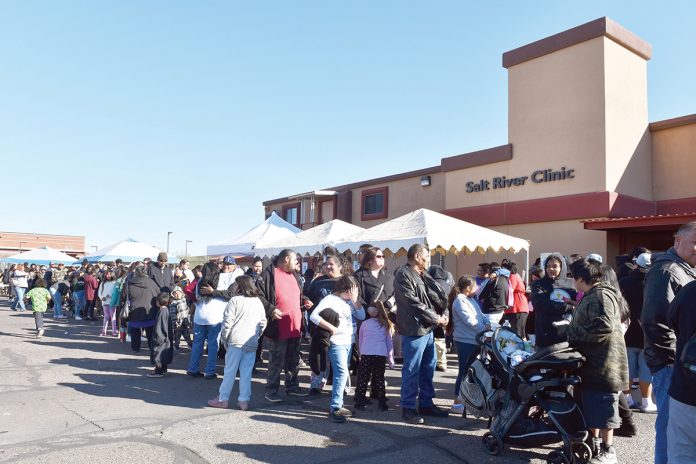 Primary care is a critical component of any healthcare system. It's the day-to-day healthcare provided by pediatricians, family medicine doctors, and obstetrics and gynecology specialists (OB/GYNs). Your primary care doctor is the point person for your health and well-being, the one provider who can help guide you toward healthier lifestyle habits, identify health issues during routine checkups, and connect you to the right specialist for further care if needed.
Salt River Integrated Health Care also includes providers for nephrology (kidney disease), optometry, podiatry and rheumatology (arthritis and autoimmune diseases) who help patients with diabetes take care of their eyes, feet and kidneys.
"We also have a provider who does some intermediate pain management," said Medical Director Kody Smith. "We don't [manage] chronic pain medications as a pain medication clinic; for those type of situations, we refer [patients] to Phoenix Indian Medical Center (PIMC). But we have several things we can do as an intermediate step before patients need to be prescribed pain medication and referred to PIMC to get more intensive care."
These services will continue and grow as Salt River Integrated Health Care moves to the River People Health Center. In addition to looking at expanding their current primary care services by hiring more pediatricians and primary care doctors, including OB/GYNs, "We are looking at expanding some specialty care," said Smith, including physical therapy. Having a closer tie to physical therapy providers will make the referral process less complicated and improve communication between patient, physical therapist and primary care doctor.
"Because we see more diabetes, wounds and orthopedic issues than most clinics, a lot of our providers have done additional training to handle those situations better," said Smith. "We do a little bit more than the average clinic."
Something that Smith considers very beneficial to patients is the option to utilize behavioral health services; there are counselors onsite, making it easier for providers to connect patients with a counselor.
"Across the nation there is a lot of depression, anxiety and grief, especially with COVID-19. People have been self-medicating and increasing substance abuse," said Smith. "A lot of people, when they go to the doctor, they usually go in for something else and not mental health, so it doesn't get quickly addressed or they are hesitant to work on their mental health. When we're talking to a patient and hear some red flags—for example, a patient who has experienced a death in their family and is experiencing anxiety due to the lockdown—we dive into it and help them with some counseling to help them get better mentally. That's really impactful, and it's really nice that you don't [have to go outside to get those services], and that's really unique here."
As services expand in the new facility, Smith hopes to have four to eight new providers, doubling their staff. It depends on the demand of the population what type of providers those will be.
Smith encourages SRPMIC members who are looking for a career and are interested in the healthcare field to test the waters by volunteering. It's a great way to get some hands-on training and experience to help someone decide if healthcare is the right career for them. Smith stressed that in the healthcare field there is always going to be some level of sacrifice, whether it's working on holidays or dealing with a pandemic such as COVID-19.
"I have providers who went months without taking a vacation," said Smith. "I have one provider who has gone over a year without a vacation, because she was involved in getting COVID-19 results to all those who have taken the test. There are sacrifices, but we try to make as normal a schedule as possible, because we all have families and lives outside of work. But there are times when you have to sacrifice personal time for patient care."
Smith is grateful that the people of the Community trust them to take care of their health.
"I really appreciate the confidence the Community has given us; the feedback we get is that we're doing a good job," said Smith. "We want to provide good care, and we really appreciate our patients who trust us with that."