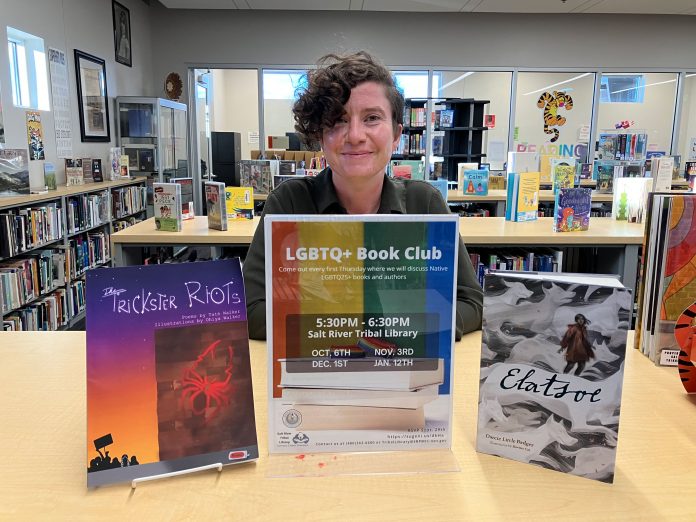 On the first Thursday of each month through at least January 2023, the Salt River Tribal Library will be hosting the LGBTQ2S+ Book Club, where Native LGBTQ2S+ books and authors will be discussed.
LGBTQ2S+ stands for lesbian, gay, bisexual, transgender, queer and/or questioning, and two-spirit. The plus symbol stands for all other gender identities not covered by the other initials.
"We're trying to focus on the importance of recognizing authors in the Native queer community and how they blend their creativity with their background in order to help reach those who maybe don't feel represented, as well as educating [people] on what it means to be queer and Native going into the 21st century," said Salt River Librarian Lessie Dingler.
Dingler continued, "We're also trying to provide a space for the queer community here at the SRPMIC, and [to help] tribal communities and libraries beyond here to see that this is something that is happening and that we are beginning to have a conversation [about LGBTQ2S+ issues]."
Each book will touch upon different writing styles and genres. The book club is meant for adults, but Dingler said that some older young adults might still be able to attend.
In October the club started with the debut novel Elatsoe by Darcie Little Badger (Lipan Apache), and future club meetings will discuss This Town Sleeps by Dennis E. Staples (Ojibwe), Jonny Appleseed by Joshua Whitehead (Peguis First Nation) and The Trickster Riots by Taté Walker (Lakota citizen of the Cheyenne River Sioux Tribe of South Dakota).
Upcoming book club meeting dates are November 3, December 1 and January 12. The club meets from 5:30 to 6:30 p.m. at the Salt River Tribal Library at WOLF. For questions about the club, call (480) 362-6600 or email TribalLibrary@SRPMIC-nsn.gov.