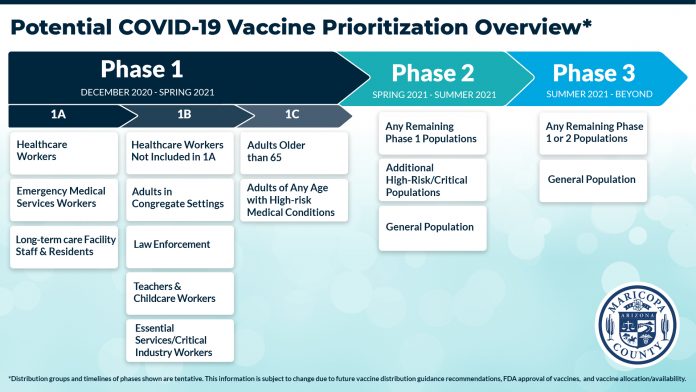 By Kirsten VanDeventer
SRPMIC COVID-19 Incident Commander
Emergency Management Coordinator (PHEP)
The Salt River Pima-Maricopa Indian Community COVID-19 Command team announced that the Community will be utilizing the U.S. Centers for Disease Control (CDC) playbook, CDC Playbook, as guidance in release of the COVID-19 vaccine to the Community.
According to the CDC Playbook, immunization with a safe and effective COVID-19 vaccine is a critical component of the United States' strategy to reduce COVID-19-related illnesses, hospitalizations and deaths and to help restore societal functioning. The goal of the U.S. government is to have enough COVID-19 vaccine for all people in the United States who wish to be vaccinated.
The first round of the COVID-19 vaccine is expected to be available in mid-December and will be administered in a phased approach. SRPMIC participation for the COVID-19 vaccine is voluntary by staff and the Community; however, there will only be a limited amount of vaccine available initially.
SRPMIC is partnering with Honor Health and Maricopa County to vaccinate our Phase 1a personnel. The COVID-19 vaccine will be distributed through a Northeast Valley regional Point of Distribution (POD) site. SRPMIC qualifying staff will be notified to schedule an appointment at the time of vaccine availability. The initial vaccines will only be available to healthcare personnel and emergency medical services(EMS).
Here's the breakdown of those who will be eligible for the vaccine under this phased approach for Phase 1a.

The COVID-19 vaccine for SRPMIC staff identified in Phase 1b will be provided through the SRPMIC Point of Dispensing (POD) plan at a site to be determined on Community lands. This plan has been very successful as a way to provide the flu vaccine for the last two years. We do not currently have a timeline for the Phase 1b vaccine (estimate of possibly January/February); however, we are aware of who will qualify to receive the COVID-19 vaccine in Phase 1b and they are listed here.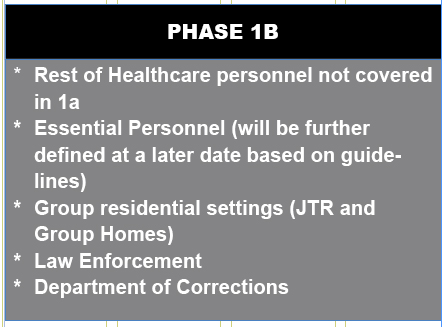 Questions and unknowns about the COVID-19 vaccine and the process are still in discussion among health organizations and partners. The SRPMIC Command Team is striving to provide you verified reliable information as we receive it.