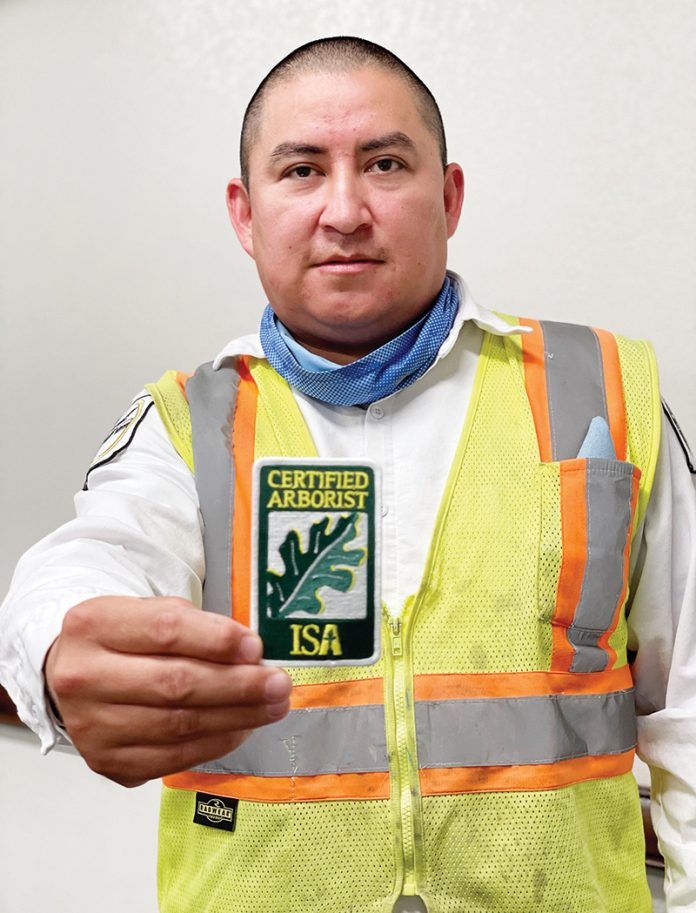 At the end of September, Public Works Road Landscape Maintenance Supervisor Jaydean Dallas put a year of studying to the test to become a certified arborist. Dallas, a Salt River Pima-Maricopa Indian Community member and son of the late Patrick Carlton Dallas, worked in landscape maintenance for the Arizona Diamondbacks at Salt River Fields for five years. He then moved to the SRPMIC Public Works Department, where he has had the opportunity to take his knowledge and skills to a whole new level and apply for certification with the International Society of Arboriculture (ISA).
An arborist is a certified professional who obtains skills and knowledge as a tree care professional in areas such as tree biology, disease diagnosis, maintenance practices, safety and other practice areas within the tree care profession.
Dallas explained that he grew up around cornfields and cut and hauled wood for his childhood home up north. This played a big part in how he came to work in landscape maintenance.
"Being exposed to the forestry side of life up there, I wanted to go [into] forestry, but I just kind of fell into landscaping here in the Valley," said Dallas. "I found my niche in landscaping. I really like working outside. I had a couple of inside jobs before and I didn't really like those; I prefer to be outside."
Dallas was approached by his management team to take the challenge and get certified as an arborist.
"Mr. Bacome (Roads Maintenance Supervisor Greg Bacome) is always advocating to [obtain] this certification or that certification, but the ISA was big because it's a person who knows plants and trees to have on the crew to lead guys and teach them," said Dallas. "The challenge of seeking the education, the craftsmanship; I was striving for the technical aspects of the job."
To become a certified arborist, Dallas first had to apply to take the exam. He explained that the application process was extensive. He had to get recommendations from both Public Works and his former employer at Salt River Fields at Talking Stick. The Public Works Department paid for his ISA membership cost, study materials and the cost of the exam.
While a number of SRPMIC government offices were closed during the COVID-19 pandemic, Dallas had the extra time to read through a stack of books and study for the exam.
"It was very broad, and I found a lot of the subsections were extensive. It was quite a bit of work, especially on topics that I didn't know lot about, such as tree climbing," said Dallas about studying for the exam. "It was one big test, but it had 10 sections, and each section in itself is quite a bit of information."
The arborist certification will help Dallas as he and the Road Landscape Maintenance crew work on the right-of-ways and all the paved roads to maintain all the trees and shrubs, remove weeds and keep the sidewalks clean in the Community. There are many different species of trees and plants, and each needs special care.
"I would like to thank Parks and Events Section Manager Silverio Medina, Roads Maintenance Supervisor Greg Bacome, Roads Section Manager Jennifer Jack and Assistant Public Works Director Mike Byrd. They've been big advocates [for me] in pursuing this education and getting the certification; they basically supported me in my endeavor," said Dallas.
"It's taught me to care about what I do. Being certified lets people know that I am serious about what I do. And maybe [I can] advocate to the Community that there are guys here that care about their work and want to do things the right way. Trying to pursue that side of it, getting the education and bringing it back to help [the Community], I think that's a big thing for me."