In the coming months, Salt River Pima-Maricopa Indian Community members will be heading to the polls to vote in the state primary election in August and the general election in November. To prepare voters for the elections, the SRPMIC Office of Congressional & Legislative Affairs (OCLA) is encouraging Community members to read up on who will be on the ballot.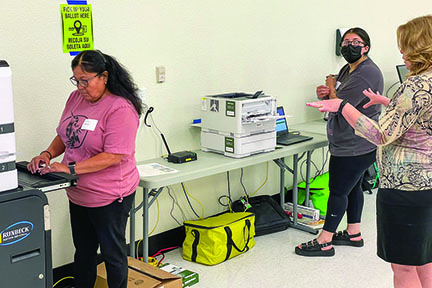 "We coined the [phrase] 'Our Ancestors Couldn't Vote, But You Can,'" said OCLA Intergovernmental Relations Project Manager Angela Willeford. She said OCLA is utilizing its "Get Out the Vote" campaign to increase voter turnout in this year's state and Community elections.
"Our first priorities are to make sure that our elections are held at our Community Building and [we're] working to secure an opportunity for Community members to be certified poll workers," said Willeford.
She added that they are monitoring state and federal legislation, including education on the recent redistricting of congressional and legislative districts for Arizona. Willeford said, "The OCLA was involved in making sure that the principles of the Community were met during the redistricting process with the Arizona Independent Redistricting Commission."
Willeford said the OCLA wants to educate Community members about the upcoming primary elections and encourage them to register to vote. Part of this education includes how to request a ballot and submit a ballot by mail.
"In addition, our main objective is to increase turnout for the midterm elections." Historically, fewer people vote in two-year midterm elections than in the presidential elections every four years.
She said that in past elections, Native Americans have voted for candidates that are attentive to tribal issues and are more likely to establish a government-to-government relationship with Indigenous communities.
The state of Arizona is in the midst of gubernatorial race to succeed current Governor Doug Ducey. Willeford said that it is important for Community members to participate in the election for governor, because the next couple of years will determine how the new state leader will approach issues critical to the tribes, such as water rights, taxation and Indian gaming.
"[They] are the ones that are negotiating with us over critical issues, and I think as individual Community members we need to understand the importance of the governor's role in our tribal sovereignty," said Willeford. "If you look at the states that have more of a government-to-government relationship with their tribes, they have more successful policies pertaining to their tribal communities."
OCLA recently launched a page on the Community's official website to provide information on voter registration requirements for the upcoming elections. The page includes election dates, links to congressional and state representatives who represent Congressional District 6 and Legislative District 26, and a message from SRMPIC President Martin Harvier encouraging Salt River members to vote.
OCLA, in partnership with the Maricopa County Elections Department, hosted a poll worker training at the SRPMIC Community Building on June 21. 14 individuals took part in the training, which included instruction on election equipment.
For the upcoming slew of voter-registration initiatives in the Community, OCLA has chosen to the slogan "Rise Up Salt River!" to get SRPMIC members out in force to the polls come Election Day. For more information, Community members can check out the OCLA webpage at www.srpmic-nsn.gov/government/administration/ocla/gotv.