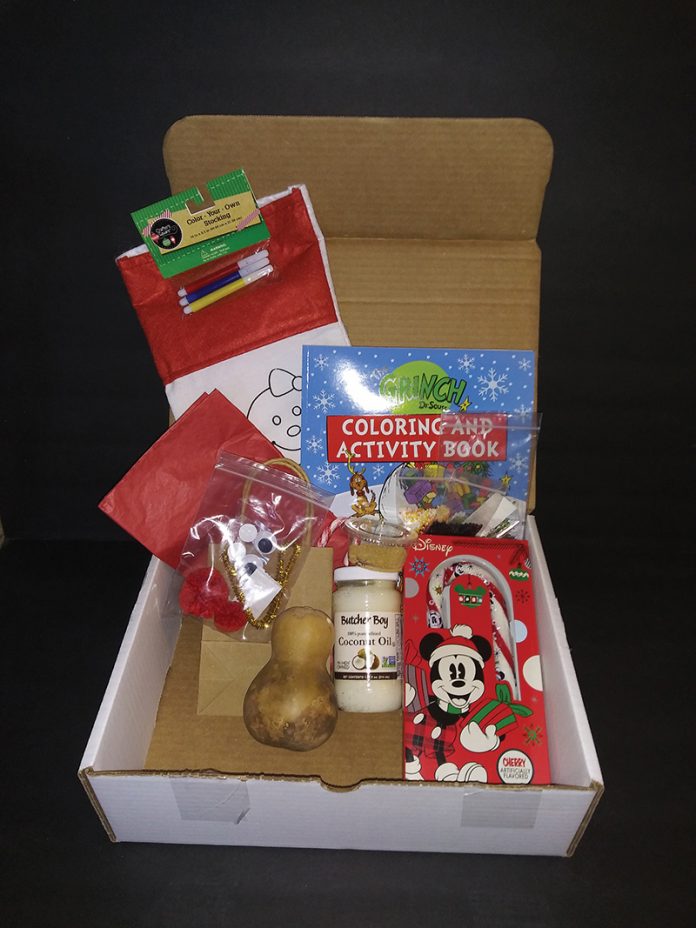 The Salt River Tribal Library has found a unique way to interact with its patrons virtually. The library's next set of virtual Zoom sessions comes in the form of a series of demonstrations on making do-it-yourself holiday gifts. On Tuesday, December 1, the library set up a virtual beading session in which participants had received given a box of materials and watched through Zoom how to make beaded jewelry pieces.
Information about the events is available online. "All the flyers that we have are usually posted on the WOLF's Facebook page," said Library Assistant Latiesha Guy. "And then it'll get circulated through other postings and things. … On December 1 [we did] beading. The following Tuesday was DIY Holiday facial and body scrubs that you can make from items in your pantry. Then on December 15 we decorated gourd ornaments. We actually put those kits together with some items for those activities and mailed them out to participants. You do have to sign up in advance to participate."
Guy led the second session of the series, the Sugar Scrub DIY. She explained how this session went and what the purpose is of these DIY projects.
"Essentially, it's a very informal session where I talked about the health and wellness benefits of scrubs and the fact that you can actually make them from home using items in your pantry," Guy said. "So, you don't even need to go out and buy all of these fancy items or anything. The whole focus being around holidays, this can be a good gift to give to your friends or family. That's kind of the essence of the entire series. This is just revolving around the idea that you can make some really cool things as gifts."
For the sugar scrubs, a couple of recipes were given out to all of the participants, as well as containers for storing the scrubs, explained Guy.
During the session, Guy began with a disclaimer that some of the ingredients may cause irritation. "Everybody's skin is different," she said. The session included recipes for a cinnamon lip scrub and coffee and ginger body scrubs. The recipes varied and used different ingredients.
To make a scrub, Guy explained, you can use an oil base, like coconut, olive oil or any basic oil you have around the house. Sugar is an exfoliant, so you can use regular white or brown sugar. Lastly you add a fragrance, which can come from coffee, ginger, lavender or an essential oil. Mix those together to create your scrub.
"You can use them for anything. You can use them as lip, body, foot and facial scrubs," said Guy.
Guy gave some insight into how the sessions have been going since everything has been virtual.
"It's all a work in progress, I feel," Guy said. "I feel like we all have just been learning along the way. It's been positive and fun. This is our chance to interact with the Community and see people we haven't seen in a really long time. Just to really reconnect with the Community. Everybody is really excited."
To stay up to date with the library's events, visit the Way of Life Facility page on Facebook.