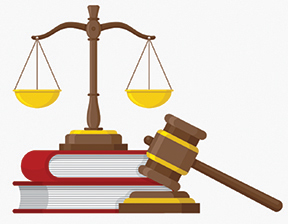 As of July 5, the Salt River Court has resumed regular operations, including in-person court hearings. The Court is open to the public from 8 a.m. to 5 p.m. Monday through Friday, excluding Community holidays.
SRPMIC Administrative Order 21-0001, issued on July 2, makes it possible to resume regular operations. The order states that all participants in any court proceeding, including attorneys, parties, victims, witnesses, jurors, probation officers, court employees and other necessary persons, are required to notify the court prior to appearing at the courthouse in case of any COVID-19 diagnosis, symptoms or exposure notification by public health authorities. If so, they are required to make alternative arrangements to participate. They are also expected to appear in person for any scheduled criminal and civil proceedings, but any persons detained in the Salt River Department of Corrections may continue to appear by video for their initial appearance.
Hearings in criminal matters and certain civil and emergency matters will be scheduled as follows:
• Arraignments will take place Monday and Friday at 9 a.m. (excluding Community holidays).
• Hearings on petitions for temporary restraining orders, domestic violence orders of protection and any emergency petition will take place Monday through Friday (excluding Community holidays) and will be held within 24 hours of the court receiving the petition.
• Juvenile Detention hearings will take place daily at 10 a.m. as needed, including on weekends and Community holidays.
• Adult initial appearances will take place Monday through Friday at 3:30 p.m. and on Community holidays, and on Saturday and Sunday at 11 a.m.
Any request to appear telephonically must be filed as soon as practicable before the scheduled hearing and must be supported by good cause. All requests to appear telephonically are subject to the court's discretion.
Drug Court will remain suspended until further order of the Court, and participants will not suffer adverse consequences as a result of the suspension.
Those entering the Court are required to obey the safety protocols at each Court entrance; Court staff are authorized to exclude anyone from the Court if they refuse to obey the safety protocols. Someone refusing to obey protocols and who is removed from the Court will not constitute good cause for failing to appear for a scheduled hearing or other Court-related event or appointment.
During court hearings, a judge may authorize the removal of face coverings for purposes of witness testimony, identification or any other reason a judge deems appropriate. After each hearing, practitioners are requested to sanitize the chairs and tables; sanitizing wipes will be provided.
Please see the full Administrative Order 21-0001 signed by Presiding Judge Darayne Achin below. If you have any questions, please call Sondra Acedo at (480) 362-2705.