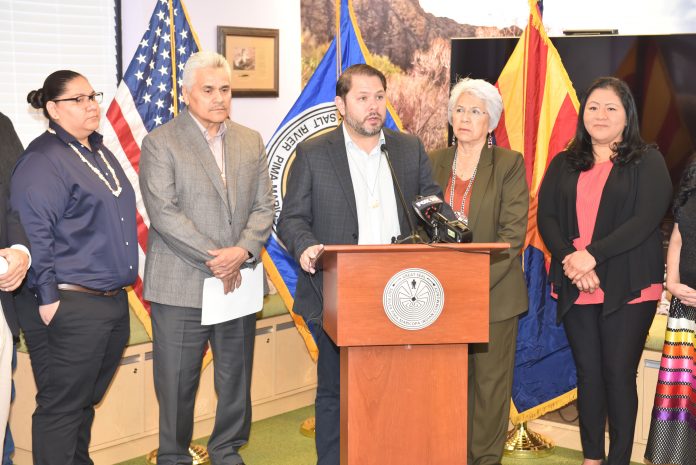 On February 7, U.S. Rep. Ruben Gallego (D-AZ) held a press conference with Salt River Pima-Maricopa Indian Community leadership and other Arizona Native leaders at the SRPMIC Family Advocacy Center (FAC) to discuss the importance of the Native American Child Protection Act, legislation recently introduced by Rep. Gallego.
Members of SRPMIC Council and some members of the Young River People's Council stood with the other leaders in a show of support for the bill.
The bipartisan legislation reauthorizes and revises programs that ensure tribes have the tools they need to treat, prevent, investigate and prosecute instances of family violence, child abuse and child neglect involving Native American children and families.
The press conference began with an introduction by SRPMIC President Martin Harvier, who said that the FAC was opened in 2015 after extensive collaboration with Community members, leadership and staff on the best steps to take to meet the needs of children in the Community.
Harvier also said that he is grateful to stand with Gallego, who he said has supported the needs of tribal communities throughout the nation.
"The introduction of the Act is just one example of the congressman's support of the critical needs in Indian Country, [and] the funding to support the programs," said Harvier.
"One key provision of the legislation encourages culturally appropriate treatment, which allows tribes to design and implement services that are tailored for their specific communities. With 22 tribes here in the State of Arizona, I know Congressman Gallego understands that we are all diverse communities with unique needs."
In a statement, Gallego said that for far too long, Native families in the state have dealt with the impacts of the growing epidemic of child abuse.
"These communities need assistance from the federal government. For most, it's just a simple issue of resources," said Gallego. "And that's why I introduced this bill."
Gallego was thankful for the work of the late Arizona Senator John McCain, who spearheaded the 1990 Indian Child Protection and Family Violence Prevention Act. However, the programs that came from that act were never fully funded. This new bill would revise the 1990 act.
The bill, whose funding Gallego said could be about $93 million, would start a national resource center that would be able to work on best practices for Indian Country. Native American organizations in cities throughout the country would have funding to address child neglect and abuse in their communities.
Gallego said that a lot of what is known about how to deal with child abuse is from the perspective of Anglo families, which he said doesn't necessarily work in Indian Country.
"When the federal government doesn't step in and do it, a lot of times these tribal governments are trying to scrape together whatever programs they can. What they may have [time to do] is to focus on the punitive side, which is arresting people," Gallego said. "What they don't have time to do, which is actually more expensive, is the prevention side, the family training where you bring in the parents and teach them how to break the cycle of violence."
Colorado River Indian Tribes (CRIT) Chairwoman Amelia Flores spoke briefly at the press conference. "You can't begin to heal until you stop the abuse," said Flores. "We know healing isn't just for the child; for many cases it's for the adults as well, victims of generations of trauma and abuse. Funding for child protection services and treatment has continued to fall short of need."