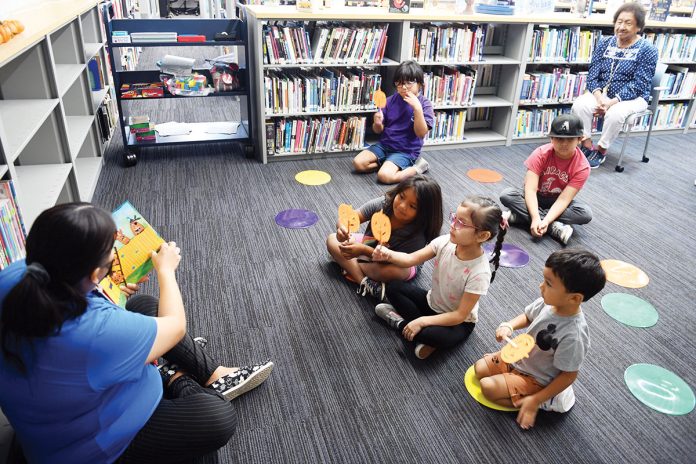 As Halloween is approaching, the Salt River Tribal Library held Pumpkin Story Time for Community youth on Wednesday, October 5. The kids enjoyed two stories read by Librarian Lessie Dingler and Library Assistant Sophenia Begaye.
Begaye read Pete the Cat's Five Little Pumpkins; she handed out paper pumpkins to the youth for interactive storytelling.
Dingler read Click, Clack, Boo! A Tricky Treat, teaching the youth about onomatopoeia, which is the formation of a word based on the sound it represents. In addition to "click," "clack" and "boo," examples of onomatopoeia include "boom," "sizzle," "pop" and "zoom." Dingler also performed a song about pumpkins.
After storytelling, the children joined in an arts and crafts activity, creating their own "square pumpkin" using orange popsicle sticks and black paint. The storytelling event ended with a special treat, a snack of chocolate-covered pretzels, oranges decorated as jack-o'-lanterns, and juice boxes.
For more information about the Salt River Tribal Library, call (480) 362-6600 or visit www.facebook.com/SRPMIC.WOLF/ for upcoming events.