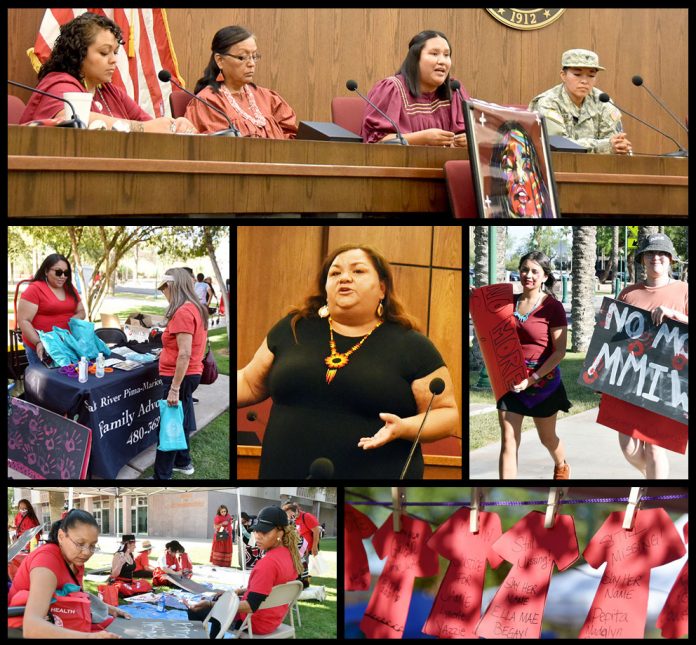 President Joe Biden proclaimed Thursday, May 5, as Missing and Murdered Indigenous Persons Awareness Day. According to a press release from the White House Office of Intergovernmental Affairs, he also signed into law the Violence Against Women Act Reauthorization Act of 2022, which expands special criminal jurisdiction of tribal courts to cover non-Native perpetrators of sexual assault, child abuse, stalking, sex trafficking and assaults on tribal law enforcement officers that take place on tribal lands.
"Understanding that Native people know what they need to make their communities safe, including those survivors of violence, [we] must work hand in hand with tribal partners through each phase of the justice system to create solutions that are victim centered, trauma informed and culturally appropriate," the proclamation read in part.
President Biden also called on all Americans and the government to support tribal communities' efforts to increase awareness of the issue of Missing and Murdered Indigenous Persons through appropriate programs and activities.
May 5 was the birthday of Hanna Harris, a 21-year-old member of the Northern Cheyenne Tribe of Montana who went missing in 2013 and was later found sexually assaulted and murdered.
The Salt River Pima-Maricopa Indian Community also approved a MMIAP proclamation on Thursday, May 5, recognizing it as a day of awareness of the epidemic of Missing and Murdered Indigenous People and calling upon all levels of Community, federal, state and local governments; educational institutions; volunteer groups and churches; Community members and their families; SRPMIC commercial partners and employees; and the public to join together to both remember and advocate for Missing and Murdered Indigenous People so that the Onk Akimel O'odham and Xalychidom Piipaash, and all the Native people, can raise their families and future generations in a safe, secure and healthy environment.
In downtown Phoenix, the Day of Action held at the Arizona State Capitol provided MMIP awareness, educational workshops, event speakers, a memorial walk, entertainment and a memorial lighting of the Capitol in honor and remembrance of survivors and families of Missing and Murdered Indigenous People. Workshops addressed topics such as MMIP: Silent No More, the VAWA Reauthorization Update, Tribal Leadership Advocacy on MMIP, Male Allies Panel Discussion, Youth Leadership–Bringing Awareness to MMIP, and more.
Women from the White Mountain Apache Tribe gathered for a panel discussion on how they can create resources for their community to respond to any incident of MMIP or violence. They opened up their discussion on how to set up these resources and provide better coordination by asking other tribes how they started providing helpful resources for individuals in these violent situations.
"It's really hard to get professionals to commit to working on the reservation for a substantial amount of time. It's really up to the grassroots to do what we can with what we have," said tribal member Jandi Craig. "We don't have a lot of resources, but we certainly have the dedication and the need, because these are real people we are talking about."
SRPMIC Family Advocacy Center Director Carol Colmenero gave a presentation on the development of the Family Advocacy Center and the role it plays in the Community to provide resources to help tribal members recover from domestic violence and sexual assault. The Family Advocacy Center and Youth Services Department set up booths to offer information on their services.
On the Capitol Lawn, people made signs to carry during the MMIP Awareness Walk. SRPMIC President Martin Harvier gave the opening prayer and introduced U.S. Congressman Greg Stanton, who welcomed everyone to the event. The activities continued with entertainment by Rez Life Bird Singers of the Fort Mojave Indian Tribe and Té D. DeMornay of the White Mountain Apache/San Carlos Apache tribes.