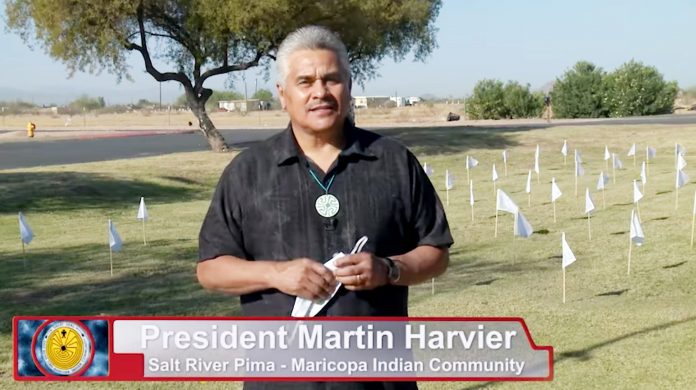 In the Salt River Pima-Maricopa Indian Community as of this morning Friday, April 9, 2021; 15,120 COVID-19 tests have been done. We currently have zero active cases and no one hospitalized, which is some great news.
If you're not feeling well, please make an appointment to get a COVID-19 test to make sure you are okay.
Here's an update on vaccination in the Community: We have 9,188 total doses given, 1,709 Community members vaccinated so far, and 1,332 Community members considered fully vaccinated. Approximately 380 members have received their first vaccine dose and will be fully vaccinated this month.
Salt River to Pause Johnson & Johnson COVID-19 Vaccine
SRPMIC to follow recommendations from the CDC and FDA to pause the use of the Johnson and Johnson vaccine
The Salt River Pima-Maricopa Indian Community (SRPMIC) announced it would pause the use of the Johnson & Johnson COVID-19 vaccine based on recommendations from the Centers for Disease Control and Prevention (CDC) and the Food and Drug Administration (FDA). The CDC and FDA are recommending a pause in the use of the vaccine based on six reported U.S. cases, out of 6.8 million doses administered nationally, of a rare and severe type of blood clot in individuals after receiving the Johnson & Johnson (J&J) vaccine.
SRPMIC has made the decision to cancel the April 23 Point of Dispensing vaccine clinic. If you currently have an appointment scheduled to receive J & J Vaccine you will be receiving a text message and phone call from Health and Human Service staff to allow the opportunity to reschedule for a Moderna Vaccine.
Editor's Note: In the April 15 O'odham Action News print edition, President Harvier mentions the Johnson & Johnson vaccine in his weekly update, however; the decision to pause the J & J vaccination pod came after the paper had gone to print.
Directive Updates
I encourage you to visit the Community website at www.srpmic-nsn.gov/covid-19 to review the Council-approved Seventh Directive you can also go to page 5 of this newspaper and read the changes which rescinds several elements of directives 1 through 6. However, please note that the face mask directive is still in place, which is important. We are still required within the Community to continue wearing face masks, practice social distancing and wash our hands frequently.
Due to fire danger, there had been some concern about reopening the areas at the river. But that has eased, and the river is reopening. Just remember: No open fires out at the river! To see the other changes in the directives, please go to the Community website.
Community Government Entering Phase II
On April 12, the Community government entered phase II, which means that Community administrative and department operations will be opening up further. Still, I would encourage you to call the department you may be visiting in advance to make sure the people you need are going to be on-site, because some employees will continue to work from home.
Earth Day 2021 Activities
The Community observed Earth Day on April 10, with activities from 7 a.m. to 1 p.m. Earth Day kits and T-shirts were provided, and people took advantage of the opportunity to dispose of their hazardous waste and paperwork for shredding. I want to thank all the departments that helped put this event together. The national Earth Day 2021 celebration is April 20-22; for more information, go to www.earthday.org/earth-day-2021/.
Congratulations to Great Wolf Lodge
One of our Corridor businesses here in the Community, Great Wolf Lodge, has been voted Lodge of the Year. What a great accomplishment! We truly appreciate the relationship we have with them; the company has donated stuffed animals to the Community children to brighten their spirits during the pandemic.
In closing, it's really good to see that we do not have any active COVID-19 cases and no Community members are hospitalized right now. We are so close to the end of this pandemic, and I truly believe that if we keep wearing masks for hopefully just a short time longer, we will move into our "new normal." So let's shield up, and God Bless.
Stay informed: 
text SRPMIC to 474747