Domestic violence is a term that describes a special type of abuse. Domestic violence is a pattern of behavior that harms a person's family or partner both physically and emotionally.
According to the Salt River Pima-Maricopa Indian Community's Domestic Violence Education & Support Group brochure:
"Generally, domestic violence is a pattern of controlling behaviors, including physical violence, sexual violence, or stalking by a current or former intimate partner, family member or caregiver. It is seen in male or female and same-sex partner relationships. Domestic violence takes many forms and includes a range of actions intended to control: isolation, intimidation, using children, emotional abuse, economic abuse, coercion and threats, minimizing, denying and blaming, cultural abuse, ritual abuse, male privilege and sexual abuse."
Lynda Rivers from SRPMIC Health and Human Services Behavioral Health Department explains that although the obvious forms of domestic violence can be recognized, it is the scenarios that we think little about that can do long-term damage. For example:
• Using someone for money
• Preventing someone from getting or keeping a job so they won't have money
• Keeping track of all the money
• Using intimidating looks or gestures to scare someone
• Threatening to hurt other family members
• Threatening to commit suicide when a partner tries to leave the relationship
• Guilt-tripping a partner in doing something they do not feel comfortable with or do not want to do
• Embarrassing or humiliating one's partner
The most critical aspect of fighting domestic violence is asking for help and receiving it. Rivers' job is ultimately making sure someone is all right mentally, emotionally and physically by guiding people toward getting the services they need. Rivers and the Behavioral Health Department have a multitude of programs that can help, including therapy, counseling and wellness.
Rivers teaches a 20-week class that is suitable for groups or one-on-one sessions, depending on how comfortable the individual feels. The first 10 weeks cover domestic violence on the outside, learning about the power of control, how to have healthy relationships, and the roles that genders play in domestic violence. The next 10 weeks goes in-depth for the person to learn self-care, stress management and how to set and meet overall goals.
If you are seeking help in any of these areas, contact the SRPMIC Behavioral Health Department at (480) 362-5707.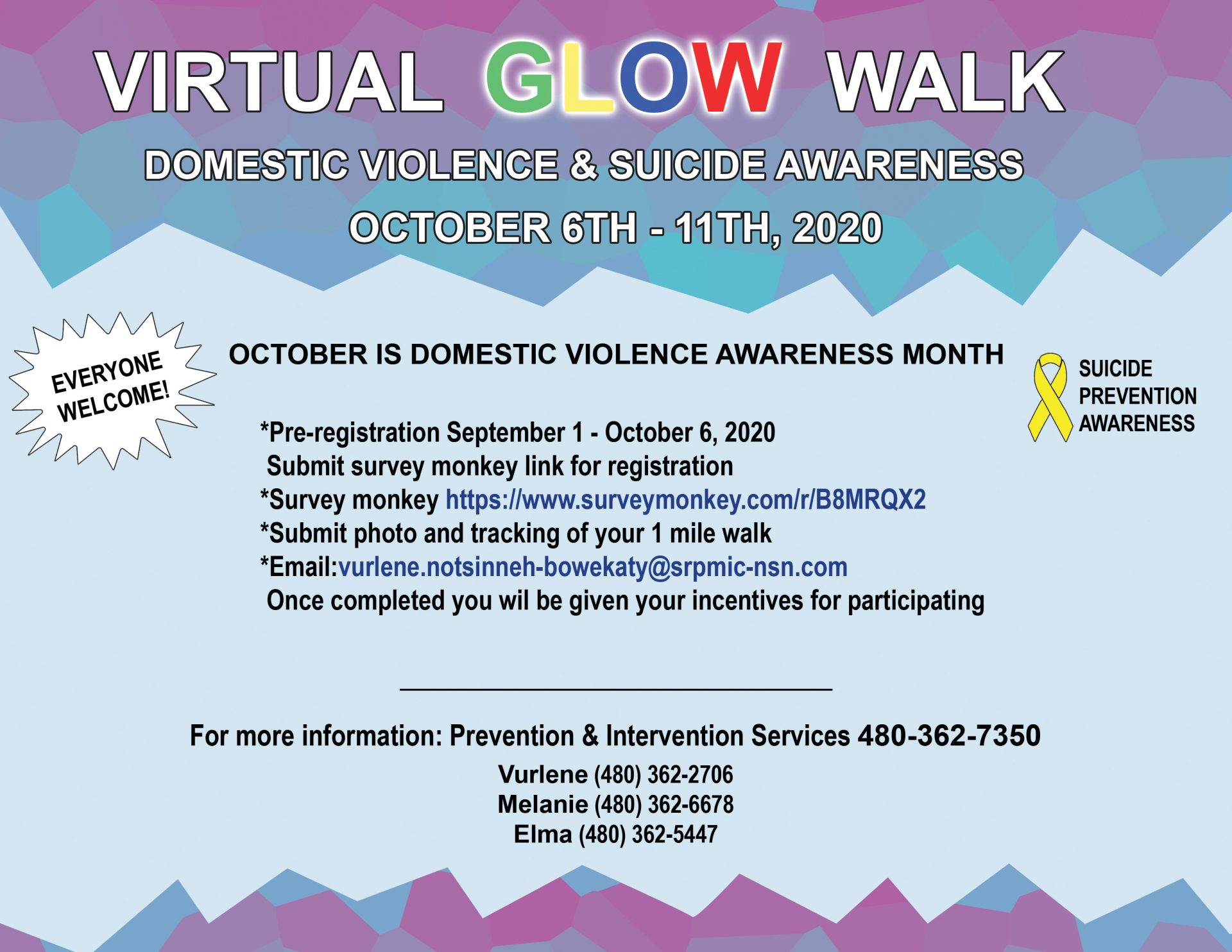 Although the past several months have been very challenging for everyone, SRPMIC's Prevention & Intervention Services will still host its annual Glow Walk in October. This year, due to COVID-19, the event will be virtual, which means they are asking participants to walk on their own. Our flyer/announcement gives more information on how participants can register. Organizers ask that you record your 1-mile walk on your mobile device and save a screenshot. Email it to vurlene.notsinneh-bowekaty@srpmic-nsn.gov. We will then contact you to let you know when you can pick up your incentives.
For more information, contact Prevention & Intervention Services, (480) 362-7350; Vurlene Notsinneh-Bowekaty, (480) 362-2706; Melanie Nosie, (480) 362-6678; or Elma Dawahoya, (480) 362-5447.