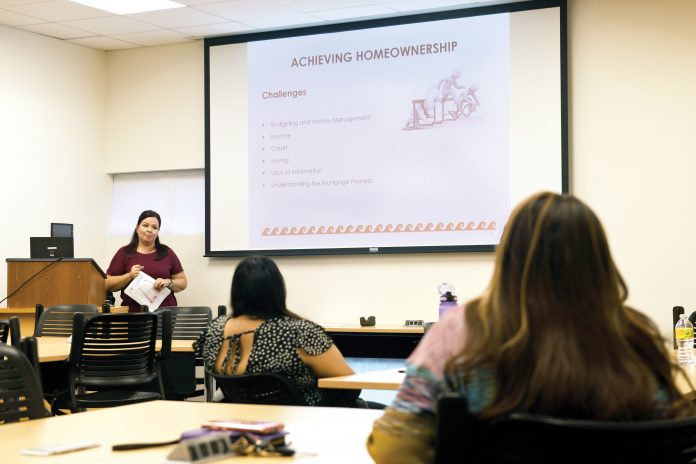 On Tuesday, September 27, the Salt River Financial Services Institution (SRFSI) and Salt River Community Tribal Housing Program presented Pathways to Homeownership, a home readiness workshop, to a group of Salt River Pima-Maricopa Indian Community members interested in becoming homeowners.
SRFSI Financial Education Training Coordinator Gracie Briones and Health and Human Services Prevention and Intervention Community Outreach Supervisor Lori Calderon reviewed three steps along the path to homeownership: personal readiness, evaluating credit and financial planning.
Personal Readiness
When exploring homeownership there are a number of issues to consider, but one of the major steps is to make sure you are ready to become a homeowner. Becoming a homeowner takes time and preparation; here are some things to consider:
* What are the advantages and disadvantages of buying vs. renting?
* Am I ready for the responsibilities of homeownership (home maintenance, repairs, etc.)?
* How much of a mortgage can I afford?
* Am I prepared for the financial commitment?
* How will a lender evaluate my mortgage readiness and make loan decisions?
* Is it the right time to purchase a house?
"We'd like to plant this seed in our residents who are renting in our Low-Income Housing Program or Low-Income Tax Credit Program to start them thinking about homeowner readiness," said Calderon. "We try to reach out to our residents after five years of renting and get the process started for homeownership. We want to make sure that our residents understand the process and the time that it takes to get from one step to the next."
Evaluating Credit
The second step is evaluating credit. The SRFSI helps with that. They will be the institution providing the mortgage loan, and they help clients establish credit through the credit-builder loan and assist them through the process of becoming mortgage-ready.
Financial Planning
The third step is financial planning. Potential homeowners should set short-term, mid-term and long-term financial goals. Potential homeowners will face a number of challenges in achieving homeownership, such as budgeting and money management, income, credit, savings, lack of information and understanding the mortgage process. But by setting financial goals and sticking to a budget and savings plan, clients can save enough to afford a forever home.
The SRFSI will help clients resolve any nagging credit issues so they can meet the loan underwriting criteria. In the meantime, here are some ways you can build good credit:
* Pay bills on time
* Pay down debt
* Keep balances low
* Apply for credit sparingly
* Think before closing credit card accounts
* Monitor credit reports regularly and dispute any inaccuracies
* Satisfy collection accounts
* Rebuild credit
* Seek credit counseling
To become a homeowner, you're going to need a down payment. Start saving now and make lifestyle changes that will free up cash to put in a savings account. The SRFSI offers an IDA Matched Savings Program and will match up to $5,000 for the down payment on a new home.
Filling out the home application requires documentation, such as:
* Your last two pay stubs
* Proof of Social Security/Disability income, if applicable
* Pension award letters, if applicable
* Your last two bank statements
* Tax returns and W2 forms for the last two years
* Your Tribal ID
* Land documents, recorded deed, lease agreement, consent of landowner's form or deed
Design and Construction
When the potential homeowner is ready and has an approved home loan application, they move on to the final step, which is the home construction process. The homeowner can choose a custom-built home, a pre-designed home or a remodel. With the help of Construction Coordinator Mikaela Jones, they will be able to interview and select a designer and contractor for their home.
For more information on the SRFSI homeownership process, call Gracie Briones at (480) 362-7833 or Lori Calderon at (480) 362-5763. Visit www.facebook.com/SRPMIC/ for any upcoming homeownership events or workshops.