On the morning of Monday, October 12, two O'odham groups, Defend O'odham Jewed and O'odham Anti Border Collective, held an Indigenous Peoples' Day blockade action at a border patrol checkpoint on Highway 85 on unceded Hia-Ced O'odham land just north of Lukeville, AZ.
The action, in which the groups said in a joint statement was intended to be a peaceful demonstration in prayer and spiritual ceremony in resistance to the reported daily violence committed by the U.S. Border Patrol against O'odham lands and peoples, was met by tear gas and rubber bullets on O'odham protectors from authorities.
Videos shared on social media, one from Rafael Samanez on Vimeo, and one from O'odham Anti Border Collective on their Instagram story (later shared on Twitter) show the protectors running away from loud shots and thick clouds of tear gas.
An O'odham Anti Border Collective representative who identifies as Akimel O'odham talked with O'odham Action News about what transpired.
"Because today is Indigenous Peoples' Day, we were making a statement in a show of solidarity with other Indigenous peoples who are also holding gatherings and similar actions today to show each other that O'odham people still exist and that this is O'odham land," they said.
"We arrived at the check point, which for a lot of O'odham is a place of trauma and a place of unhealing. We were bringing attention to the daily terrorism that the O'odham people are inflicted with in regards to being interrogated about who they are, where they are going, what they will be doing, and about how the militarization of O'odham land has caused desecration and devastation to plant and animal life."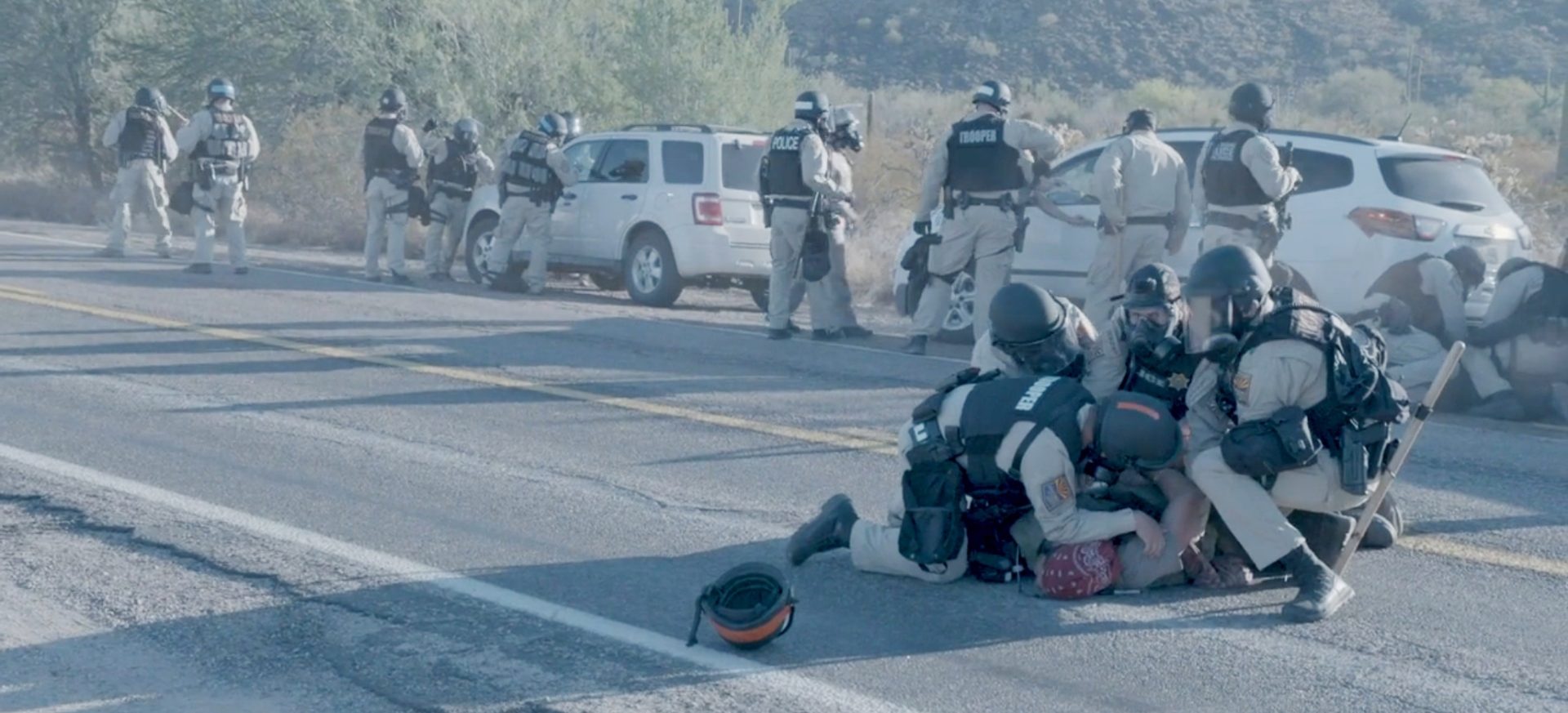 According to the representative, the barricade was deployed to raise awareness about what is happening at the borderlands and also as a time for the protectors to pray and gather with other Indigenous allies with shared songs and words.
The representative said that the response from the police was escalated quickly, with the authorities approaching protectors with wooden batons, attempting to flank them from the sides. After an exchange of words, the representative said that the authorities announced that they were going to arrest the protectors and began to push into the crowd, shoot tear gas, and rubber bullets into people who were unarmed and actively leaving the area.
"Even as people got into their vehicles, they [the authorities] entered those vehicles, pulling [the protectors] out and arresting them, including three Indigenous minors. So, nine people have been arrested," said the representative.
"We were really worried because the tear gas cannisters were being shot not only at people and into the crowd, but near a surrounding dry brush area that could have been ignited and cause a brush fire. Our intention is for not to get anyone hurt. We are relatively peaceful O'odham people who have had enough of the continuous violence placed on us daily. The militarization is changing the way of life (Him-Dak) and this is not the way we should be forced to live."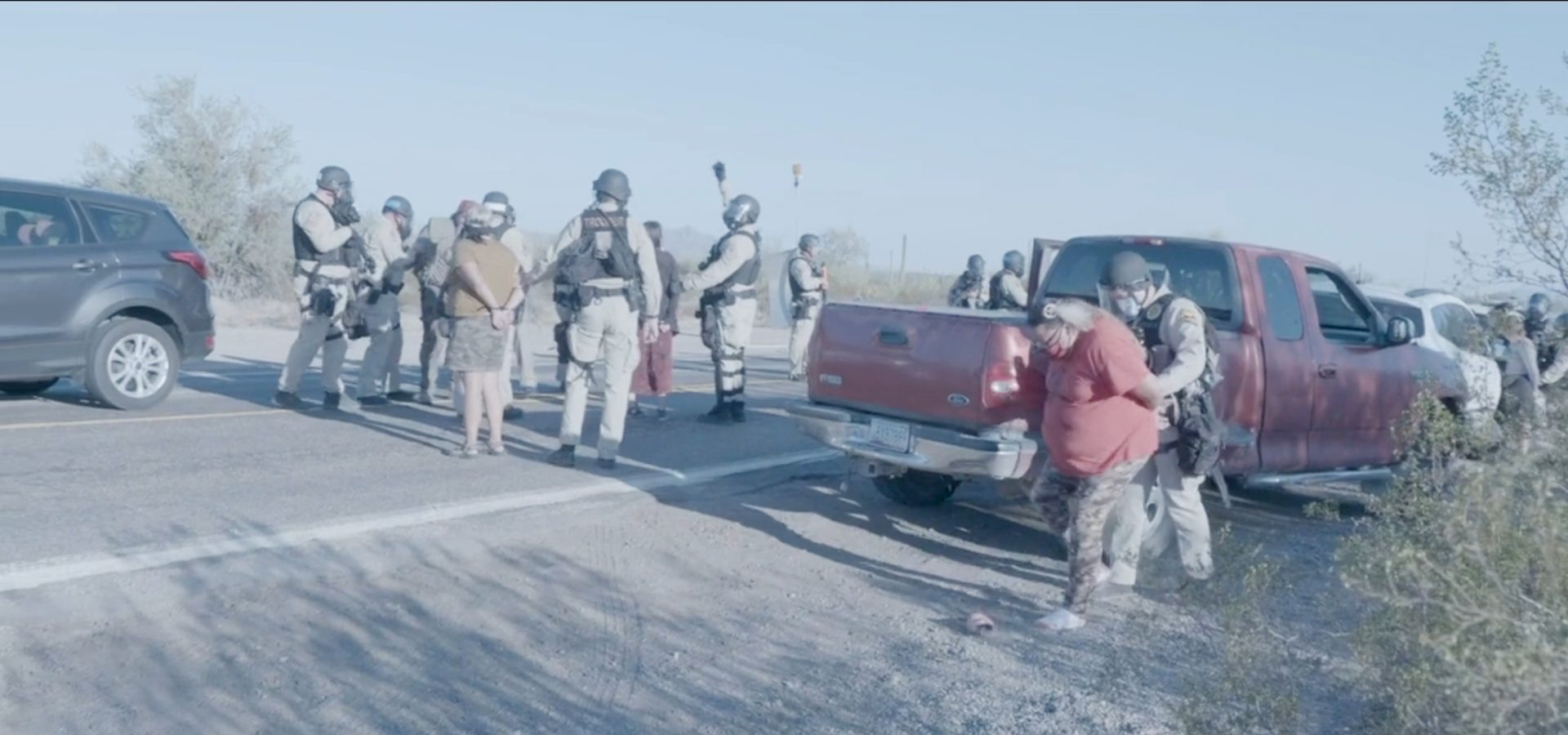 The exact number of injured O'odham protectors is not known at this time, although the representative said that they do believe at least two people were hit in the chest with rubber bullets. The protectors on site who have been arrested are being transported to Pima County Jail in Tucson according to the representative. This is a developing story.
For more information about what is happening on the ground, follow Defend O'odham Jewed (@defendoodhamjewed) and O'odham Anti Border Collective (@oodhamantiborder) on Instagram and Facebook.
*Update* on Tuesday, October 13 at 11:30 a.m.:
The group Defend O'odham Jewed said on an Instagram post that as of 10 p.m. on Monday, October 12, all arrested O'odham land and water protectors and allies have been released. Defend O'odham Jewed stated that there were eight protectors released in total. O'odham Anti Border Collective also noted that all eight have been released and all minors have been reunited with their parents.