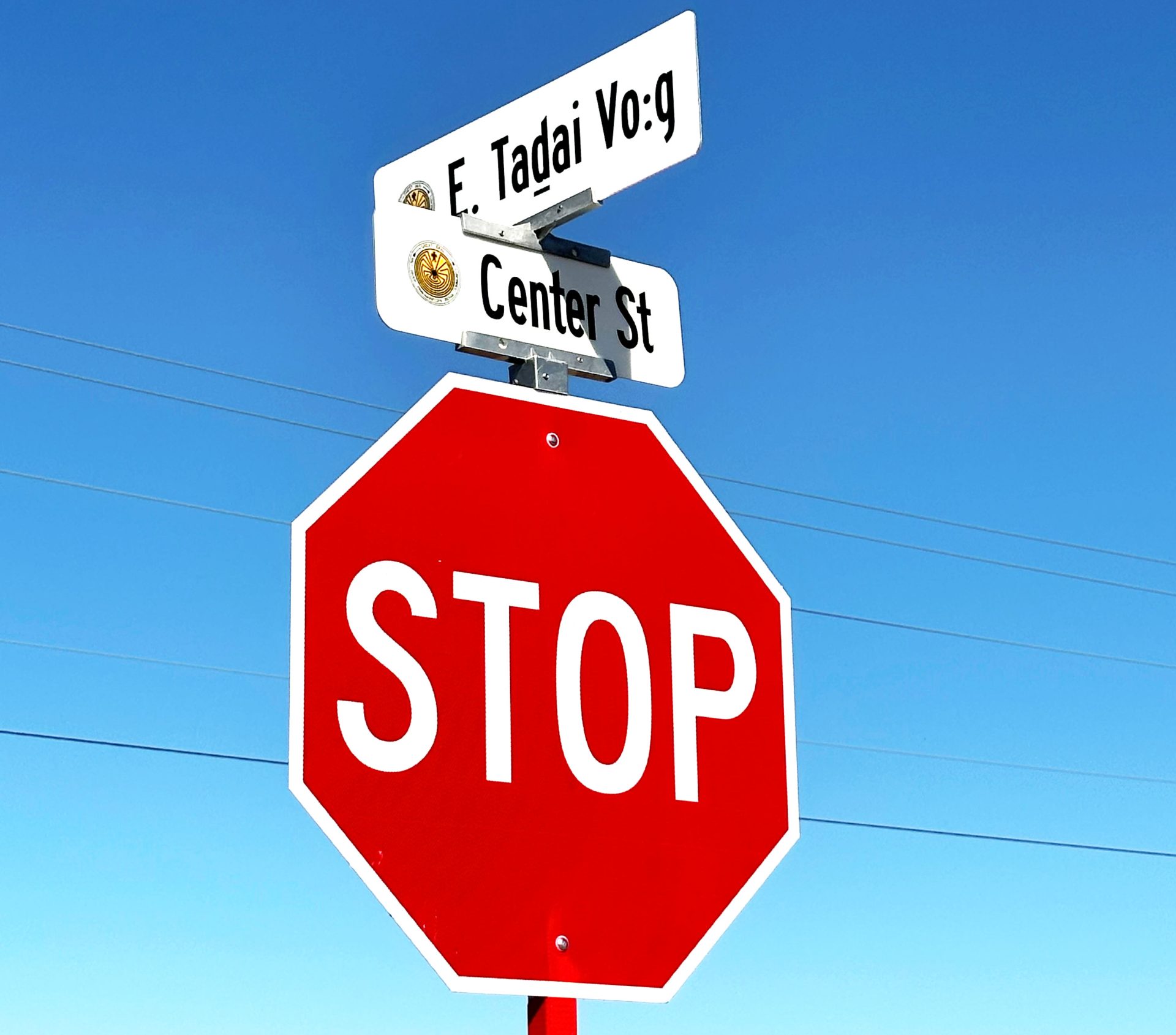 On September 19, a new road and street sign will be unveiled in the Salt River Pima-Maricopa Indian Community: Taḏai Vo:g.
The new road, located off the corner of North Center Street and East Clarendon Avenue, will be one of a handful of small streets to be established that are not already named elsewhere within the Community.
Per Council's Native language street name policy guidance, the roads will include "Vo:g," which means "road" in O'odham, for the 85256 area code, and "Uunye," which means "road" in Piipaash, for the 85203 area code.
"The way it works is, we receive the request [for a new street name] and we go to Cultural Resources first, and we ask them to tell us if there is anything culturally or historically significant in that area to choose a name," said Engineering and Construction Services Division Manager Rueben Malin. "So, if there is an item such as a piece of rope or tool or something like that, Cultural Resources will suggest those names. If they don't find anything historically significant, it comes to us and we have an approved street name list that we can choose from."
Cultural Resources is responsible for language training and helping Community members understand how to pronounce the words of the street names.
Director of Cultural Resources Kelly Washington said that "Taḏai" is the O'odham word for roadrunner, an iconic bird of the Southwest, which is also "Thilypo" in Piipaash.
"For the O'odham and Piipaash, the roadrunner's first calls after autumn, 'Thra, thra, thra,' are one of the key indicators that spring is approaching," said Washington. "For our ancestors, this was important to know, as early spring was a lean time in the Native diet. Planted crops were not yet ready (prior to the introduction of wheat) and wild food plants had not yet produced. The call of Taḏai let the people know that it was survival time. Stored foods and foods that might not be preferable would be eaten at this time."
Washington said that Taḏai is found in a number of traditional narratives, but there is one story that specifically focuses on him.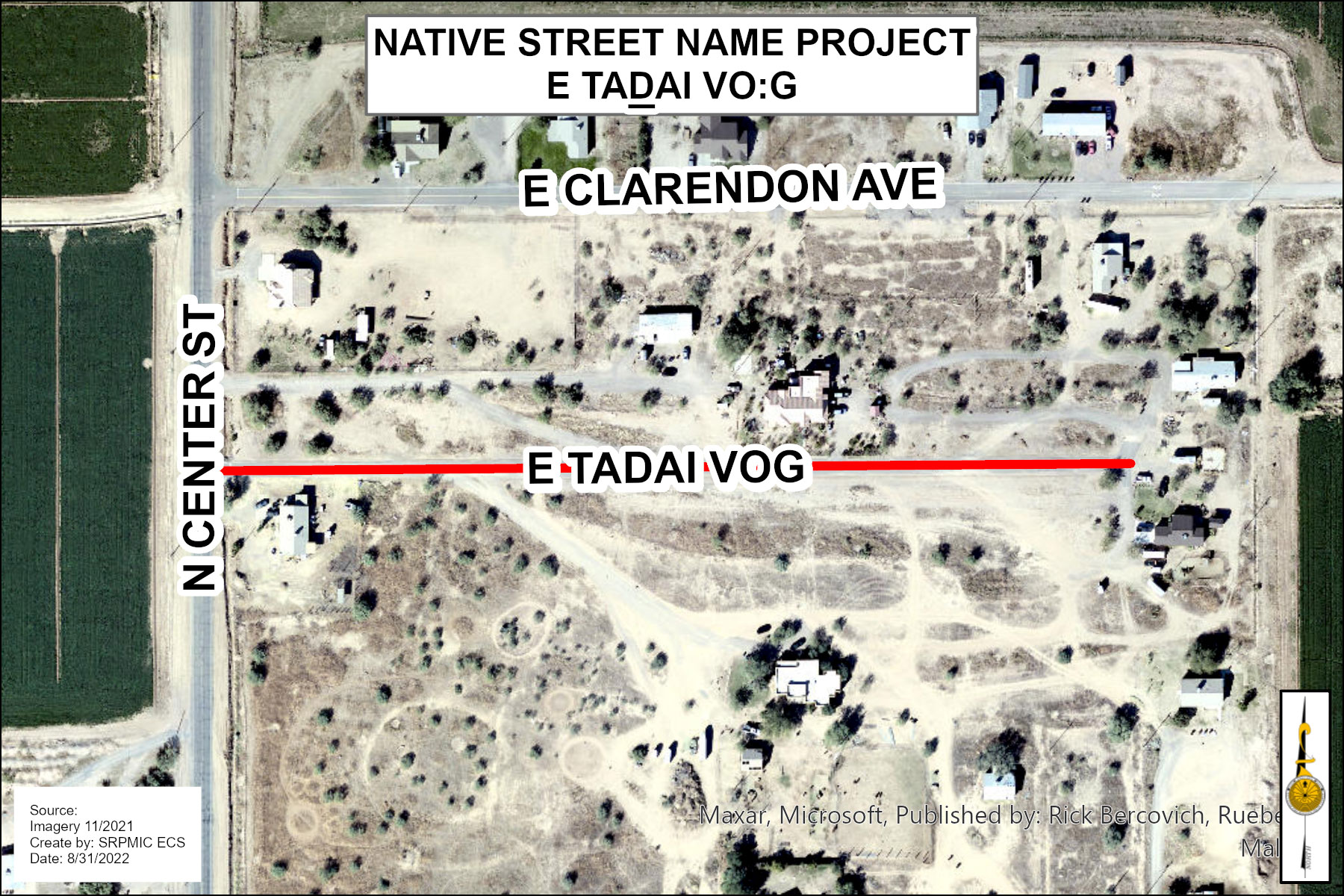 "The story of Taḏai tells us that when the world was new, he had beautiful, long plumage," said Washington. "When the people were in need of fire, they sent Taḏai to visit Thunder, the keeper of fire, and acquire one of his fire-sticks. Taḏai agreed, but upon his arrival, Thunder refused. Taḏai grabbed a fire-stick from the fire and ran off with it across his back. Lightning shot at him with flaming arrows as he escaped. In the process, Taḏai's beautiful plumes on his head were singed, leaving just a small tuft of feathers sticking up. His back was also burned so it became brownish in color. His eyes turned red from the smoke of the fire. But Taḏai successfully brought fire back to the people and they were thankful."
Washington said Tadai is a respected bird and children are told not to chase him or disturb the eggs. "A child (or anyone) who chases Tadai risks bringing sickness upon themselves. Tadai is a friend to be respected and never harassed," said Washington.