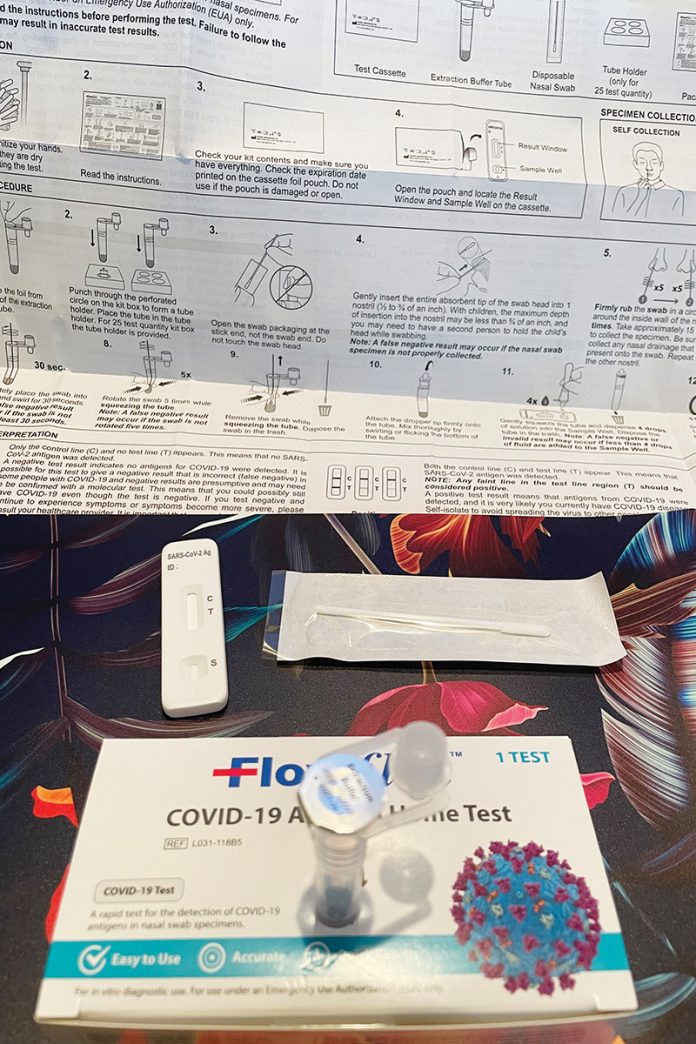 At the start of the new year, the Biden-Harris Administration brought two new over-the-counter, at-home COVID-19 tests to the U.S. market. These non-prescription tests help detect nucleocapsid protein antigen from SARS-CoV-2 with a self-collected anterior nasal swab sample.
These tests can come in handy if you want to be sure you do not have the COVID-19 virus to prevent spreading it to others. The polymerase chain reaction (PCR) test is done at testing facilities and hospitals and is far more sensitive than antigen tests. The PCR test is able to detect the virus in smaller quantities and sooner than the antigen tests. If an at-home test comes up positive, it is unnecessary to take a PCR test. If you have symptoms of COVID-19 and test negative on an antigen home test, the result should be confirmed with a PCR test.
The new at-home tests have been flying off the shelves at local stores such as Walmart, Walgreens and CVS. These tests are one use only and come one or two tests per package; they cost anywhere from $9.99 to $23.99.
On January 6, the White House was finalizing details with the U.S. Postal Service for delivering 500 million COVID-19 test kits to households across the country after the surge of positive cases of the omicron variant. Americans will be able to request test kits through a website www.covidtests.gov/ and receive them via the U.S. Postal Service.
Note: If your at-home test does come back positive, please notify the epidemiology team by calling the COVID Hotline at (480) 362-2603. This will help keep an accurate count of Covid-19 cases in the Community.