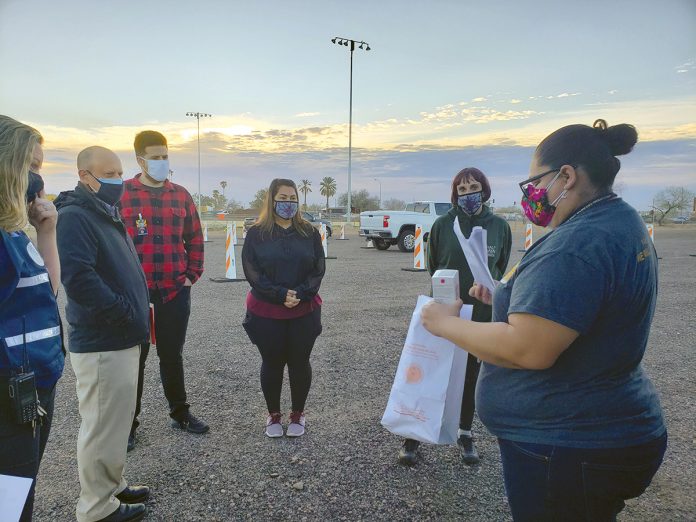 The Salt River Pima-Maricopa Indian Communityshows its devotion to the health and overall well-being of its Community members by providing many services that apply to different aspects of health, such as counseling, crisis workers and medical help. One of the more serious efforts to prevent further damage to the Community has been the implementation and understanding of the use of Narcan®(naloxone) nasal spray to treat an opioid overdose.
Nancy Mangieri from the SRPMIC Emergency Operations–Command Team explained what exactly Narcan is and what it is used for.
"Narcan®(naloxone) Nasal Spray is a prescription medicine used for the treatment of a known or suspected opioid overdose emergency with [the patient showing] signs of breathing problems and severe sleepiness or not being able to respond," Mangieri said. "Narcan is to be given right away and does not take the place of emergency medical care. Get emergency medical help right away after giving the first does of Narcan, even if the person wakes up. Narcan nasal spray is safe and effective in children for known or suspected opioid overdose."
Mangieri provided information on where the Narcan nasal spray kits are being distributed.
"In the SRPMIC, Narcan is provided to all people taking opioids for pain through the pharmacy. It is also offered through the "Not One More" project, which is a team of people working to save lives through education and Narcan distribution."
In October 2020, Commander Robert Boyle, a clinical pharmacist for Salt River Integrated Health Care, wrote a blog post for the Indian Health Service describinghow the Community is taking measures to reduce the number of deaths from opioid overdose.
"We are working across the Indian Health System to promote appropriate and effective pain management, reduce overdose deaths from heroin and prescription opioid misuse, and improve access to culturally appropriate treatment," Boyle wrote. "An example of a community-based model is the Salt River Pima-Maricopa Indian Community, who makes opioid safety a priority by increasing access to naloxone throughout the community, monitoring opioid use with a multidisciplinary committee and educating community members about overdose prevention during local events. Providers and community employees are working with tribal leadership on many fronts to get naloxone in the hands of community members and to stomp out opioid overdoses."
Narcan also is being distributed at select COVID-19 vaccination events during the 15-minute wait time after people take the vaccination. During this time, the "Not One More" team hands out a card with information about Narcan and Community resources. On the card is a QR code that can be scanned with a phone. The code brings up a video about how to respond to a possible opioid overdose and how to use Narcan.
Since these efforts began, hundreds of kits have been provided. According to Mangieri, "The Salt River Integrated Health Care Pharmacy is a great resource for Narcan distribution and education.The Community outreach events, such as the COVID-19 vaccine events, have provided the opportunity for Community families to be educated and receive a Narcan kit for their home."