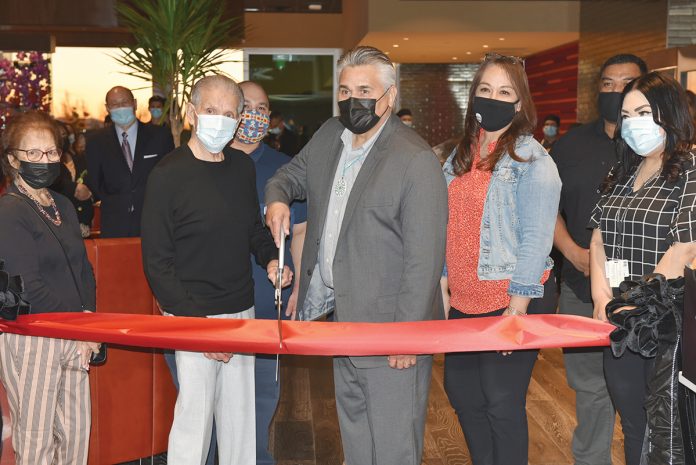 On February 4, a small group of guests gathered to celebrate the ribbon-cutting for Tash, the new restaurant on the third floor of Talking Stick Resort. Tash is pronounced TH-O-SH, an O'odham word that means "sun," "day" or "time." Salt River Pima-Maricopa Indian Community Council member Tom Largo led everyone in a prayer, followed by a few words by President Martin Harvier, thanking the Talking Stick and restaurant staff.
"I just want to let you know how much we appreciate all of you here," Harvier said. "I know we are going through some tough times. Like Council member Largo said, we are going to get through this. I wanted to let you know that individuals have come up to me thanking Council for [Talking Stick Resort] staying open. I know sometimes you might not feel like you're being recognized, but I want you to know we appreciate everything that you do. We wouldn't have what we have if it wasn't for you. I want to thank the leadership here; I want to thank the board. I want to thank the architects, the contractors—what I'm looking at now is beautiful. God bless you and thank you."
Council member Largo shared how the concept of Tash was brought to fruition.
"The concepts are put together by management and the construction [and design firms]," Largo said. "They're the ones who bring the designs to us, and then it moves forward. You know one of the things about this facility, Talking Stick Resort, is that it's probably one of the most successful enterprises we have. Half of the funding goes to the Community, to many of our programs. Just like President Harvier said, without all the people and the time they put in, this wouldn't be here. We're just grateful … ."
The menu is inspired by Mediterranean cuisine and the space has a warm color tone that complements the Arizona sunsets. Jewel cases are placed at the center of the restaurant, and when the sun hits them just right, it refracts all the different colors into the restaurant.
The kitchen has glass windows so guests can watch the food being made. One of the menu specialties is pizza, and you can watch chefs making pizzas and placing them in the wood-burning oven, which, at 725 degrees Fahrenheit, cooks pizzas within two minutes.
"They fire very quickly. We use Italian Double Zero pizza flour for our dough here at Tash, we went to Italy to get it," said Wil Lee, director of food and beverage. "We did a lot of research in regard to what makes a great pizza, and we want it to be a show. When you're here, everything we do is all about the show."
For the ribbon-cutting, food stations were set up throughout the restaurant, offering a variety of Mediterranean fare such as rice, pasta and shrimp dishes. Waiters handed out small plates of wood-fired pizza samples and "free spirit" cocktails to guests.
"We wanted to create an environment in which we're inspired by the Mediterranean. … People want to eat healthier—we want to take off the COVID-19 [quarantine] pounds, so to speak," Wil Lee said. "We've created a menu which is absolutely incredible. It features a lot of different items inspired by the Mediterranean."
Tash is a fun, relaxed setting that gives guests a chance to reconnect a little, while still following CDC guidelines with socially distanced tables.
"We want to create yet another crown jewel for the Community," Wil Lee said. "Here at Talking Stick there are so many great places to eat, so many things to do. We wanted to create another environment to amp up the fun even more."
To learn more about Tash's menu and hours, go to www.talkingstickresort.com/dining/tash/.