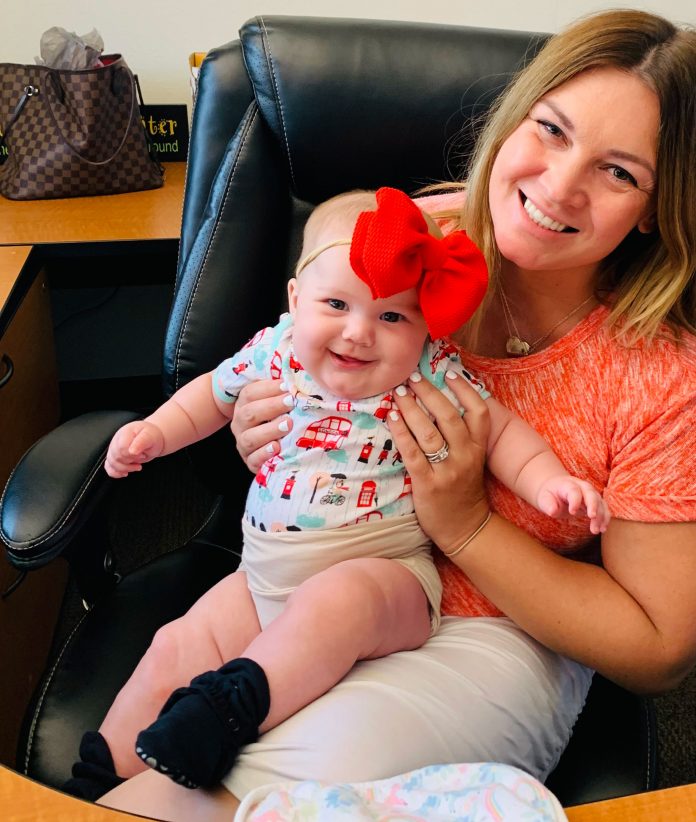 Barb Wilkinson, interim principal at the Accelerated Learning Academy (ALA) on the Salt River Pima-Maricopa Indian Community, is showing her adult students and coworkers that you can thrive while balancing being a new parent and having to work.
The previous principal at ALA resigned in March, and Wilkinson was asked to fill the position in the interim—just a few months after giving birth to her daughter Clementine, who was born in November of last year.
"I am a first-time mom. I was a little terrified about coming back to work. When you're on maternity leave, it's great because you can keep the focus entirely on your baby. And when you've never been a mom before, you just never know the challenges that you're going to have to deal with," said Wilkinson.
"However, the great thing about maternity leave is, it gave me the time to get a handle on things and to help me build the confidence in myself. Then it was like, 'Okay, I can go back to work, and I can still manage being a mom.' And of course, the Community policy of being able to [bring her daughter to work] is invaluable. In terms of being with her every day, it does require some flexibility, but it's nice for ALA students and other staff to see that you still can get the work done with a baby around."
Wilkinson joked that having her baby on the job is almost like having a therapy dog, because the baby brings a positive energy to the workplace.
There is a plan in the works to bring back the Eagle's Nest to the ALA, which, before COVID-19, was a daycare classroom at the high school specifically for young parents who wanted to bring their little ones to school so they could still attend. This was helpful to student-parents who were looking for ways to continue their education while raising a child.
"The great thing is the schools are always doing their best to accommodate the students," said Wilkinson. "We do have a few students currently attending the ALA who are parents, so they have little ones at home."
The Eagle's Nest is in the brainstorming phase, with the goal of staffing up and getting the room ready to go in the next school year or two. Wilkinson has been in education for 15 years, and 13 of those have been in the Community. She previously taught at Salt River High School, then worked on the education side of Human Resources. After that she served as the dean of students at the ALA, and for the last six years she has worked at Salt River Elementary School as the assistant principal.