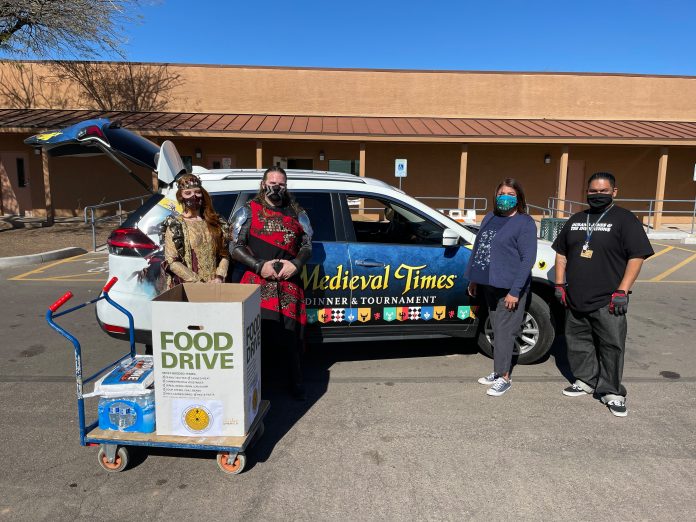 Medieval Times Dinner & Tournament Scottsdale's "Chivalry in Action" continued on February 4, when Queen Isabella and the Red Knight delivered food donations from their "Fill the Pantry Food Drive" to the Salt River Pima-Maricopa Indian Community Food Bank.
Dressed in full medieval wardrobe, the queen and knight unloaded about 100 pounds of food items onto a cart and posed for photos with SRPMIC Food Bank staff.
"The wonderful nobles of the realm have donated this food for the past month or so, and we are absolutely proud to be supporting the Community through our Chivalry in Action program," said Queen Isabella. "We encourage continued donations to all your local food banks!"
Gretchen Scott, who manages the Life Enhancement and Resource Network (L.E.A.R.N.) at SRPMIC, a division of the Social Services Department, oversees the Food Distribution Program in the Community.
"We are very happy and excited about this collaboration with Medieval Times, because after the holidays, most food distribution programs have bare shelves," said Scott. "We've pretty much given away everything that we have accumulated from donations through the year. So this is a great idea that they want to restock shelves now, and it's an awesome partnership because they are one of our businesses in the Community. So, we think it's amazing that they reached out to us for this collaboration."
Coming up next with this donation is a distribution of the food in the produce boxes, which go out daily at the food bank. The food bank serves about 350 people a month, families who are enrolled members of the Community.
Currently, the food bank is only accepting undamaged, nonperishable food items. Scott said that the food bank really tries to get as many donations of healthy foods as possible, such as fruits, vegetables, and proteins including chicken, tuna and a variety of beans.