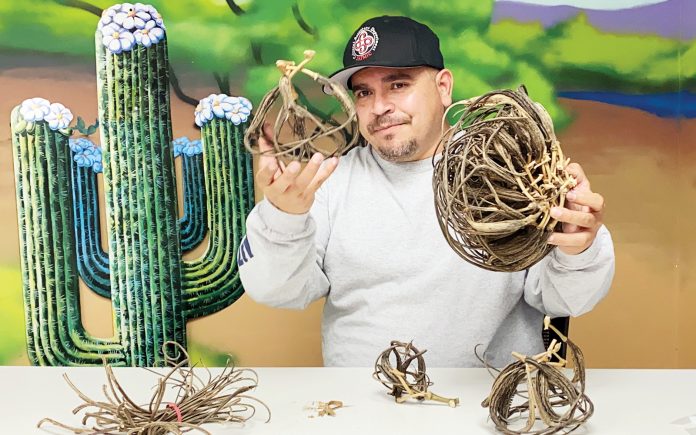 In a Zoom presentation on Monday, November 30, Salt River Pima-Maricopa Indian Community Garden Coordinator Jacob Butler shared his knowledge of the devil's claw plant with Arizona Native Americans through Native Health Phoenix's free virtual Devil's Claw Workshop. Native Health Phoenix offers a number of virtual workshops featuring members of different tribes sharing their traditional crafts, healthy cooking and storytelling.
More than 50 people tuned into the workshop, in which Butler discussed the history of the devil's claw, its cultural significance to Arizona tribes, its uses and how it has evolved over time. Butler also gave a step-by-step guide on how to create a bundle of devil's claw.
Butler began by introducing himself to the audience and explaining his knowledge of gardening and traditional O'odham foods. He and his crew continue to cultivate indigenous crops for the SRPMIC and generate seeds to make sure the plants will be available in the future.
"The devil's claw is used to make O'odham baskets," said Butler to the audience. "The baskets were traditionally made of willow, cattail and the devil's claw; they were woven tight to hold water and store things such as seeds and other foods."
Different O'odham tribes use different materials when making baskets. It all depends on what natural resources they have around them; for example, the Tohono O'odham people use yucca in their baskets, explained Butler.
Butler learned about basket weaving by helping SRPMIC basket makers gather materials such as cattail in the late summer and devil's claw. Although he has the knowledge, he has not attempted to weave a basket himself because of the tribal tradition that women are the weavers and the men help grow and gather the materials.
Because of the plant's "claws," individual plants easily can get stuck together and be a hassle to pull apart. That's why Butler recommends storing the plant in individual bundles.
"When creating these bundles, it's not only to help store them better, but it also helps you learn how to be patient and take the time to work through it and get it done," said Butler. "Those are lessons that can be implemented throughout your life."
As Butler created the bundles, he explained that devil's claw grows in the wild near floodplains or washes where there are occasional water sources. As time went on, devil's claw was domesticated and grown by farmers, who used it as a bug repellent, and weavers, who needed the dark material for their baskets. The seeds have also evolved as they were domesticated, changing color; wild devil's claw seeds are black and domesticated seeds are white.
Butler showed the audience how to make the devil's claw bundles. First, he divides up the claws by size, because he starts the bundle off by using the smaller claws. As he builds the bundle, he wraps the claws around the bundle, using the hooks to connect and hold it in place to make the bundle sturdy so it won't fall apart in transport. The end result is a bundle of devil's claw about the size of a basketball.
He also demonstrated an alternative way to store the claws, by cutting the claws, bundling them and tying them together until they are ready to be used. When preparing these, Butler said to shake out some of the seeds from the devil's claw to keep for future use. If you are giving the bundle away, leave some seeds for the recipient to have.
"The devil's claw itself is sticky and this results in gnats and flies sticking to the leaves, which has resulted in the bugs not destroying crops," said Butler. "They also smell like cat pee when they are growing, and it stinks, but I really like them because they do help keep the pests away from the plants and they help bring in bees to pollinate the plants."
The difference between wild and domesticated devil's claw is that the wild flower is lavender or purple in color and the claw itself is skinny. The domesticated devil's claw has a yellow flower and thicker and longer claws. The flower and seeds are edible; the flower is sweet like honeysuckle, and the seeds have a piñon or sunflower seed taste and help clean out your digestive system.
If you would like to learn more about O'odham and Piipaash language and traditions, visit the SRPMIC Cultural Resources Department at www.facebook.com/saltrivercrd/ or www.instagram.com/saltrivercrd/. For information on future virtual presentations from Native Health Phoenix, visit their Facebook page at www.facebook.com/nativehealthphoenix.