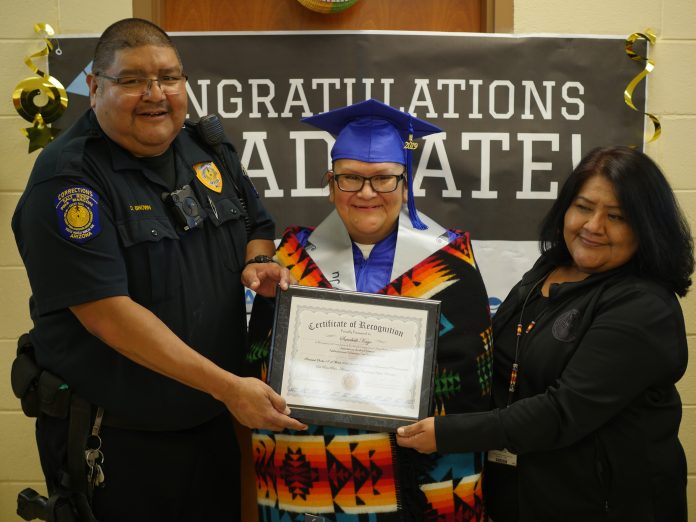 Salt River Pima-Maricopa Indian Community member Sarabeth Kaye and her family have a lot of celebrating to do.
On March 13, Kaye was released from SRPMIC's Department of Corrections (SRDOC) after more than four years behind bars. With her belongings in hand, she was escorted down a new path and greeted by her family, off-duty DOC officers and longtime cheerleaders of her educational endeavors.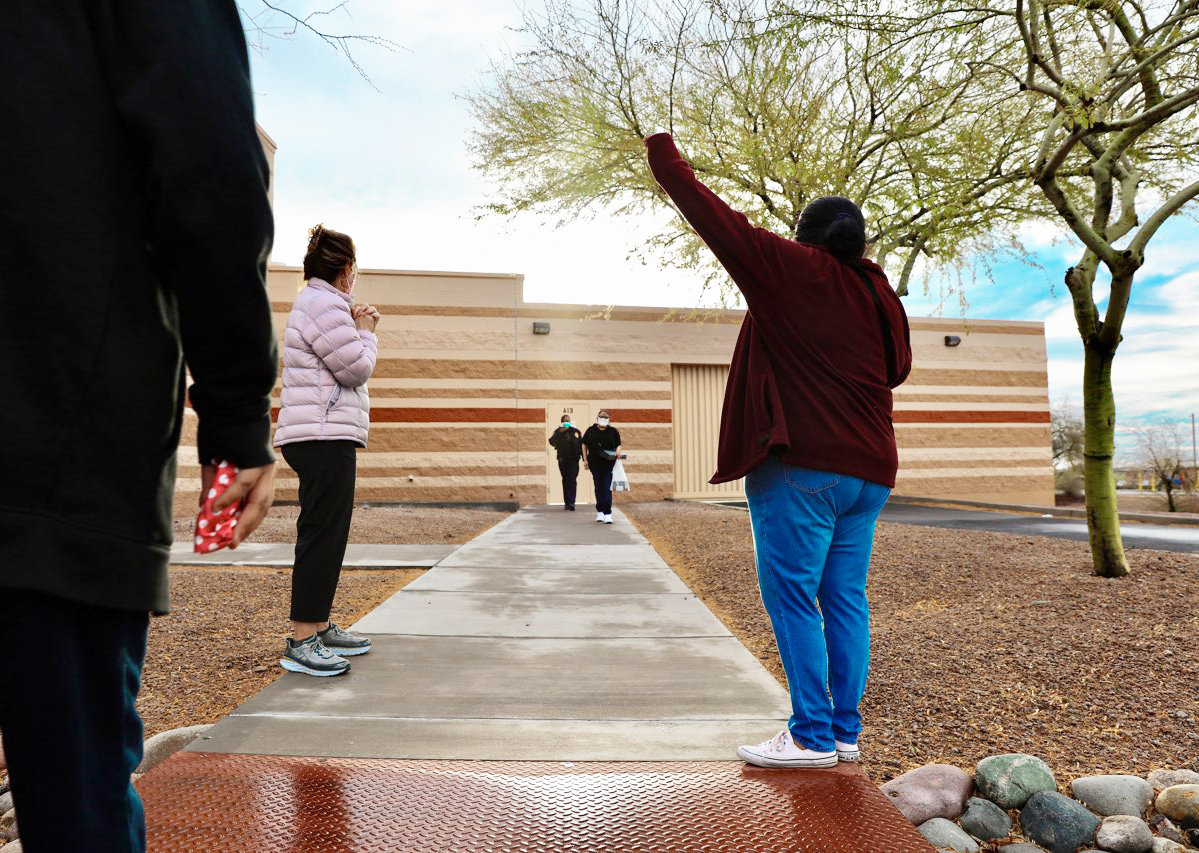 Kaye made the most of her time in jail by making education her priority, completing her GED in February 2018. After that, she enrolled in Rio Salado Community College's Incarcerated Re-entry Correspondence Program and chose to pursue a degree in addictions and substance abuse disorders, earning a Level 1 Certificate in May 2019 and a Level 2 Certificate in June 2020.
With the excitement of a release home to look forward to, Kaye pushed through with all the strength she had and attained her associate in applied science (AAS) degree in Addictions and Substance Use Disorders in March.
On the day before her release, SRDOC held a celebration for Kaye in the craft room. Invited guests were Denelle Prieto, MLS, Higher Education Program Advisor at Salt River Schools; Klysia Hand, manager of the Incarcerated Correspondence Program at Rio Salado College; SRDOC Medical FNP Kia Yussef; Taté Walker, public relations director for Salt River Schools; and SRDOC Ofc. D. Brown, Cpl. S. Coburn and Ofc. C. Snyder.
The Salt River Schools Higher Education Program covered the cost of Kaye's tuition, books and supplies. Prieto would often visit SRDOC to check on Kaye's progress and ensure that her classes were within her program of study. For this program, Higher Education collaborates with Rio Salado and SRDOC to ensure that students are on track.
For Kaye, her educational achievements during the last four years while being incarcerated weren't an easy feat.
"In the beginning it was very hard," said Kaye at her celebration. "I didn't know what to expect coming out of all of this. I wasn't sure if I was going to be able to accomplish it all because it's really hard to get any kind of research [in prison], especially with no computers or internet. It was hard, but I stuck with it. [My degree] is something that I'm passionate about. I was an alcoholic and addict myself. Giving back to my Community is what kept me going."
Prieto said that not only had Kaye been working toward her degree, but she was a detainee worker and had been an integral part of the peer mentoring of other students at SRDOC. She also completed Nurturing Mothering, a nine-week parenting program provided by SRPMIC Social Services. Kaye also was a regular participant in all programming provided by the facility.
"I am beyond proud of Sarabeth's academic success," said Prieto. "She is SRDOC's first Rio Salado Community College Reentry graduate. She enrolled in college classes soon after she obtained her GED and ran with it. Sarabeth is a role model for our Community; she is an amazing, resilient woman who proved all is possible despite the situation she encountered."
"Today is significant to me in many ways. When I started in January 2018 as Programs Coordinator, Sarabeth had just attained her GED," said Ofc. Brown. "When she started, I told her I knew when she would be out, so we would try to get her ready [for graduation] by her release. She made it by four days!"
As for what to do after her release, Kaye said that she was going to go with the flow and that she wants to be with her two girls and get to know them all over again. "That's kind of my main goal right now, to be reunited with my kids," said Kaye.
Upon release, Kaye was presented a blanket from SRPMIC Council member Wi-bwa Grey on behalf of SRPMIC Council.
Kaye is working toward achieving her bachelor's degree next.