The American Library Association announced that Tlingit illustrator Michaela Goade has won the Caldecott Medal for her work on the children's picture book "We Are Water Protectors," making her the first-ever Indigenous recipient of the award. The book was written by another Indigenous woman, Carole Lindstrom (Anishinaabe/Métis, Enrolled Turtle Mountain Band of Ojibwe).
O'odham Action News spoke with Goade about the award and what it means to her and Indigenous communities, children and artists.
"It is a huge honor to be recognized with the Caldecott Medal and to help represent Indigenous peoples around the world," Goade said. "I think at the same time, it's really important and [necessary] to acknowledge that fact and reflect on what it means to be the first [Indigenous recipient], in 2021. And then also to just keep excited for the future and hope that this helps open more doors and encourages our Native youth to dream big, know that anything is possible, and to keep working toward those dreams."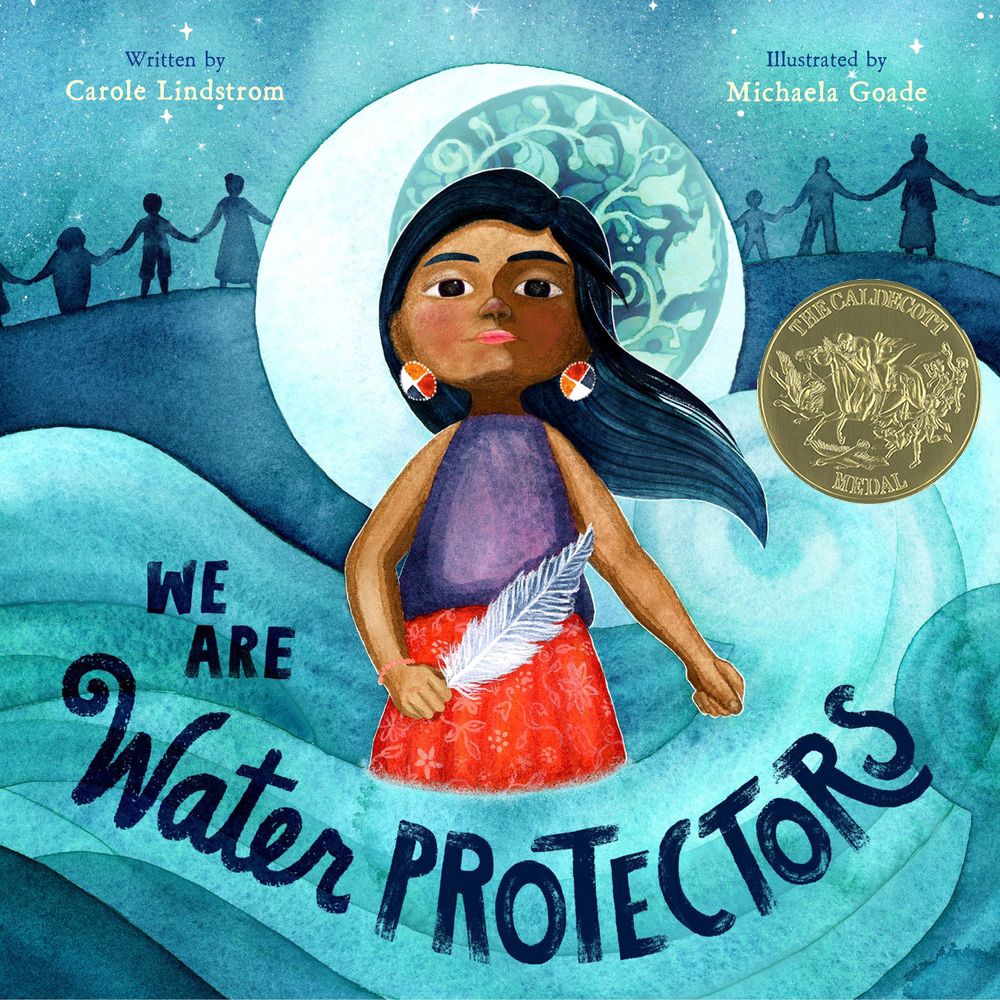 The picture book is geared toward children and condemns the "black snake," referring to the Dakota Access Pipeline running through Standing Rock Sioux land, one of the many examples of desecration of Indigenous land, culture and way of life experienced by Native communities. These issues can be a tough subject not only for children to understand, but for the general public as well.
Goade was brought on to the project after reading Lindstrom's text that had been sent to the publishing house. "I read the text and I loved it," she said. "I thought it was a really needed story, powerful and timely. So I definitely agreed to do it."
Goade has been involved in creating art from a very young age. She was always painting, drawing or doodling and says that she was lucky to have grown up in an art-forward community. For this book's illustrations, Goade's color scheme comes from the blues and greens of southeast Alaska, where the Tlingit people are called "People of the Tides."
In the usual process of collaboration between author and illustrator on children's books, there isn't much communication, Goade said. Being two Indigenous women on the same project, Goade wanted to make sure that they were able to talk about Lindstrom's inspiration and motivation for the story. She and Lindstrom became great friends, and Goade was encouraged to create the visual aspect of the story in her own way.
While adults are concerned with the current water and land issues surrounding O'odham Himdag, construction of the U.S.-Mexico border wall, and the San Carlos Apache Tribe's issues with Oak Flat, among many other instances, this book deals with the same subject but directly relates it to children in Indigenous communities.
"Representation is so important—and not just representation, but accurate and respectful representation, which historically we really have not seen in this country and in other places around the world," said Goade. "It is really important for our Indigenous children to see themselves reflected in uplifting and affirming ways; it is incredibly powerful. Picture books are often reflections of our society and what society deems as valued and important, and so if the children are not seeing themselves in these stories, what message is that sending them? Their voices and their stories are valuable, important and precious. And so I think it's really important that they see themselves in these picture books, and that the picture books are celebrated and lifted up by everyone, and not just during Native American Heritage Month."
Goade believes that picture books like this are important for non-Native children to be exposed to early on as well, because they are shown experiences other than their own and other ways of life involving people who are just as important and whose contributions to the world are just as valid and meaningful. "[These books] help to raise more empathetic little humans," she said.