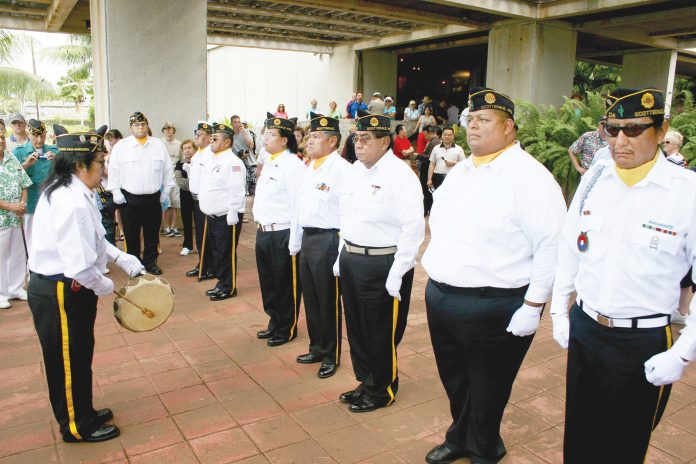 In October 2007, members of American Legion Post #114 and then Salt River Pima-Maricopa Indian Community Vice-President Martin Harvier flew across the Pacific Ocean to Honolulu, Hawaii, to retrieve one of the flags that once flew over the USS Arizona Memorial at Pearl Harbor National Memorial. As veterans, veterans' organizations and the nation prepare to remember those who were lost and injured during the Japanese attack on Pearl Harbor on December 7, 1941, it's important to remember how the Community obtained a flag that once flew over the USS Arizona Memorial.
The late Joel Jefferson, a member of American Legion Post #114 Bushmasters, led the push to obtain the flag for the Community. More than 12 years ago, he established communication with Skip Wheeler of the National Park Service, who took Jefferson through a lengthy process. After much back-and-forth communication between the two, American Legion Post #114 and the Salt River Pima-Maricopa Indian Community were granted a flag on October 12, 2007.
"We had a lot of heroes, highly decorated veterans that were in World War II, and Jefferson wanted to have them remembered. Having a USS Arizona Memorial flag helps us remember all of those veterans," said Thomas Jackson, American Legion Post #114 member and Huhugam Ki Museum assistant. "Another reason it was important to us and the Community is because SRPMIC member Raymond Valenzuela (U.S. Navy, World War II) was at Pearl Harbor when the attack happened. He helped a lot of the sailors out of the water. He was on his way to his duty station when the attack hit; he was right in the middle of all of it. He and a few others started to pull out the injured men."
This was the first and only USS Arizona Memorial flag granted to an all-Native American Legion Post and tribal community. Post #114 and the Community have been sharing the flag with more than 25 other American Legion posts and veterans' groups since 2008.
"The very first year we had the flag, we … [realized] that this is very serious, and we're going to have to share this every year," said Jackson. "When we started sharing [the flag], the Arizona State Capitol Museum found out and they asked if it could lie in state there. We don't refuse anyone [who wants] to take a look at it or do a ceremony with it, as long as it's appropriate."
The flag just traveled to Gila River and will be brought back to Salt River for the Pearl Harbor Remembrance Day event on Friday, December 6, at the USS Arizona Memorial Gardens at Salt River Fields. On the following day, American Legion Post #39 in Gilbert will take the flag and conduct their own ceremony.