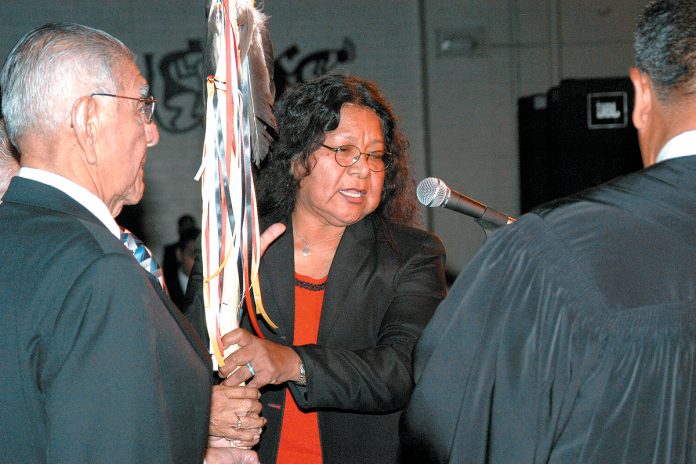 In recognition of the 100th anniversary of the 19th Amendment, which gave women the right to vote in the United States, USA Todayin August named 10 women from each state as "Women of the Century" for their significant contributions to their states and to the country. One of the honorees for Arizona is former Salt River Pima-Maricopa Indian Community President Diane Enos.
In the August 20 article for USA Today, author Rachel Leingang noted that Arizona women fought for and won the right to vote at Arizona statehood in 1912, eight years before the rest of the country in 1920. The 10 women from Arizona "exemplify this trailblazing Arizona spirit, making major strides in politics, civil rights, health, law and entertainment."
Enos was the first SRPMIC member to become an attorney. She graduated from Arizona State University, immediately enrolling in law school and joining the Maricopa County Public Defender's Office, where she served for 11 years. She served her first term as SRPMIC president in 2006 and helped transform the Community into a role model for tribal communities across the nation.
In recognizing Enos, the article states, "Diane Enos is a past president of the Salt River Pima-Maricopa Indian Community and continues to serve her community as a member of the tribal council. During her tenure as president, she focused on the needs of children and economic development.
"She is a past chair of the executive board for the Inter-Tribal Council of Arizona. She also is a past chairwoman of the Tribal Nations Leadership Council, which advises the U.S. attorney general on matters related to tribal law and order."
In addition to Enos, the Arizona honorees included U.S. Supreme Court Justice Sandra Day O'Connor and singer Linda Ronstadt.
According to the criteria, "The women were expected to have a track record showing outstanding achievement in one of 11 areas: arts and literature, business, civil rights, education, entertainment, law, media, nonprofits and philanthropy, politics, science and medicine, or sports." Other requirements included U.S. citizenship and having lived between 1920 and 2020.
Arizona's 10 'Women of the Century'
Sandra Day O'Connor(1930-)
First woman to serve as a justice on the U.S. Supreme Court
Jean Fairfax(1920-2019)
Educator, civil rights worker, community organizer and philanthropist
Polly Rosenbaum(1899-2003)
Arizona's longest-serving state lawmaker
Gabrielle Giffords(1970-)
Anti-gun violence advocate and youngest woman ever elected to Arizona State Senate
Terri Cruz(1927-2017)
Civil rights advocate and founding board member of Chicanos Por La Causa
Annie Dodge Wauneka(1910-1997)
Public health activist and tribal leader of the Navajo Nation
Diane Enos(1949-)
Former president of the Salt River Pima-Maricopa Indian Community
Frances Willard Munds(1866-1948)
First female Arizona state senator and advocate for women's rights
Pearl Tang(1922-)
First female Chinese American doctor in Arizona
Linda Ronstadt(1946-)
Music icon who spanned genres of folk, country, rock, pop, Latin and opera