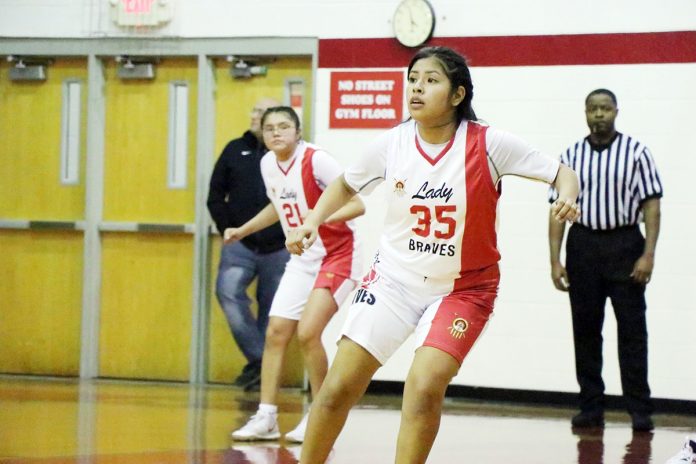 Mieve Kochampanasken, a recent graduate of Riverside Indian High School in Anadarko, Oklahoma, is preparing to attend Mid-American Christian University (MACU) in Oklahoma City at the end of August. Kochampanasken will be playing as a guard for the MACU women's reserve basketball team. 
Kochampanasken is a member of the Salt River Pima-Maricopa Indian Community. She attended Riverside Indian High School and played on the Braves' junior varsity and varsity basketball teams starting as a freshman. 
"It was really interesting because there is a lot of talent from all over the United States," said Kochampanasken about playing basketball at Riverside Indian High School. "I got to know different tribes … and to learn how athletic their people were. It was very interesting to see how we can play all together as a team. It was really cool and exciting because it's not every day you get to see a whole school including a basketball team full of Native kids from all over the country." 
Kochampanasken explained that her experience attending a boarding school has helped prepare her for her journey to college. She recalled that when she first arrived at Riverside it was a little challenging, but thankfully she wasn't all alone; her younger sister also went to Riverside with her. 
"When I realized that I was going to be away from home for a while, it was a chance for us to get to know other people and learn about their tribes. It wasn't really hard, it was just adapting to our surroundings," said Kochampanasken. "The only challenging part was being away from home and homesick. We couldn't really go anywhere; we had to stay in that area (on campus). College is not going to be any different from attending Riverside—it's staying at a dorm, eating in a cafeteria, meeting new people. I can't wait to see what kind of environment it is and the competitiveness that the season will bring to me and the MACU team."
Kochampanasken, who has been playing basketball since she was 5 years old, is excited to play at the college level. She explained that at MACU she will be playing with a former Riverside teammate, Kaygan Tofpi, which will help her feel more confident and at ease as she adjusts to her new team. 
"I am excited for the experience to meet new people and learn new things," said Kochampanasken about attending college. "I am trying to get into interior design, sociology or just anything right now. I don't have a specific major. I am going to just study my general studies." 
She hopes her family will come out and watch her play as they did when she was attending Riverside. She also plans to attend a major university in the future, maybe somewhere in Texas. 
She encourages Native youth to continue to work to reach their goals. "We [Native American people] came up from a sad, tragic story, but today as people we should focus on the positive things and be strong. Be who you are and be better," said Kochampanasken. 
To follow the 5' 3" freshman guard, visit https://macuathletics.com/sports/jvwbb/roster.