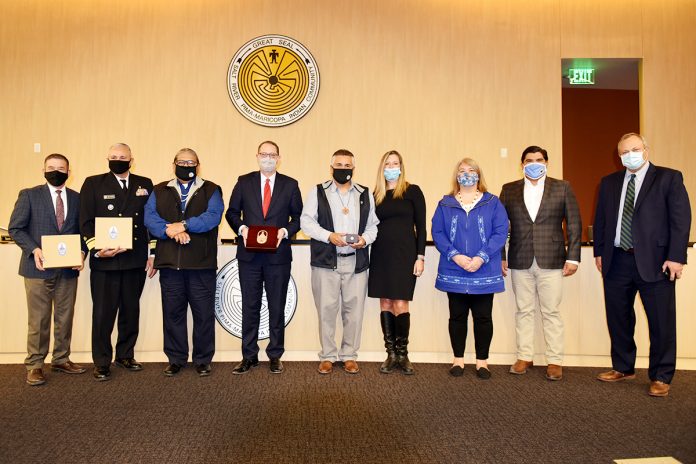 Salt River Pima-Maricopa Indian Community President Martin Harvier, Vice-President Ricardo Leonard and Administrative staff met with federal officials on Thursday, October 28, at the Council Chambers for a health policy meeting and tour of the new River People Health Center.
President Harvier welcomed the guests, who included White House domestic policy staff and Indian Health Service (IHS) staff. Vice-President Leonard started the meeting with a prayer, and then President Harvier gave a brief overview of the Community, explaining the history of the two tribes that reside here.
"We appreciate your time to come here and visit us. I think you are going to be surprised at the new [health] center that is being constructed, because we are, as a Community, we are excited for the opening. We appreciate the relationship that we have with the health officials, not only [in Arizona], but in D.C.," said Harvier.
The White House and federal policy staff members discussed their excitement about the new River People Health Center and explained executive orders and legislation passed by the Trump Administration that will help address issues such as missing and murdered Indigenous women, public safety, public health, education and more.
"We are here to meet you at your table and make sure we continue to nurture the partnership. We have hosted many of the tribal leaders at the White House over the last three years, and it's a pleasure to come to your Community, learn about the culture and hear about your challenges and opportunities," said Doug Hoelscher, director of the White House Office of Intergovernmental Affairs. "I think we're going to see an opportunity this afternoon at the healthcare facility that ties back to one of the major prongs of President Trump's "Putting America's First Peoples First" plan that he announced in October, "Forgotten No More." One of the provisions of that plan is improving health, and I think that is what this new state-of-the-art facility is all about."
Hoelscher also talked about the first anniversary of the signing of the Missing and Murdered Indigenous Women executive order and the president's plan for promoting safe tribal communities so that families have a safe environment in which to grow and prosper. He also explained the plan to further invest in Native language preservation and improve Indian education.
"We have done a lot of work with repatriation of human remains and artifacts from around the world," said Hoelscher about other actions the Trump administration has taken to help Native American communities. "This year we helped repatriate some human remains and cultural artifacts from Finland …; we returned them to where they should have been all along." The artifacts and remains were unearthed by a Swedish man in 1891 in the area of what is now Mesa Verde National Park. They ended up in the collection of the National Museum of Finland, and now they have been returned to the Pueblo tribes.
Rear Admiral Michael D. Weahkee, director of the Indian Health Service, followed Hoelscher's presentation.
"The Salt River tribe is a prime example of the success of self-determination and self-governance; the resources and coupling with their own enterprises has borne fruit for tribal members. The success is all around us and we look forward to this construction being completed," said Weahkee about the River People Health Center.
Weahkee also addressed the SRPMIC's request for plans regarding staffing of the new facility. It is vitally important that, as soon as the building is ready to operate, funding is in place to hire the staff to start seeing patients.
"That is top of the list, to work with Congress to get that staffing package together to get it funded," said Weahkee. "This building is a great example of the 'Better Health' pillar of the president's plan that was just announced. When this building comes to fruition, it will create healthcare jobs to the tune of about 500 full-time employees. That's great news, because it's a lot of expanded services. The first statement of the Better Health plan is to increase access to healthcare, and that is exactly what the River People Health Center was meant to do, to offset that demand for services from the Phoenix Indian Medical Center."
Katie Sullivan, principal deputy assistant attorney general, Office of Justice Programs, U.S. Department of Justice, discussed the importance of visiting Indian Country and learning about each tribe and their needs.
"It is an honor to be here. It's been an incredible two days traveling throughout Indian Country. I had the great fortune to travel with Attorney General William Barr. He has a deep connection for Indian Country. We have been told without any question is a priority to reach out and learn about Native American Communities," said Sullivan. "Attorney General Barr's No. 1 concern is for Indian Country and rural communities, and his constant frustration is oftentimes it's written that one size fits all. You have this grant and conditions that are supposed to serve everyone. I think if there is one thing I learned, if you've gone and met with one tribe, you just learned about them, you haven't learned about Native Americans overall. Some tribes have struggles [in certain areas] and some tribes do not."
Sullivan explained that there are Native American communities who are in urban settings and getting them culturally competent treatment and care can be a challenge.
"Then there are those in rural areas, which affects health and public safety. If there is someone in a rural setting who is being assaulted and they call for help, think about how long it would take for law enforcement to get there and help that person," said Sullivan. "When you think about that from a public safety perspective, is evidence, how compromised it can be and you think about the victims of crime."
Sullivan also talked about victim services. She explained that the state receives Victims of Crime Act (VOCA) funding in which 50% of that grant goes to victim services and the other 50% goes to directly compensate crime victims.
"Native Americans for a long time have lobbied to have funding set aside from the crime victim funds so that they can set up their own victim services," said Sullivan. "To be able to take 5% from the VOCA funding and get it direct to tribes so that they can direct their own victim services is something that is crucial to the overall public safety mission of this president and attorney general."
Sullivan explained that the Operation Lady Justice Task Force was formed to tackle the issue of missing and murdered Indigenous women.
"The President put together the Operation Lady Justice Task Force, [which] has had multiple listening sessions and formal consultations of what our outcomes are and the deliverables are in the executive order," said Sullivan. "[We are providing] information and education; [we] also collected data and created cold-case teams and victim services that represents every cold-case team to make sure we are taking care of families regardless of the outcome in these cases and [to make sure] that they are getting the help right from the beginning."
Following Sullivan, Assistant Health and Human Services Director John Godfrey gave a brief presentation on the new River People Health Center. Before the group made their way to the River People Health Center for a tour, Vice-President Leonard presented a gift to the visitors. The group finished their visit with a tour of the Salt River Health Center.