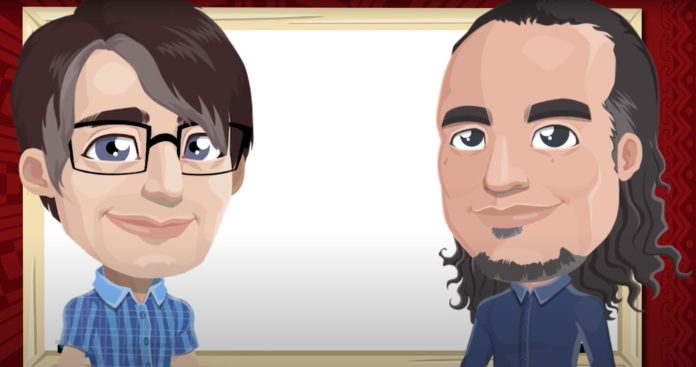 The O'odham Piipaash Language Program's (OPLP) new "Living Languages" series is now live on its social media channels. The series is produced by the Salt River Pima-Maricopa Indian Community's Cultural Resources Department (CRD).
The series features the animated character likenesses of CRD Director Kelly Washington and OPLP Manager Luis Barragan, and their actual voices, as they explain complex topics related to the evolution of the O'odham and Piipaash languages.
"Some of these topics seem to be avoided, or at least not resolved, so we encounter them year after year," said Washington. "I noticed a lot of these controversial language issues seem to stem from the fact that language naturally changes over time."
Washington said that when Native people talk about saving their languages, there often seem to be struggles with getting past dialects and the differences in even a single word's pronunciation. With the new series, the OPLP hopes to address these issues specifically for the Community's languages, which Washington said can't be addressed effectively in a single conversation or on a poster.
"Changes in meaning over time can be a way of creating new words in a language," Barragan said in the first episode of the series, "Days of the Week."
"I wanted to create a series where we present some of these complex topics in small chunks and in a way that holds attention," said Washington. "My goal is that some of the information we present becomes common knowledge, so when it comes up, people can say, 'Oh yeah, we already know all about that. No need to beat a dead horse. Let's put our energy and focus on teaching, learning and using the languages.'"
Washington said that Barragan, who is a strong proponent of using technology and multimedia, is one of the few people in the world who possesses both linguistic knowledge and a working knowledge of O'odham and Piipaash.
With many of the Community's departments having social media accounts that Community members follow, CRD wanted to stand out somehow. That's why they decided to use animation. "Animation is different," said Washington. The animation aspect of the project was the idea of CRD Multimedia Supervisor Helema Andrews and CRD Multimedia Specialist Chandra Narcia.
"They have a breadth and depth of knowledge about graphic design and multimedia. They figured out how to make it all work," said Washington. "Our job as manager/director was to empower, support and provide them the opportunity to bring their idea to fruition." The series can be viewed on CRD's YouTube channel at https://youtube.com/@saltrivercrd and on their Facebook and Instagram pages.