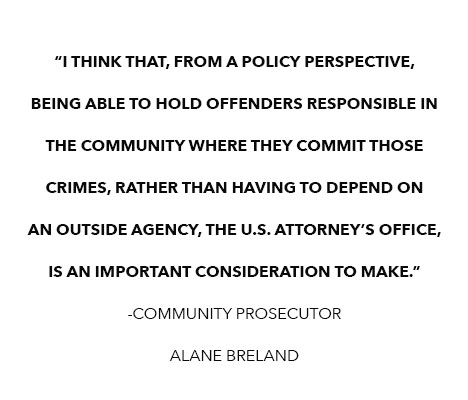 With the 2022 Violence Against Women Act (VAWA) Reauthorization Act being signed into law, tribal governments will soon be able to take action on the language within the legislation.
Tribes can start exercising the language relating to special tribal criminal jurisdiction on October 1, but due to the complex nature and swift reauthorization of the act, changes will not be automatic for all tribal governments.
In the Salt River Pima-Maricopa Indian Community, what comes next after the reauthorization will be discussed in Council and district meetings throughout the summer.
There are, however, ordinances that went into effect on May 1 that allow SRPMIC courts to prosecute non-Native offenders for crimes of domestic violence and order-of-protection violations, if it can be proven that the defendant has adequate ties to the Community. This includes changes to the Community's jurisdictional statement when it comes to those crimes and violations, and it also includes the addition of a new jury pool.
The jury pool for these cases will include eligible enrolled members of the Community and Community government employees. In the future, the Community may add additional non-Indian residents as part of the jury pool.
These changes are all that have gone into effect, because that is all that the current law allows.
Council enacted these ordinances on February 23 to implement Special Domestic Violence Criminal Jurisdiction (SDVCJ) pursuant to the VAWA Reauthorization of 2013.
The changes that may come in the future would be anything that expands tribal jurisdiction according to VAWA 2022, which would be the new subsections that allow the Community to prosecute child violence, sex trafficking, sexual assault and more.
"What's important for the Community to know is that for years and years, people have been coming to my office for help with these cases. Their husbands, significant others or children's fathers were abusing them or their children, and they were coming to us for help and we weren't able to give them any because we didn't have criminal jurisdiction," said SRPMIC Community Prosecutor Alane Breland.
"We could help them seek orders of protection or get financial help if they wanted to move, but in terms of real, concrete, black-and-white assistance from law enforcement from our office, we weren't able to help. We had to rely solely on the federal system. "Council has now passed laws that allow us to now help those domestic violence victims, and should Council decide to go further under VAWA 2022, it would further enable us here in the Community to hold people responsible who commit other very dangerous crimes against vulnerable victims, whether they be children, vulnerable adults or intimate partners," Breland continued. "I think that, from a policy perspective, being able to hold offenders responsible in the community where they commit those crimes, rather than having to depend on an outside agency, the U.S. Attorney's Office, is an important consideration to make."