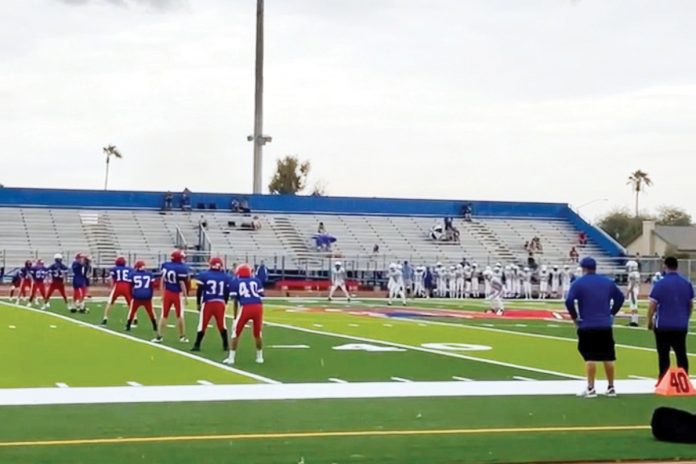 This fall, three Salt River Pima-Maricopa Indian Community youth have joined the Mesa Toro NYS Football Club, on the 14U football team. Brothers Kaleb and Xavier Lucero and Jayson Dutchover are all seventh-grade students and participating in football for the first time.
Kaleb and Xavier are the sons of Elaine Lucero, and both attend Carson Junior High School. They represent two-thirds of a set of triplets and played both basketball and baseball while growing up. However, due to the COVID-19 pandemic, they had to stop playing to avoid catching the virus and spreading it to their family members.
"We had nothing to do. Baseball isn't my thing anymore, and I wanted to try out football," said Xavier about why he joined the Mesa Toro Football Club. "I enjoy it."
The two hope to play football in high school at Westwood or Mountain View. They both like football better than baseball; they enjoy the physical aspect of it, getting to tackle the other players.
Kaleb's position is running back, but he has also learned to play linebacker. Xavier has the opportunity to learn to play corner, safety, offensive line, left guard and right guard, but his main positions are linebacker and wide receiver.
Jayson Dutchover is the son of Ipa Dutchover and Shunden Cadman and attends Stapley Junior High. He said that he wanted to play football this year because he likes watching the NFL. This is his first time playing on a football team, at defensive guard.
"I learned stance, which is stand and get ready," said Dutchover. "When you're supposed to get up and go against them, what I do [is] I stand up and then go, but I should be rising up to them and leaning into them," he explained, noting an area where he needs to improve.
Currently he wants to play football in high school, but he explained that he might change his mind. He does like playing football and baseball.
"I like watching football and watching the players who do the same position I play and see what they do to learn more," said Dutchover.
He also enjoys plays musical instruments, such as guitar, bass, drums and the trombone.
If your child is interested in joining the Mesa Toro Football Club, contact coach Roberts at (480) 939-1319 or visit their Facebook page at www.facebook.com/mesatorofootball.