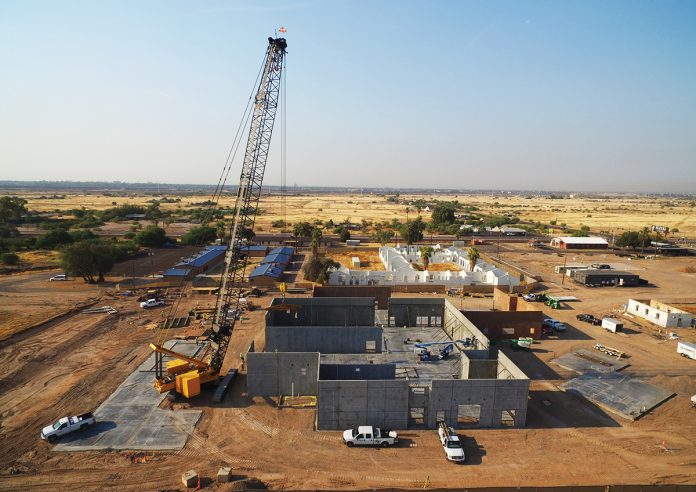 Owners: David Dallas and Adam Mays (we talked with David for the interview)
Year established: 2012
Services: General contracting and general engineering 
Q: What made you want to start your own business, and why did you choose this type of business?
A: At the time I started MayDall, I had been in the construction industry for almost two decades. I had my subcontracting company built up and operating like I had planned, and the next step was to become a general contractor. I partnered with a company that I had worked with as a subcontractor on many projects prior to forming our partnership. I believe it was a combination of timing and opportunity that ended up taking me to this next step in my career. I had to go through a learning curve at first, but I was only learning the second part of what I already knew as a subcontractor, so the transition went very well for me and I learned very quickly what I needed to operate as a general contractor. After a few projects, we restructured our company so that I managed it and my partners supported me, giving me any resources that I needed. We have kept this structure for several years now and have had great success. We build a large variety of projects, from horizontal utility work to vertical new build and remodels. Some of our projects for the Salt River Pima-Maricopa Indian Community are the Way of Life Facility, the Police Evidence Building and the Data Center. We also did the Scottsdale Auto Show Infrastructure and Pond Relocation, Topgolf Bar remodel and facility enclosure, and the CAZ Sports Bar at Casino Arizona.
Q: How has the COVID-19 pandemic affected your business?
A: Our main client is the SRPMIC, and the casino shutting down has greatly affected my business. Many projects are on hold until we see what happens with COVID-19 and casino revenue. We are staying busy right now but will be finishing up our current projects early next year. We will be experiencing a gap between projects I fear, which could be up to a year or possibly longer. The hardest part is the people we have lost. The health and prosperity of our Community is what is most important. I can figure out how to keep my company alive, but my bigger concern is for our Community and our elderly. I hope we can make it through this pandemic with as little loss of life as possible. Now is the time for us to come together as a community and protect our most vulnerable.
Q: To what do you attribute your success?
A: Hard work and the opportunity I have been given by the Community, particularly the SRPMIC Public Works and Engineering and Construction Services (ECS) departments, who are my main clients.
Q: What are your company's goals?
A: To continue to grow the business and eventually expand to other Native American communities.
Q: What is unique about your business?
A: My employees have been working with me for many years. We have trained them to provide the best service possible. We have great relationships with every entity of the tribe we work with, including all the inspectors. I am a very hands-on owner and oversee our operations very closely. I attend all our owner, architect and contractor meetings and am always accessible to the tribe. I believe the buck stops with the business owner, so the owner should know what their teams are doing. I make sure the tribe is treated like the VIP client they are. Having the outstanding employees that I do makes that job relatively easy. We have our challenges on every project, but we always work through them with the Community and have a fun time along the way.
Q: If you could give one piece of advice to someone just starting out in business, what would that be?
A: Always set yourself up to succeed. Know your capabilities, as we all learn and grow at different paces. Timing is very important in business and in life. Remember nothing replaces hard work, and always pass on opportunity to others every chance you get.
MayDall Construction is located at 6900 E. Indian School Road, Suite 210, Scottsdale. Call (480) 850-6950 or visit them online at www.maydall.com.