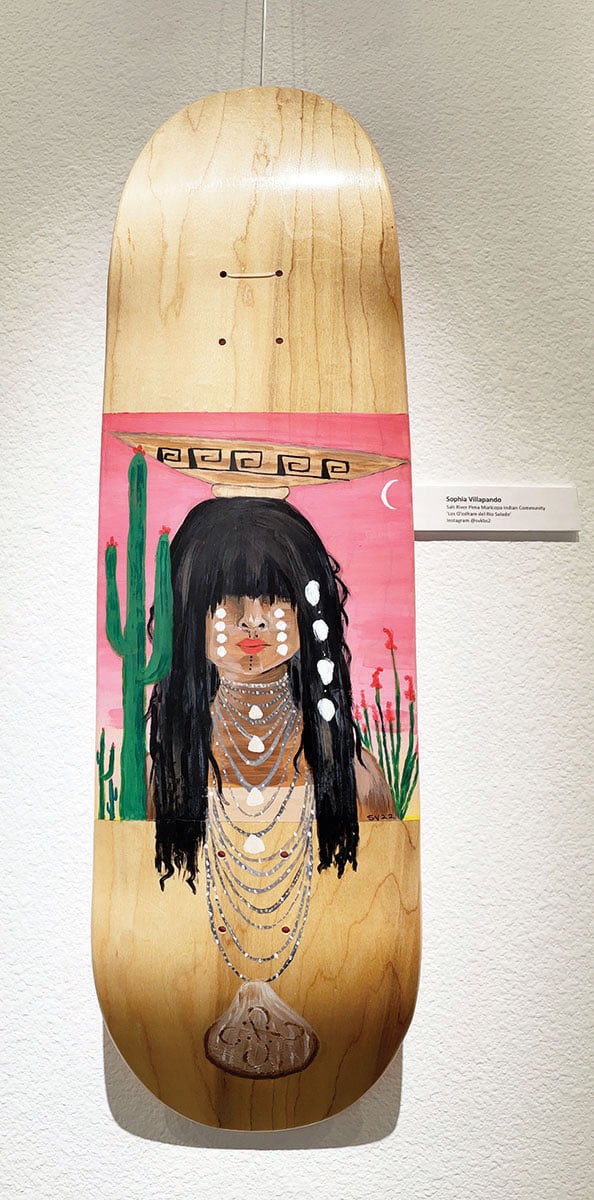 During March, nearly 50 hand-painted skateboard decks created by 39 different Native artists from around the country were on display at ArtSpace West, the gallery at the Arizona State University West campus in Phoenix. The goal of the exhibit, called "Boardz and Arrowz," was to celebrate skateboard culture "as a grounding and connective force among Native youth and communities nationwide," as well as to raise money to support the GuVo Tohono O'odham Skate Park near Sells. The boards all were available for auction through March 31.
As the ArtSpace gallery staff were coming up with ideas on what to feature for their next exhibition, ASU Assistant Professor Jacob Meders, a skateboarder himself, came up with the idea to use skateboard decks after the COVID-19 pandemic made it difficult for artists to obtain supplies such as canvases. He had been commissioned for an exhibit at the Scottsdale Museum of Contemporary Art (SMoCA) when the lack of supplies became a problem.
"I originally was looking for boards to help me create these items to sell in the Scottsdale Museum of Contemporary Arts gift shop, but due to the supply issues I couldn't get the project done in time," said Meders. "But it led to something more. I was talking with Cowtown Skateboards and Alex Soto of the Labriola Library at ASU about possibly doing this all-Native artist skateboard exhibition to raise money for GuVo Skate Park."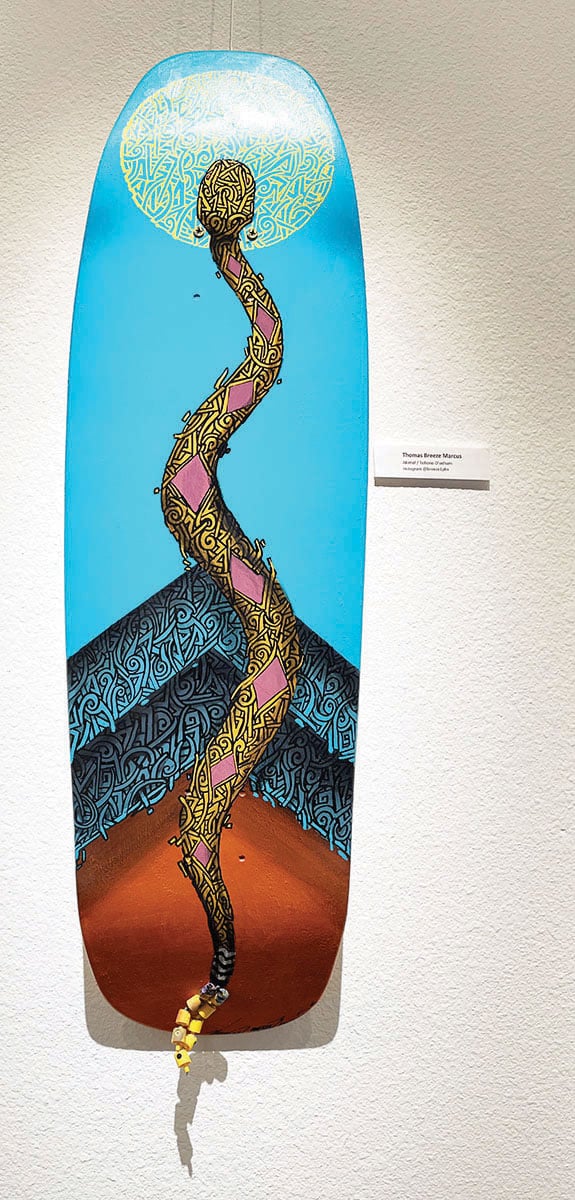 Meders and the ASU School of Humanities, Arts and Cultural Studies partnered with Cowtown Skateboards, ASU Library, the Skate Project, Endure Skate Park Group, Native American Advancement Foundation, PTM Foundation and ASU West Labriola National American Indian Data Center to put on "Boardz and Arrowz."
The boards were on display and up for auction at the ArtSpace at ASU West for a month. More than $10,000 was raised to help fund the completion of the GuVo Skate Park.
Salt River Pima-Maricopa Indian Community member Sophia Villalpando was one of the artists who painted a board using acrylic paints. Her piece was called "Los O'odham del Rio Salado" and featured a traditional O'odham woman wearing a beaded shell necklace and a basket on her head with the desert landscape in the background.
"I wanted to help raise money for our sister tribe, the Tohono O'odham Nation, to get their skate park built," said Villalpando about why she participated in the exhibit. "It's always good to go for opportunities to gain experience and meet new people."
Other participating Community artists included Thomas "Breeze" Marcus, Anitra "Yukue" Molina and Rachel Espinosa.
'Boards and Arrowz' Participating Artists
Damian Jim
Felicia Gabaldon
Edgar Fernandez
Raven Kemp
Allen Lewis
Amber Moristo
Darrell Justin
Heidi K. Brandow
Ira Lujan
Jeremy Singer
Jessie Yazzie
Jupiter 4
Mitchell Cruz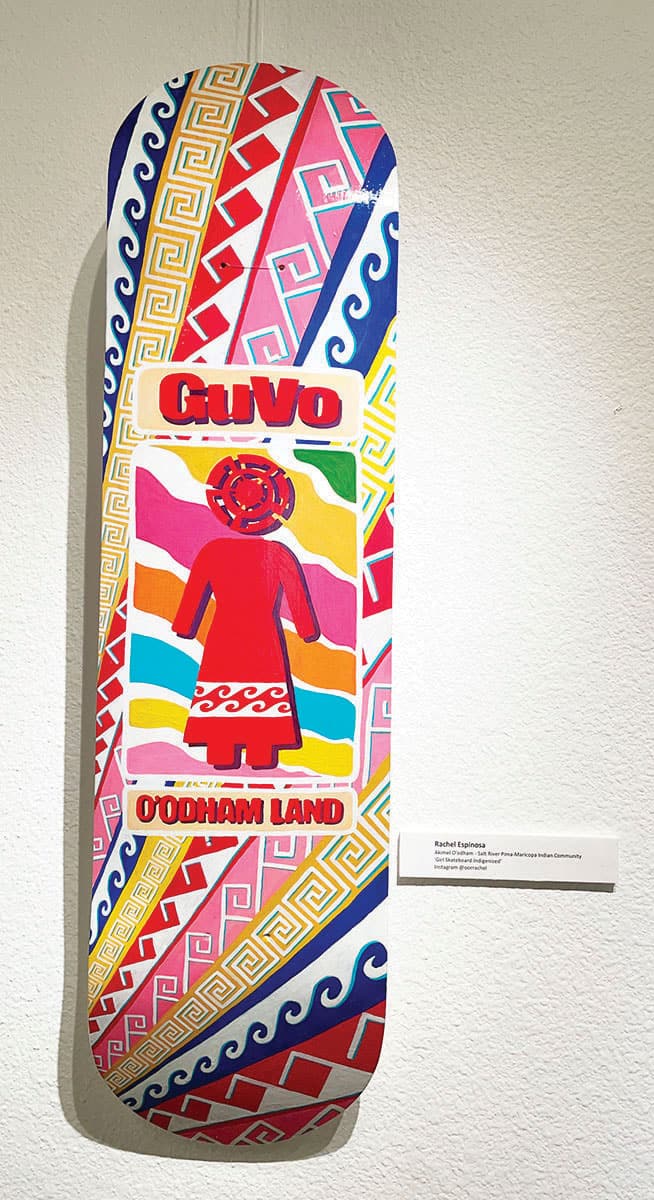 Nick Arroy
Sophia Villalpando
Zachary Justin
Mateo Romero
Selina A. Scott
Lone Soldier
Erode
Roy Boney Jr.
Angelo Cortez
Paul Molina
Di'Orr Greenwood
Dustin Lopez
Eunique Yazzie
Jordan Ann Craig
Tiffany Enos
Lalo Cota
Danny Upshaw
Joseph H. Seymour Jr.
Rachel Espinosa
Anitra "Yukue" Molina
Piersten Doctor
Monica Wupaha
Rykelle Kemp
Thomas "Breeze" Marcus
James Johnson
Jacob Meders