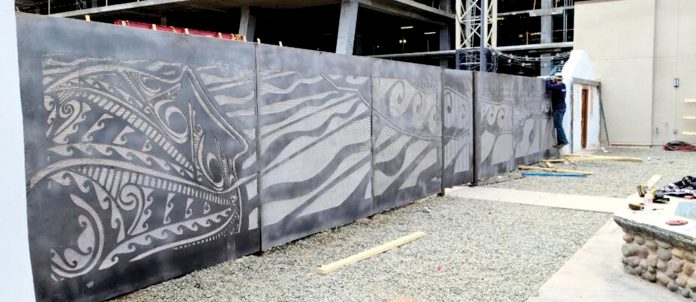 La Casa Vieja ("the old house") in Tempe, longtime home of Monti's restaurant, has been restored, and Salt River Pima-Maricopa Indian Community artist Jacob Butler has helped tell the story of this significant property, considered the birthplace of Tempe.
The original adobe portion of the building dates from 1874 and was built by Charles Trumbull Hayden, owner of the iconic Hayden Flour Mill just across from the property. Hayden's son, Carl Hayden, was born in the house and represented Arizona in Congress for almost 60 years.
Over the last two years, historical preservationists have restored the building, called Hayden House, to its 1924 form.
City of Tempe Historic Preservation Officer John Larsen Southard and Deputy Community Development Director–Special Projects Alex Smith were tasked with overseeing the restoration. They were able to get the Hayden House on the National Register of Historic Places.
"The Haydens also ran Hayden's Ferry," said Butler, who was asked to create a design for a steel fence and gate for the restoration project. "It was a ferry that ushered people across the Salt River so they could get to the other side and trade their goods. Then the train and bridge were built later on. An older connection is that our Hohokam people used that same area for hundreds if not thousands of years to cross the river, because it was the only place that was relatively shallow because the bedrock there came up to the surface."
Southard and Smith wanted the restoration also to acknowledge the original Hohokam inhabitants in the area and wanted a design to reflect that, so they asked Butler if he would be willing to design something that would honor that past.
"Their idea was to create this gate for their courtyard. We bounced some ideas around, and they basically said that they didn't want to tell me what to do, they just wanted me to give them something that would reflect who we (O'odham/Piipaash) are as a people and how we spent our time on the land. It was one of the first projects that I worked on digitally; it was really cool … because I got to use graphic arts skills and create this vectored digital image that they could use to cut the panels out of steel, like a plasma cutter."
The Gate's Design
The gate's design represents the Salt River and the crossing. The top of the gate outlines the layout of the river as it exists there in Tempe. "It's like a map of the river," explained Butler. The other designs in the gate portray "A" Mountain/Hayden Butte, called Oidbad, which means dead fields, because that was the name of the village there where the Hohokam once lived. Agave once grew on Oidbad, and the plant is incorporated into the designs of the mountain.
"I marked the crossing where Hayden Ferry was with a coyote tracks to mark the path across the water," said Butler. "There is an olas ki (dwelling) on there that marks the location of the Hayden House. Coming off the river are depictions of irrigated fields, because all along Salt River there was over 100,000 acres of farmland; I wanted to represent our agricultural heritage in that way. I also wanted to reflect who we are as artisans, so I put this large olla (pot) on the east side of the panel that's a modern version of a red-on-buff pot with a bunch of designs on it. It's an image of a pot I made years ago."
Butler continued, "The pot incorporates a modern version of an ancient tradition, and birds in flight represent our oral traditions, such as our songs and stories.
"I tried to represent a little bit of both the oral and material culture of our people and the farming of our people to really reflect a relationship with that land," said Butler. "The pot itself also was meant to not only reflect our ancient traditions but emphasize that we're still here, we still practice these things, and we still find value in the land and still have a connection to it."
The Project History
Two years ago, when Butler was asked to join the Hayden House project, he was a bit nervous—not only because he had to use a new art medium to design, but also because he needed to come up with a design that was going to be placed on a historical site.
"I was scared because I didn't want to mess up, but you never know [how] you can succeed until you try," said Butler. He had to learn how to use the digital program. "I worked with the developer to make sure it was going to work with the machine they were going to use to cut the panels. If you look around that area (where the building is located), there is a lot of construction going on with these really huge ultra-modern buildings, and that little corner represents a specific time not only in Tempe's history, but in Arizona's history and our history as a people. Being asked to represent the tribe is special to me because it's in a place that is going to be protected now."
Butler explained that the project used a program called Arizona Correctional Industries that teaches trade skills to inmates at the state prison in Florence. They helped cut out the steel panels.
"The people who facilitated that program were on-site when the project was being installed, taking pictures of the process," said Butler. "They were really excited because it was something that was totally different from what they are usually tasked to do, so for them it was a big highlight and [they were] excited when it was put up."
The panels are made from a steel that will rust over time, creating a rustic-looking patina. The stainless-steel screens should stay silver. The gate's contrast between shiny metal and rusted steel will give it a unique appearance.
"They acknowledge the fact that [the O'odham and Piipaash] have ties to the land, and our ties are so strong they wanted to represent our [people] in that design," said Butler, expressing his gratitude to the City of Tempe for asking him to design the gate. "To be able to represent my artwork and also to represent our people is an honor. I am very grateful to be a part of this project."
To learn more about the Hayden House Rehabilitation project, visit www.tempe.gov/government/community-development/historic-preservation/hayden-house. The Hayden House is located on the southwest corner of Rio Salado Parkway and Mill Avenue in Tempe, where you can check out Butler's artwork in person.