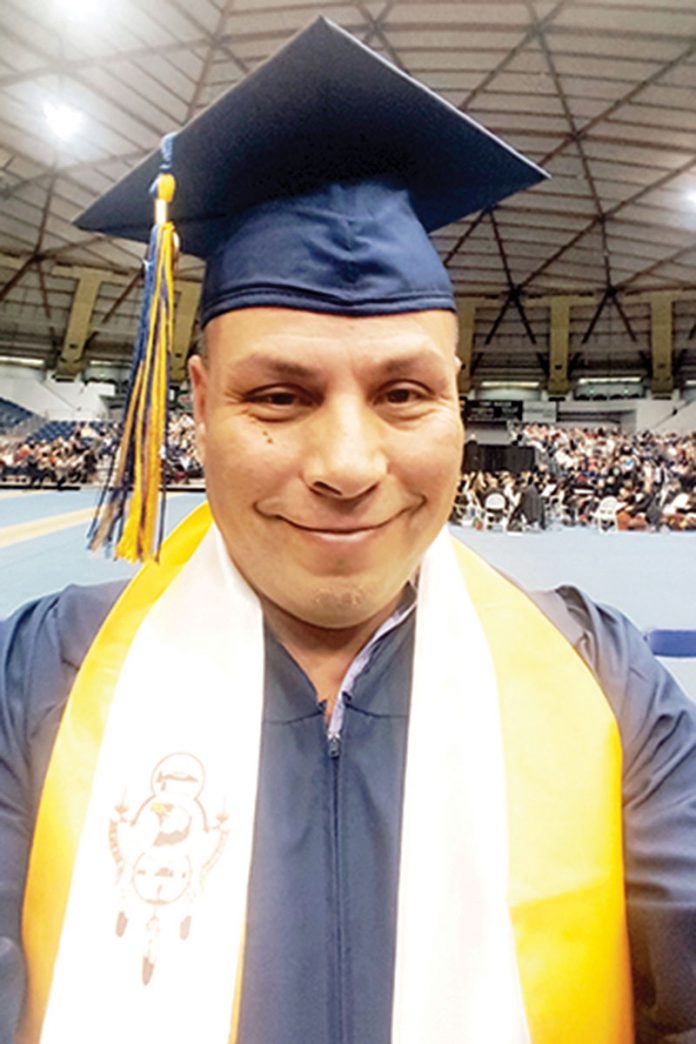 Northern Arizona University
Master of Science in Nursing
Tell us about your educational background.
I attended nursing school in California at Long Beach City College from 2001 to 2003. I completed my associate of science in nursing in December 2003. Halfway through the registered nurse program, I passed my licensed vocational nurse board exams and began working in the emergency room at Kaiser Permanente Hospital. I earned my California registered nurse's license in 2003 and continued working as an emergency room R.N.
In 2014, I returned to school at Northern Arizona University and completed a bachelor of science degree in nursing (BSN) in December 2016. I followed my undergraduate work with a master of science program in nursing to start my graduate journey back in spring 2017. Many obstacles crossed my path, and walking across the finish line was not easy. However, I now have completed my long-term goal of getting a master of science in nursing (MSN) degree, graduating this spring.
Describe your most rewarding college experience(s).
My school journey started at a local junior college after I lost a good job for being young and dumb. I worked in hospitals as a nursing assistant and knew I did not want to do that for the rest of my life. Since I knew I wanted to be a nurse, I needed to get particular prerequisites out of the way to be ready. When I completed all the requirements, I met other corequisites. Chosen from a waitlist, I was an alternate and was extremely excited to begin my nursing school journey back in 2001. Crossing the finish line in December 2003 would be my most rewarding experience.
I am a first-generation college student who completed associate, bachelor's and master's degrees. Finishing my master's is a close second reward compared to my recent doctorate acceptance at the University of Dayton. My doctorate program was to start on May 3, but it was postponed until fall 2021 since my completion was current and I recognized that I needed a summer break.
What are your future plans?
I have spent many years working in hospitals and have trained in medical telemetry, stepdown, ICU, emergency and trauma areas. I have begun to understand hospital operations on a macro (large) and micro (small) scale. I have learned that a master's in business is the key to managing hospital resources. Looking ahead to the future, my work goal is chief nursing officer, chief executive officer or chief operating officer. Gathering more business tools is what an MBA offers; training to be a better version of myself involves hard work in data gathering and analysis.
What do you hope to accomplish in the next 10 years?
In 10 years, I want to be in a position of influence or be an agent of change. I began my higher-education journey in hopes of becoming better paid. Now, my sights on wealth dominance have altered to a different reality. How can I better prepare my family to join a workforce that non-Natives dominate? I want to teach my children the value and importance of education. I want my offspring's kids to be prepared to fight back and gain a foothold in the business world.
Who influenced you to pursue higher education?
I remember my nursing school dean, Dr. Brenda Harrell. Before joining her program, I asked if many guys pursued nursing. She explained how my life could be different by becoming a nurse. During the program, I had failed one semester and thought the world would cave in on me. Dr. Harrell was there to pick me up and not feel sorry for me, but encourage me to go forward. I still remember the day I graduated; she gave me a big hug and smile and told me my work was only getting started.
I graduated with my MSN many years after beginning my nursing journey. After being accepted recently into a doctorate program in business, I shared my good news with my retired professor, and I felt tears of joy as I listened to the crack in her voice over the phone.
Did you face any obstacles while attending college/university? If so, how did you overcome them?
The wall of obstacles blocking my path will stop me—if I allow it. At one point I started an MBA program at Pepperdine University, but I had to transfer to a lower-cost school because it was too expensive. My point would be this: Keep moving forward, and don't let words, things or people block your path.
Is there anyone you would like to thank for their support as you pursued your education?
I'd like to thank my wife, Rose, for bearing with me through some gut-wrenching times. My children supported me with hugs and kisses, and [I'd like to thank] Luisa Ashtari for all the help she provides. [Thank you to all] the instructors for really developing quality programs that challenge my mental growth as a professional. They are the true heroes that go unsung, and I can't begin to thank them enough. Northern Arizona University gets my thanks for having such terrific teachers and excellent faculty support. I want to give a huge thank-you to Mario West, Gabe Munoz, Tonya Coakley and Rebecca Ronstadt-Contreras at SRPMIC Higher Education for guiding me through the tribe's financial aid support.
Who are your parents and grandparents?
My parents are Paul and Terri Gonzales; my brother is Ricky Gonzales and my sister is Vicky Gonzales. [Thank you to my] grandma Francis Kisto and Tammy Kisto. Thank you for the love and support you show me. I want to say thank you to all my relatives for helping this kid become a responsible adult; all the words and wisdom shared have been of value. I love and thank each and every one of you.