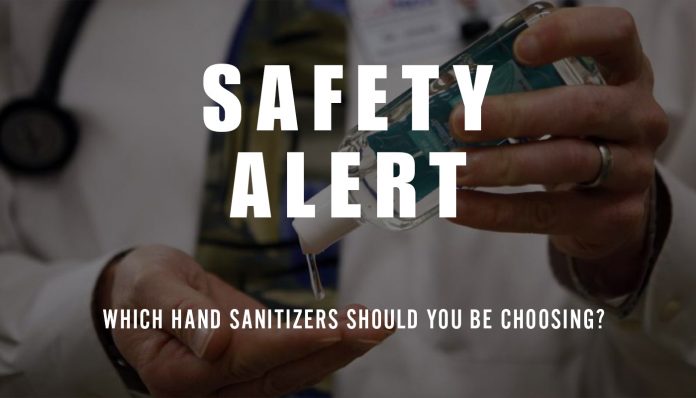 With the high demand for hand sanitizers around the world, it is important to know which sanitizers are safe and can protect you from the coronavirus. With hand sanitizers making their way back on to store shelves lately, you might notice a number of new brands. Since the COVID-19 pandemic began, a number of new and current companies have entered the hand-sanitizer market.
The U.S. Food and Drug Administration has found a number of hand sanitizers with low levels of the active ingredient's ethyl alcohol or isopropyl alcohol, making them less likely to work correctly in killing germs and bacteria.
The FDA also urges the public not to use subpotent products that have been contaminated with methanol (check link to view list of products at http://www.fda.gov/drugs/drug-safety-and-availability/fda-updates-hand-sanitizers-consumers-should-not-use#products).
It is important to read labels when choosing a hand sanitizer to fight off germs and viruses. Here's what to look for:
• Choose a sanitizer that has a 60% to 95% alcohol concentration.
• Do not buy any product with less than 60% alcohol.
• The sanitizer also should have these necessary ingredients: glycerin, hydrogen peroxide and sterile water.
• Do not use if the sanitizer contains methanol.
• Do not use if the sanitizer is manufactured by Harmonic Nature S de RL de MI in Mexico and labeled to contain ethanol or isopropyl alcohol due to those products being contaminated with 1-propanol (if ingested 1-propanol can cause central nervous system (CNS) depression, which and result in death).
• Do not use if the product is claiming to kill viruses such as COVID-19 within 24 hours.
• Do not use a product marked "FDA approved"; there are no hand sanitizer products that are approved by the FDA.
Remember to continue to wash your hands for at least 20 seconds with soap and warm water, especially after using the restroom, coughing, sneezing, blowing your nose, and before and after you eat.
If you have a serious issue or problem with a hand sanitizer, go online and submit a report to the FDA at www.accessdata.fda.gov/scripts/medwatch/index.cfm.