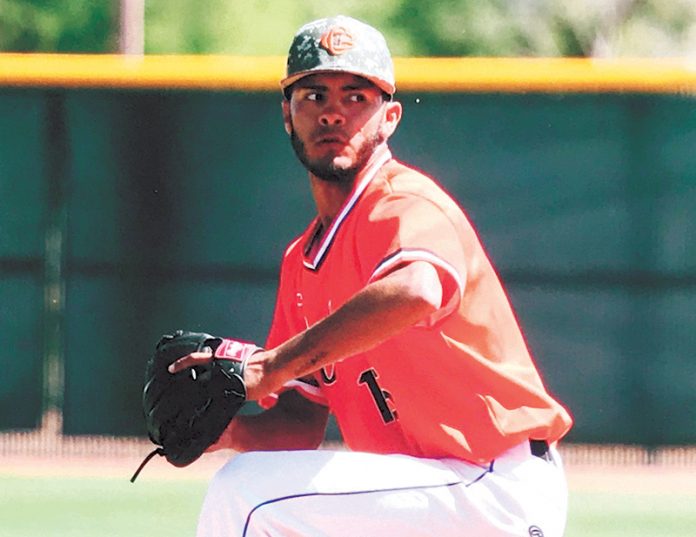 Salt River Pima-Maricopa Indian Community athlete Aaron Makil continues to follow his dream to one day join Major League Baseball (MLB). The 21-year-old recently graduated from Chandler-Gilbert Community College, where he signed to play baseball with the CGCC Coyotes right out of high school in 2016.
In early April, Makil announced that after graduating from CGCC he was signing on to play with the Lobos at the University of New Mexico for the 2020 season.
"It's exciting," said Makil about transferring to a university next year. "I didn't really talk to anyone about going to a university. The Lobos saw me pitch in the fall, and they contacted me expressing their interest and continued to follow up with me. I eventually went up [to Albuquerque] for a visit and I loved it up there."
The Coyotes' pitcher started his first year at CGCC playing both pitcher and shortstop, but in his second and final season he remained the team's pitcher.
Academically, Makil hopes to study kinesiology to learn how the body functions and possibly have a career in sports medicine. But his ultimate goal is to be drafted into the MLB.
"Hopefully I get drafted," said Makil. "I have talked to a couple of scouts here and there, but they want to see what I can do at the next level, which is the university level. Hopefully that will open some eyes and I'll get drafted. I don't care which team I go to, I just want to be in the MLB."
With Makil's determination, competitiveness and family support there is no doubt he will reach his goal. Makil has been playing baseball since he was 8 years old. He said that he gained his competitiveness from his dad, the late Jason Makil, as he watched him play in baseball leagues in and around the Community. He learned his determination from his mother, Rebecca Makil, who has inspired him to be strong and keep his composure when things get tough.
"It gives me something to look forward to and forces me to be like her and get where I need and want to go, because I know it's going to be tough these next couple of years trying to make it in the MLB," he said.
Makil thanks his entire family for being a strong support system to him and his siblings.
"Just seeing them in the stands, regardless if it's a home or away game, gives me motivation to prove that they did right in teaching me to have a good head on my shoulders," said Makil. "I am thankful for my family to be there all the time. I know they will always have my back, and their support keeps me going."
As Makil continues toward his goals, he advises young Community athletes and students to stay positive. "Don't let others be a negative influence on what your goals are, and don't be afraid to set your goals high," he said.
To follow Makil's new team at the University of New Mexico, visit the Lobos website at https://golobos.com/schedule.aspx?path=baseball.