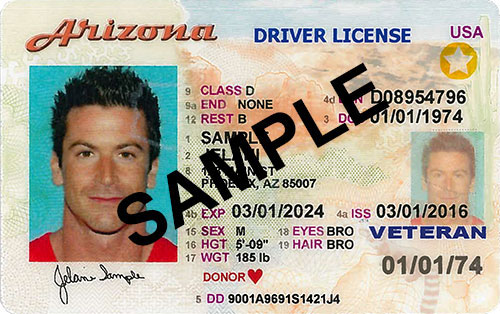 The Arizona Travel ID driver's license/ID card was most recently scheduled to go into effect on May 3, but due to circumstances resulting from what the Department of Homeland Security said are lingering impacts of the COVID-19 pandemic, including state driver's licensing agencies having to work through backlogs, the enforcement date for the card has been extended to May 7, 2025.
This ID is the state of Arizona's credential that complies with the federal REAL ID Act of 2005, as recommended by the 9/11 Commission. There is a gold star embedded in the card to show that the cardholder has met strict federal requirements of proof of identification and security standards, which include incorporating anti-counterfeiting technology, preventing insider fraud, and using documentary evidence and record checks to ensure a person is who they claim to be.
"DHS continues to work closely with U.S. states, the District of Columbia, and the U.S. territories to meet REAL ID requirements," said Secretary of Homeland Security Alejandro N. Mayorkas. "This extension will give states needed time to ensure their residents can obtain a REAL ID-compliant license or identification card. DHS will also use this time to implement innovations to make the process more efficient and accessible. We will continue to ensure that the American public can travel safely."
Effective May 7, 2025, TSA airport security checkpoints for domestic travel will accept only the Arizona Travel ID driver's license/ID card, a U.S. passport and other federally approved forms of identification, which include federally recognized tribal IDs.
To apply for an Arizona Travel ID, visit a Motor Vehicle Division office or third-party office, or go online to https://azdot.gov/motor-vehicles/driver-services/arizona-travel-id.
The ID, which costs $25, can also be used as both a driver's license and an identification card.
For more information, visit www.azdot.gov.