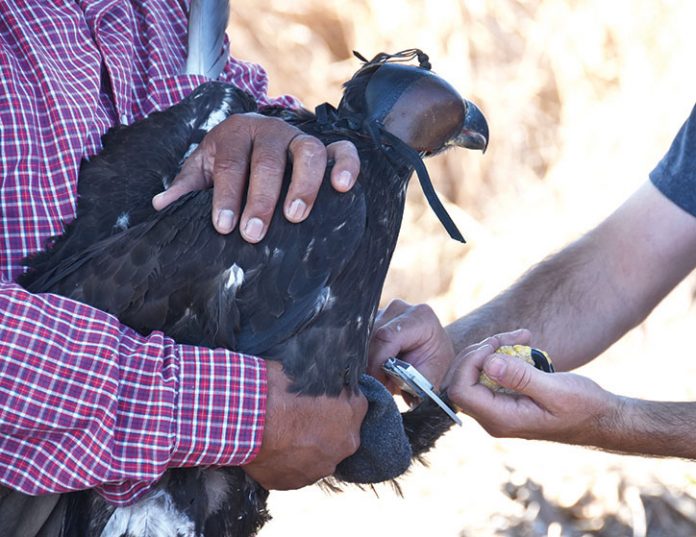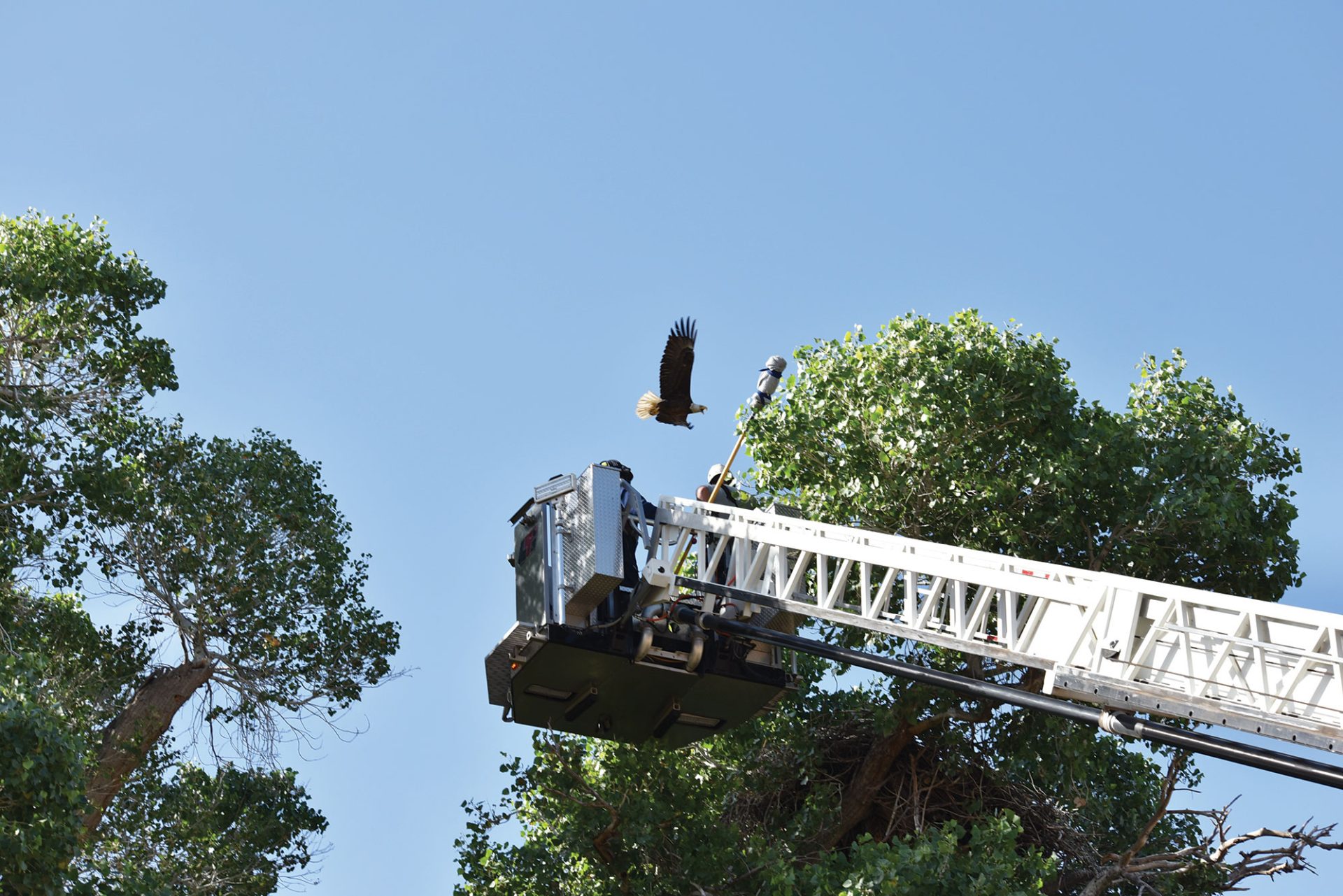 On Monday, April 4, as the nervous and protective mother and father bald eagles soared above in a circular pattern, the Salt River Fire Department (SRFD) aided efforts by the Arizona Game and Fish Department (AZGFD) to band two young bald-eagle nestlings from a nest on the southwest side of the Salt River Pima-Maricopa Indian Community.
The purpose of the banding was to weigh and measure the young eagles and fit them with transmitters to track their movements and habits to help keep them safe from harm in an urban environment.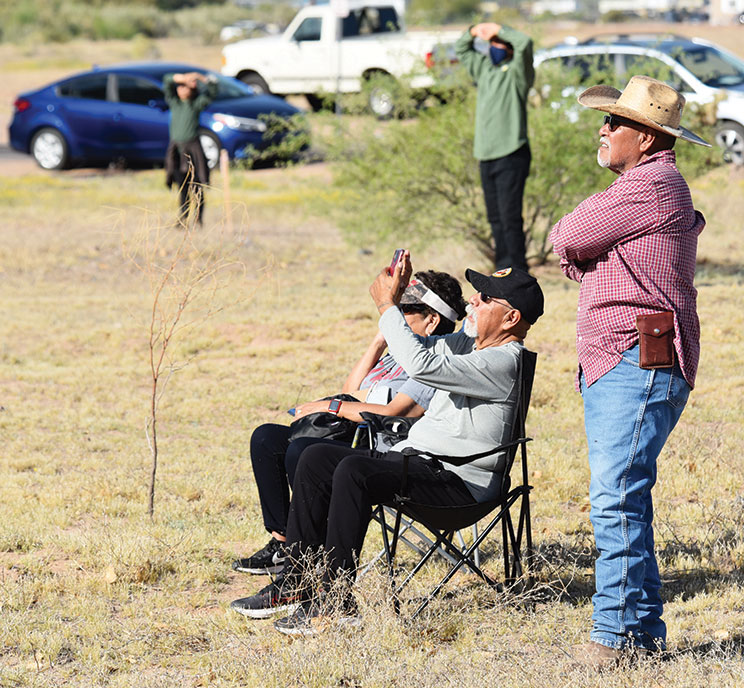 To reach the nest, the SRFD engineer slowly backed the fire engine into the best position to raise the ladder. A Salt River Firefighter and Kenneth "Tuk" Jacobson, AZGFD's coordinator of raptor management, were inside the bucket.
Once at the nest, Jacobson used an extendable pool-cleaning stick with soft fabric wrapped around it, which he calls a "Q-tip," to grab hold of the nestlings before they could jump out of the nest.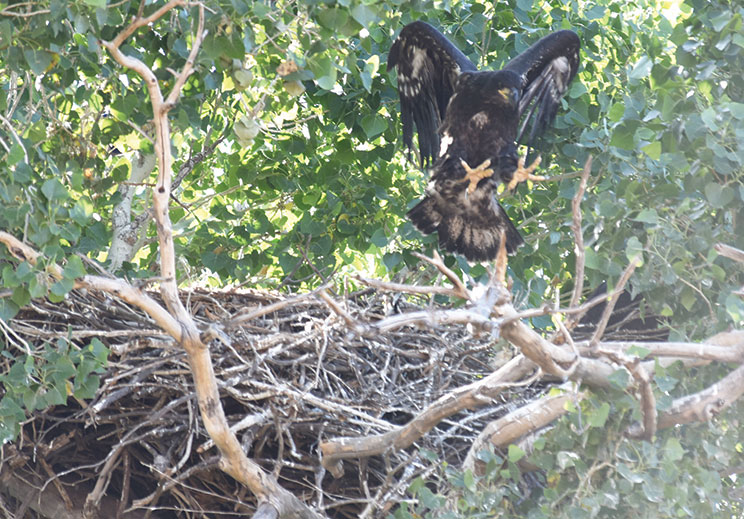 Witnessing the action from a distance was a small group of Community members, elders and bird watchers, which included former SRPMIC President Delbert Ray Sr. and current Council member David Antone.
"The nestlings have the light feathers to keep themselves from crash-landing, but not the muscles yet to have sustained flight. The first nestling, the big one, she jumped off the pole and fluttered to the ground, but all was good there. [That was] somewhat expected," said Jacobson.
"I was able to get the other nestling on the pole, and he held on just for a split-second longer so I could get hold of him and get him secured, at which point we brought him back down to the ground. There we were able to [get] the bands on and get them fitted for the transmitters."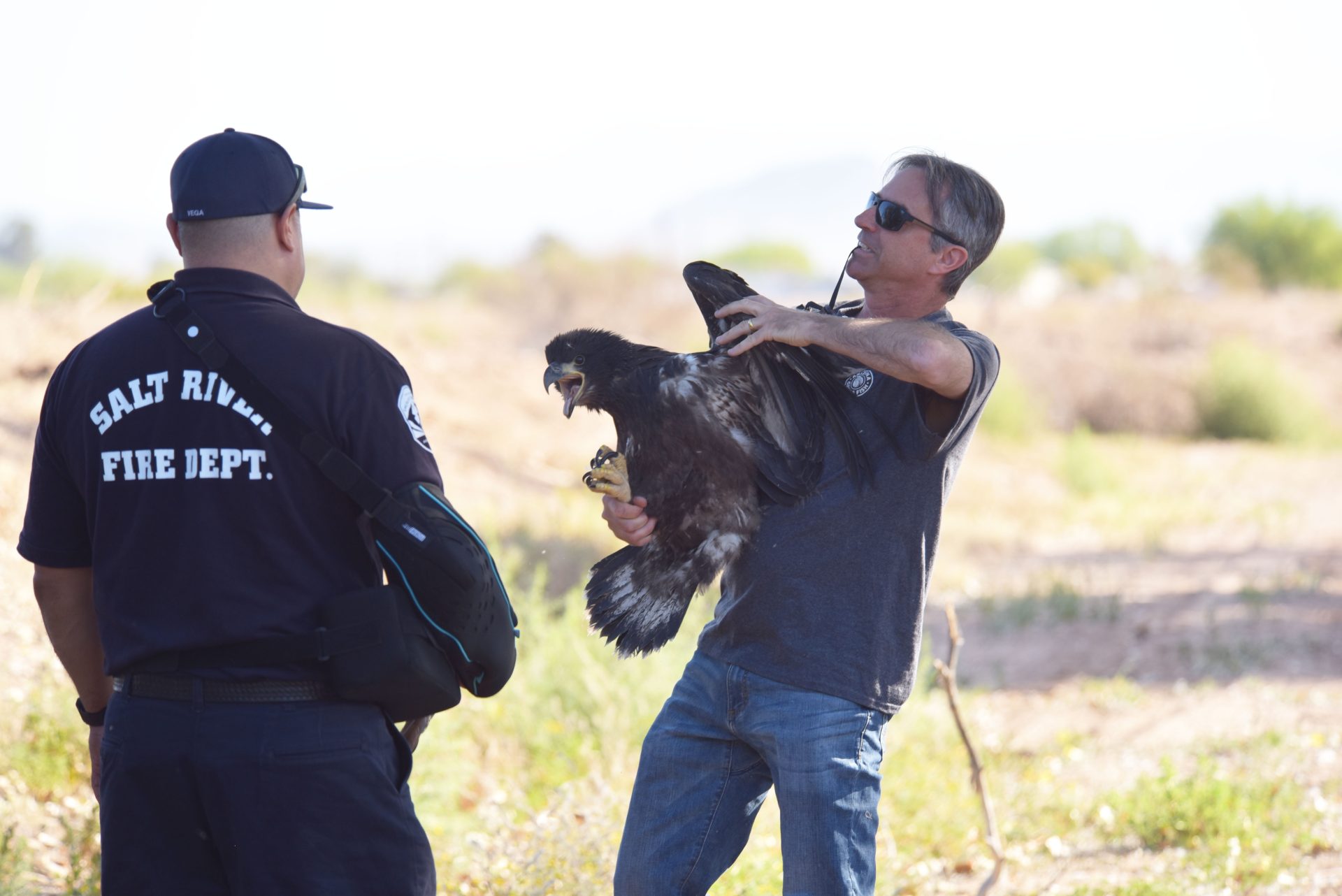 Some elders and SRPMIC employees were able to hold the nestlings and assist with the banding, an experience that Planning Assistant Nicholas Moreno of the Community Development Department's Planning Services said was moving.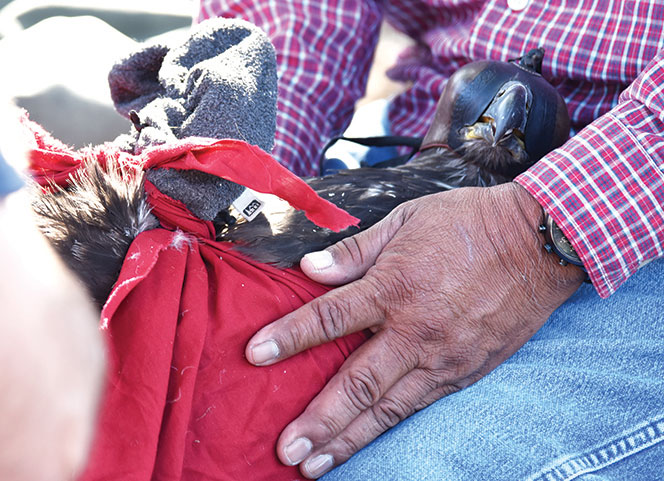 "[The nestling] was a lot lighter than I was expecting. The heartbeat was intense as well. You could really feel it," said Moreno.
"I know that having the bald eagles here in the Community holds a great significance to us, and that's why I couldn't pass up the opportunity to hold one, even though I was a little trepidatious about it at first."
Within the next one to three weeks, the nestlings are expected to begin flying around for about a five- to six-week period, during which the adults will be teaching them how to fly, navigate the landscape and find food. Then, the nestlings will leave the nest, flying north on their own. The transmitters often indicate that they will leave together on the same day and at the same time, sometimes reaching Utah, Yellowstone National Park, Montana, Oregon, Washington or the Northwest Territories of Canada before heading back to Arizona in September or October.